How to Protect Yourself From Online Shopping Scams?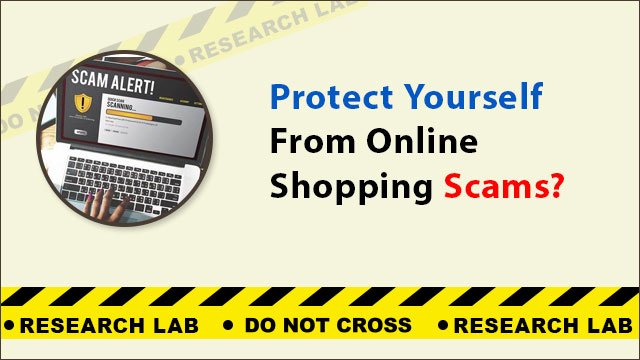 Technology! It really simplified lives. Who thought that you can book a table at your favourite restaurant, buy the perfect gift for your loved ones, even groceries can be delivered with just a few clicks! However, the scammers don't leave a spot to carry out their criminal activities. Yes, they are duping the customers in various ways for financial gains. And online shopping scams are being registered at police stations every now and then. Hence, it is important to know the ways to protect yourself against online shopping fraud. 
Let's discuss the topic in detail covering its various aspects. 
What is Meant by Online Shopping Scams?
When a culprit fraudulently acquires the online payment details or card details to shop online or make online purchases without the consent of the account holder can be considered as online shopping fraud.
It is rather apparent that the surge in online payment methods directly led to purchase fraud. 
According to Pune police, online shopping scams are on the rise in Maharastra with Pune alone receiving more than 1200 complaints from the citizens.
If this is the case for one city in the nation then just imagine how many such cases must have been registered across the country. This is a matter of concern.
Let's discuss the experiences related to online shopping frauds of some of the consumers.
Examples of Shopping Frauds on the Internet
According to an independent news media outlet Citizen Matters, 'Once Chitra thought of buying Dell Laptop online and surprisingly found a great deal. And purchased the laptop for Rs.27,000 however the actual price of the laptop was Rs.40,000. But when she received the laptop she got to know that the laptop was not manufactured by Dell. Also, it was not preinstalled with Microsoft OS as mentioned at the time of purchase.'
In addition to that her brother also faced a similar situation. When he purchased shoes from an eCommerce site he received one size smaller than what he ordered. And did not receive any response related to the replacement of the same.
The above are a few instances of online fraud victims. However, there are various ways through which fraudsters try to dupe online customers. 
Types of Online Shopping Scams
Hackers are becoming more resourceful and creative these days. This is because people are willingly inputting their personal information online. Here are some of the types:
1. Identity Theft
Here what happens is that the fraudster obtains the financial transaction details of a person. Then imposters himself as that person and purchases online using the card details of the owner of the card. This is considered to be a type of Identity Theft.
Once the payment is done the actual cardholder receives a notification about the purchase (which he did not). Then he asks the merchant for a refund. Hence the scammer hits two targets with one arrow.
2. Refund Frauds
When an online vendor doesn't keep the records of shipping, delivery, refund details, online scammers take advantage of the same.
They will purchase the goods and keep the item. Then they will say that they did not receive the item and ask for a refund.
3. Fraud through Phishing
Generally in phishing, the online thieves will collect personal information via SMS or email. And using the details they will make online purchases illegally.
However, the question is how will you identify online shopping Scams? Are there any hints? Well yes, you just have to look closely.
How Do I Know if I Got Scammed Online?
Before you buy products from an online website make sure the site is legit or not. So watch out for the fake website signs:
When you see an unbelievably low price for a product then be sure that it's a red flag.

If the prices of all the products are the same regardless of the materials used then it is sure to be a fake website.

Check for the spelling mistakes of the website name, product description, etc on the website. Because the fraudsters tend to use wrong spellings for fake websites.

Many fake websites don't own an SSL certificate. So if you see a website address is missing 's' after 'HTTP' then the site is not secure to visit.

If a merchant is asking for immediate payment to avail of the discount offered then think twice before making the payment.

Most scammers don't bother about mentioning privacy policy and/or terms & conditions. So look for the same next time you visit a new shopping site.

Finally, take a look at the review section. If you find mostly negative or seems to be fake reviews then be careful.
Look out for these hints and along with that, you can always protect yourself from online shopping frauds. But how? Let's find out!
Safety Measures to Protect Yourself When Shopping Online
The well-known cyber expert of India, Anuraag Singh says, 'The hackers will adopt various ways to trick you. But, if you take safety precautions beforehand then you can negate the bad effects and save yourself from such online scams.'
Following are some preventive measures that will give you protection against online shopping fraud:
Always purchase from a legitimate shopping website.

Hackers often use open networks to get into your device. So, avoid using public WiFi while online shopping.

Never miss reading a notification coming from your bank related to your bank statements. Always keep an eye on the financial statements.

Don't fall for the heavy discount that is too good to be true.