Cyber Expert & Digital Forensics Trainer in India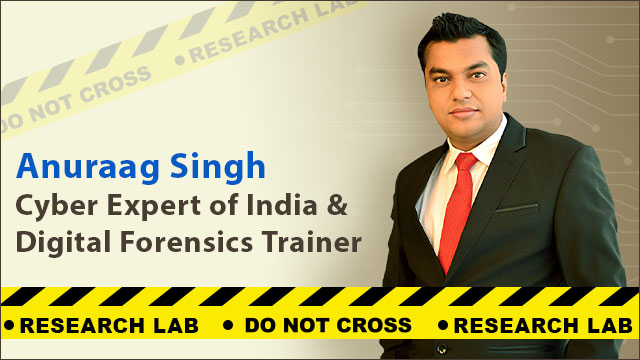 Trust the person, whom the Government of India trusts.

When the question is of the most reliable cyber expert in India for crucial & sensitive investigations, Anuraag Singh is always the first in line.
With 21 years of dedicated experience in the field of digital technology with core expertise in cyber investigations and digital forensics, Anuraag is an established cyber expert, digital forensics trainer, and serial entrepreneur.
Who is Anuraag Singh?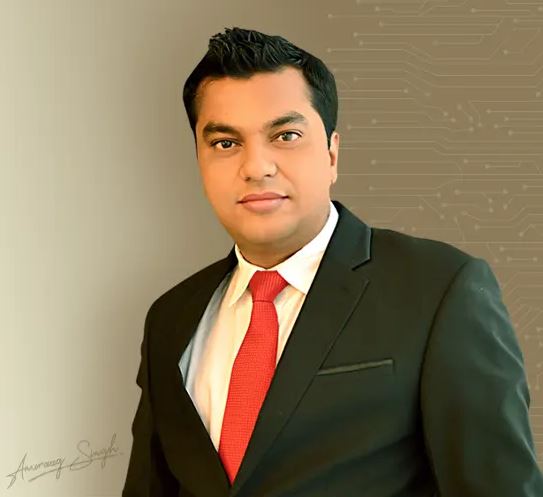 With his father in the Indian Air Force, Anuraag always wanted to join the defence sector and serve his nation.
However, he couldn't fulfil his dream to join the airforce. But, his desire to serve his nation was set in stone.
Anuraag was inclined towards technology ever since his childhood.
As a result, he did his Postgraduation in Computer Science from University of Pune. After that, Anuraag joined Kendriya Vidyalaya as a Computer Science teacher.
However, destiny had something else in store for him.
Anuraag Singh always had a passion to decode software and simplifying technology. To fulfil that, he came up with 250+ software solutions, in the 15 years of his career through his maiden company SysTools.
SysTools – A Digital Technology Company
Founded in the year 2007, SysTools has accomplished many inspirational feats. The company has strived to become what it is today – a global leader in digital technology software solutions.
The main motive behind creating the company was to simplify technology, even for the novices.
Moreover, to solve the problems of users worldwide, SysTools has created many software solutions. This includes software for data recovery, data migration, data backup, data security, digital forensics. etc.  It is an enterprise trusted by millions of people and even the fortune 500 companies.
Under the guidance of Anuraag, SysTools has reached different heights. Or, we can say, SysTools is flourishing in line with Anuraag Singh's success.
However, even after achieving so much, Anuraag's thirst to serve his country remained unquenched.
He is always eager to spread the knowledge he has acquired in his years of service to his people. He was successful in doing it by becoming one of India's top Cyber Crime Expert in India and a Digital Forensics Trainer. And his organization, SysTools, has played a significant part in this.
So, because Anuraag is an IT professional with knowledge in Information Security, this career path was ideal for him to become a brilliant cyber expert.
Have you ever wondered, why does the nation require a cyber expert so desperately?
What makes Anuraag the Best Cyber Expert in India?
The recognition and success, Anuraag has got in the field of cyberspace, has designated him with the title of the best cyber expert in India.
Moreover, the ease and proficiency with which he does all this work are commendable. Whether the work is related to investigating cybercrime, doing cyber operations, or cyber security, he does his job with immense dedication.
For the last five years of his life, he has set new benchmarks that have helped him in achieving the title of best Indian cyber security expert.
He was also awarded and praised by police officials and many government institutions for his distinguished efforts and contribution towards stopping cyber threats in India.
There was a time when certain cases did not get proper attention from the authorities in charge in Bangalore and Noida. In this case, Anuraag Singh, the Cyber Crime Expert in India, put his best foot forward and took the initiative to solve them. These cases dealt with the younger generation and he assisted them in getting their self-respect back. He even resolved various small and large cyber-related cases with utmost efficiency.
Thus, Anuraag Singh, a cyber expert in India, affirms that all the knowledge and skills he has gained in these years are used by him to solve cyber crimes and investigations. And, we can confidently state that he is successful in his journey so far.
Training by the Best Indian Cyber Security Expert – Anuraag Singh
The vision in the mind of Anuraag was clear. He wanted to see the young citizens of his country become aware netizens.
Or as Anuraag puts it, "Knowledge is power, empower it with cyber awareness."
The number of cybercrimes is expected to climb as the world gets more digital. This demands the services of a cybercrime specialist such as Anuraag Singh.
Also, to prevent becoming a victim of a cyberattack, it is important to be informed of the crimes and understand how to avoid them.
If you want to register any cybercrime complaints online, then the Ministry of Home Affairs has launched a helpline number for the same.
Training Educational Institutions
The cyber expertise of Anuraag has helped him solve many individual cases of cybersecurity and identity threat. These are some of the rising concerns among the youth.
The maximum number of cases reported is mostly from the younger generation. This is because adolescents are surfing the web a lot, which sometimes makes them a victim of cybercrime.
He has provided 200+ Cyber Safe workshops to Schools, Colleges, and law enforcement agencies.
His advice and training programs are known country-wide. Moreover, he has also received recognition for his skills and endowments.
Delhi Government has recently launched vocational training in schools for Computer Science. It is the task of Anuraag Singh to train them.
Training in Corporate Organizations
Organizations also give huge importance to cyber security training and workshops. This is because a well-trained cyber security workforce poses less of a danger to an organization's digital network's overall security. Being ready against cyber-attacks also secures companies against financial losses due to cybercrime. Therefore, firms prefer to invest in cyber security awareness training & workshops for their staff.
Anuraag Singh, a determined cyber expert, and digital forensics trainer is perfect to train for cyber security. He also coaches in CDR analysis and provides intelligence gathering.
Working With Law Enforcement Agencies
Anuraag Singh has been working with law enforcement agencies since 2007. He provides them with the learning they need for their investigations.
He has even enlightened over 20,000 youths of India with his immense knowledge.
Anuraag assists the corporate and the government department by providing them intensive training. This prepares them to fight against any cyber-attack and unauthorized data access. These two are the main threats that linger in the academic and research sectors.
With his cyber expertise, Anuraag has trained Law Enforcement and Intelligent Agencies. This makes them aware of the looming cyber threats.
Being proficient in training and coaching, he uses this talent to train various Government officials. He has trained 6000+ well-renowned officials. This includes the Law Enforcement officers, Armed Forces, and Security Forces.
Best Cyber Expert in India
Anuraag Singh, a renowned cyber expert in India has contributed immensely towards cyber security. He has the support of various police officials in cybercrime investigations. This motivates the best cyber expert in India to conduct sessions and train officials in cyber security.
Make in India Digital Forensic Tools
Through the digital forensic program, MailXaminer and MailPro+ Anuraag has represented India as a digital forensics product company in various countries.
MailXaminer software is used globally by leading law enforcement agencies and cyber labs. The tool was created and designed to examine emails from both web & Desktop based email clients. MailPro+ is also a tool to examine and analyze emails for forensic purposes. Both these investigation tools help in conducting email forensics in a precise manner.
This makes Anuraag Singh an all-rounder. He does not confine himself to a single field and is always willing to learn more.
So, people who are looking for an instructor have in-depth knowledge about the subject. Also a background of working with top Government agencies, then Anuraag Singh is your final stop.
What makes Anuraag Singh Different from others?
As a best Indian Cyber Security Expert, Trainer and Entrepreneur, it was a tough journey for Anuraag to accomplish because of so many competitors onboard.
However, the one who does hard work never lingers behind.
Anuraag believes in providing learning even to novice people by touching the roots of the topic. He is different from the rest because of the method in which he explains topics and climbs from the basic to the advanced level.
Moreover, he focuses on learning by practising. Thus, to date, he does all his work with the same dedication and continues to gain knowledge and prosper every day.
The effort Anuraag Singh puts in, has made him receive appreciation from top Government Institutions.
Achievements of Anuraag Singh
Anuraag, the cyber expert in India has assisted the enforcement agencies in cyber operations for the last 9 years.
He has witnessed several problems throughout his life and has gained confidence after solving each mystery. He assists the Indian Government for the past 10 years in solving cases and proving his worth each day.
Some of the accomplishments of Anuraag Singh are as follows:
With his dedicated effort, Anuraag was successful in making his company the best to work with. So, the Silicon Review of 2016, awarded SysTools as one of the top 50 companies to work for.
Anuraag always wanted his country to reach different heights. So, he did it with his knowledge. He provided training to the police officials of various ranks and make them aware of the cyber frauds too. Anuraag has provided training on Digital Forensics to the Railway Protection Force (RPF), Ministry of Finance.
Given training to Cyber Crime investigation cell, CBI, New Delhi on Forensics and Financial Analysis of Soft data. The MailXaminer tool helped them in their investigations that continued from 2016-2018.
Provided training on CDR analysis & Camp Reporting to Sub-inspectors and Head constables under the DCP of North-East Delhi.
Conducted a Cyber Awareness Program in DTTE, Pitampura, New Delhi for its officers.
He has provided services to the Directorate of Revenue Intelligence, Bengaluru, on Forensics and Financial Analysis of Soft data.
Conducted training and speaker sessions to CyPAD-NCFL and Cyber Crime Cell of Delhi Police.
Other Top Government Agencies Anuraag Singh has worked with are:
National Crime Records Bureau, New Delhi
BSES, New Delhi
Department of Income Tax, Bangalore
Narcotics Control Bureau, Bangalore
GST Department, Bangalore
TDS Department, Bangalore
Customs Airport & Air Cargo Bangalore
Further Ventures of Anuraag
The different undertakings of Anuraag include NetForChoice, CloudCodes, Cybersics, CCIRC, among others.
NetForChoice
To understand technology better, and being a serial entrepreneur, Anuraag partnered with NetForChoice.
NetForChoice is a made-in-India data center. After 5 years in service, it has become one of the most trusted tier IV data center companies in India.
As years are passing, security in the IT industry is becoming a major issue. Most data centers experience cybercrime because of human errors.
From being large to invisible and sleek, the data centre is a virtual storage area, that stores data mostly on the cloud. It has become smarter, faster, more agile. All this at a very little extra cost. But this development comes at a price.
There are extra threats that the cloud confronts. As a result of all of this, the Data Center is very vulnerable to hacking or cyber assaults. So, firms need to prepare themselves to deal with cybercrime in this field in the future.
Through this company, Anuraag has become an expert in solving cybercrime cases in the data center vertical as well.
Why is there a Growing Need for a Cyber Crime Expert in India?
According to a survey by Statista, there are 560 million+ internet users in India. This makes our country, 2nd after China with the largest internet population. Moreover, the National Crime Records Bureau of India states that there has been a rise in the cybercrime reported cases, from 44,375 in 2019 to 50,035 by 2020. The graph given below makes the rise in cybercrime more evident.
So, to safeguard businesses and individuals, it is important to be aware of cybercrimes and understand how to defend yourself from them.
This is where the need for a cyber professional like Anuraag Singh arises. A person who not only walks ahead and trains the people of the possible crimes beforehand but also, knows how to investigate when any such attack is caused.
He can create new ways to tackle the threats and overcome them with his knowledge and cyber expertise.