What is the Difference Between OST and PST File?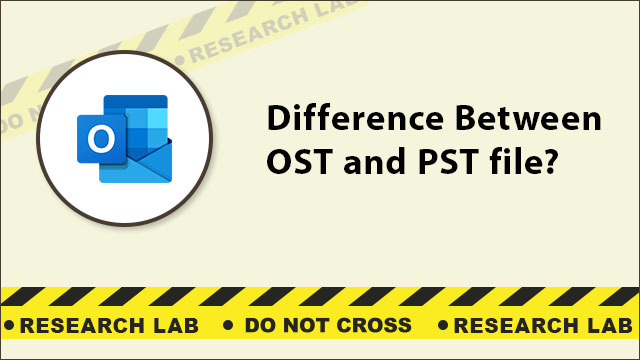 In this article, we are going to discuss the basic difference between OST and PST files.
Being a digital forensic analyst, I have spent a considerable amount of time in this field and been on several raids, law enforcement agencies (LEAs), and searches.
Throughout my journey, my team and I have experienced many challenges faced by digital forensic experts. One of which I am going to discuss here.
When the digital forensic experts go on raids, they need to extract the emails accounts and messages of the suspects and save them for further investigation.
These investigators are of two types. One uses advanced email forensics tools, while the other prefers common email programs such as Microsoft Outlook or Thunderbird.
If you are an investigator who picks Outlook because of its user-friendly interface and popularity. Then the file format in which you will find your data will be OST and PST file format.
What are OST and PST and How are They Different?
Outlook is an email client that stores its data in either PST or OST file format.
When you configure an email account using IMAP protocol, you get an OST file. When the same account is set up in POP3, you create a PST file.
For those of you who don't know, Internet Messaging Access Protocol (IMAP) is a protocol that lets you view your emails on the server. It even syncs data between the email client and the email server. This protocol is well-suited for modern times.
On the contrary, this is not the case with Post Office Protocol (POP3). The traditional email protocol downloads the emails to the desktop, and subsequently, deletes them from the email server by default. It also does not sync data between the email client and the email server.
What is the Most Common Issue that Digital Forensics Experts Encounter?
There are situations when the computer forensic analysts come across orphan OST files on the suspect's system. However, these files are of no use until and unless you convert them to PST files.
Why?
This is because you cannot import these files into Outlook, and thus, cannot view them.
So, the investigators can carry these OST files with them and convert them to PST using a reliable converter.
Therefore, it is emphasized to use a trustworthy tool. This is because the data gets extracted from a crime scene and contains highly sensitive information. So, digital forensic experts cannot let the information go in hands of the wrong people.
Therefore, the most dependable tool in such matters is the most recommended OST to PST converter. The tool can even convert the files into PDF file format, which makes it convenient to present in the court.
Even if the investigator discovers orphan or inaccessible OST files, or if they are too huge, this utility can convert them to PST format with ease.