Advance Fee Scams Warning Signs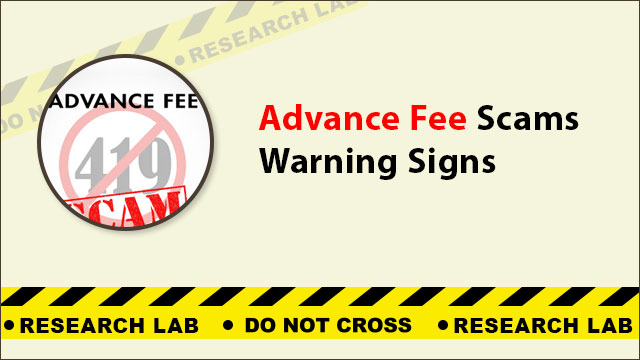 Introduction: Scams and fraud have become more prevalent in today 's digital world. Con artists take benefit of the anonymity and speed of the web, email, and social media. In this cyber tip, we will provide advance fee scams warning signs.
The advance fee scam is a common method of stealing money. If you're unfamiliar with the phrase, an advance fee scam occurs when a fraudster requests money in advance from a victim. He can request money for a service, item, or even job, and then goes without delivering on the promise.
You've certainly seen news headlines about this type of fraud under several names. This advance fee frauds come in a variety of flavours.
Following are a few examples of advance free scam
Fake Job Opportunities: Scammers will advertise a profitable career that demands upfront payment for training, a license, or other expenses before you can begin earning money. The job that was promised never materializes.
Official Impersonation Fraud: Scammers frequently pose as IRS or law enforcement officers, stating that you are in trouble and must pay back taxes or other fees to escape prosecution or imprisonment.
Online Dating Scams: This is sometimes referred to as catfishing. In which a fraudster assumes the identity of another person and establishes an online connection with the victim. In order to earn the victim's confidence before requesting money to come visit. Naturally, they never appear.
Rental Scam: This scam solicits renters to pay an application fee or security deposit in advance for a rental that either does not exist or does not belong to the scammer.
Lottery Fraud: Scammers falsely pretend that you have won money in an international lottery. Typically, the letter or e-mail would request personal details to verify your identification and enable you to claim your prizes.
Due to the variety of variants, it might be difficult to identify an advance fee scam. The greatest protection is to familiarize yourself with some of the most prevalent traits so that you can identify warning signs when you encounter them.
Advance Fee Scams Warning Signs
Here are some example on how to avoid advance fee scams:
One of the very first warning signals to look for is someone approaching you unexpectedly. Generally online, via email or social media, or even over the phone, with an offer of money. They'll sell you a deal that seems great at first. But then reveal that you'll need to invest some (or a lot!) of your own money in order to access the higher payment.
If someone offers you a means to earn money through online transfers, money orders, or shop gift cards, this is a warning sign. These kinds of payments are popular with fraudsters because they are irreversible, which means that after you make a payment, you cannot retrieve it if you discover your error. Additionally, wire transfers, money orders, and gift cards are largely anonymous—it is difficult, if not impossible, to identify the specific destination of money transferred in these methods.
Is someone attempting to put money into your account and then have you transfer it to another account? This is a standard money mule ploy; proceed with caution. Often, this scam will be disguise as a job offer, with the role requiring you to deposit cash received from "clients" into your account. And transfer the remainder to another company bank account, while earning a commission. This may be deemed money laundering. And even if you do end up generating money, it may be unlawful, and you may face prosecution and imprisonment, as well as the freezing of your assets.
How to report advance free fraud?
If you believe you have been a victim of advance fee fraud, the Committee strongly encourages you to contact your local police. Additionally, you have the option of submitting a report to the Internet Crime Complaint Center.