Tips to Avoid Fake Charities Fraud – Cyber Security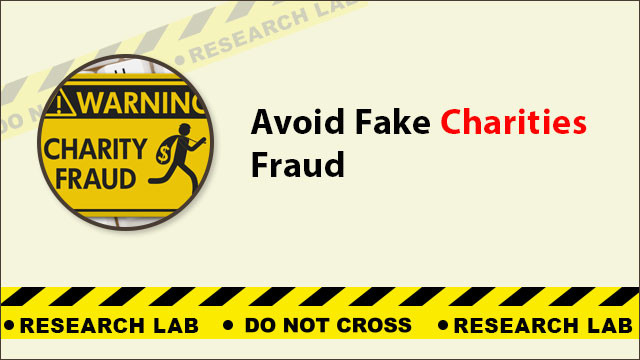 You want your contributions to be meaningful, which is why it's important to conduct some research prior to making a donation to a charity. We're going to talk about fake charities fraud in this article.
Fraudulent charities collect donations for groups that perform little or no work in exchange for the money. While these types of frauds can occur at any time, they are particularly popular in the aftermath of high-profile tragedies. Criminals frequently use disasters to take advantage of you and those who wish to assist.
Fake charities fraud schemes can present themselves in a variety of ways, including emails, social media posts, crowdfunding sites, and cold calls. Always exercise care and conduct research before making a donation to a non-profit cause.
Some Example of Fake Charities Fraud
After a Tragedy, Charity Scams: When a negative occurrence occurs, such as a natural catastrophe or sad incident that reaches the news, philanthropic groups may solicit donations. There are legitimate organizations that will raise funds for the victims of these atrocities. However, some of these callers may be charity fraudsters seeking to profit from the tragedy.
Scams in Crowdfunding and Social-Media: Charity fraudsters sometimes solicit donations using social media platforms such as Facebook, YouTube, or Instagram, as well as crowdfunding websites. Crowdfunding services such as Go Fund Me allow for the rapid collection of modest sums of money from a large number of individuals. You may notice a link to a fundraising for someone in need. Even better, the fundraiser page may include photographs of genuine individuals.
Holidays fraud: Scammers take advantage of the fact that people frequently contribute over the holidays. They put you under pressure to contribute since it is the Christmas season. They may express gratitude for a contribution you made in the past, even if you don't recall making it. Bear in mind that legitimate charity accept donations throughout the year. And if you don't recall ever donating to a charity, you probably didn't!
Firefighter, Police Offers, and Military Fraud: Scammers may claim to be collecting funds for your neighborhood firemen, police officers, or veterans. Scammers may even claim to be giving comfort items to military personnel. Don't simply give! Rather than that, contact your local fire agency or police department and see whether someone is collecting money on their behalf.
What are the most common warning signs of fake charities scam?
Personal or Financial Information Requests
Donations by check, money order, or gift card
Donations Aren't Deductible
Fake Information
Pressure Techniques
How to avoid fake charity scam?
Research properly: Always conduct research on a group before donating money to them. Conduct an online search for them. Conduct research on charitable organizations and gather contact information using a charity evaluator organization. Look for the group's name plus the phrases "scam" or "complaint" to see whether they appear as well. If they do, the "charity" may very well be a fraud. If they claim to be a member of a well-known organization, contact that organization directly using information you know is accurate.
Understand Where Your Money Is Being Spent: Numerous charities contract with fundraising groups or other organizations to assist them in generating funds. While this is not always a scam, it is critical to understand that a portion of your gift will almost certainly be utilised for administrative or other charges. Prior to making a gift, determine how much of it will go directly to the charity.
Inquiry Regarding Registration: A charity soliciting donations in Tennessee must be registered with the Tennessee Secretary of State. If the group is recognised by the IRS as tax-exempt, it should be able to provide you with its Employer Identification Number. Verify the charity's registration status on the Secretary of State's and IRS's websites. However, use caution: occasionally, even fraudsters register.
Actions you should take if you are victim
Make a list of everything that comes to mind regarding the conversation you had or the message you got encouraging you to contribute to the organization. Include the following:
The name of the individual who requested a donation;
Name of the organization or individual for whom they claimed to be raising funds;
Date of occurrence;
Any contact info (address, telephone number, email address, or caller's phone number);
If you donated, keep track of the amount and the method of payment (cash, gift card, credit card);
How you were contacted to make a donation (by email, social media, text message, phone call, or in person);
List any sensitive financial or personal information you submitted (for example, your Social Security Number or banking information); and Anything else you feel is relevant.
Also, take action and report cyber-crime!