How to Prevent Identity Theft in India?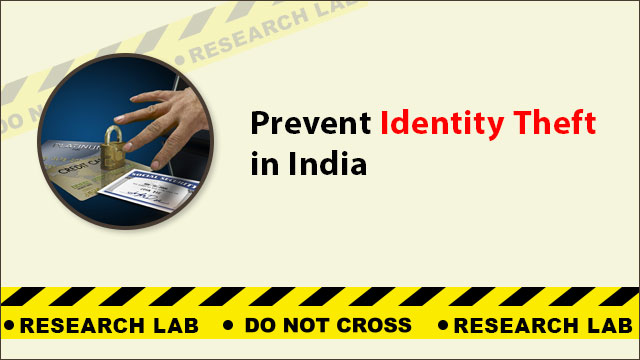 In this cyber tip, we will cover the topic "how to prevent identity theft in India".
Identity Theft is widely acknowledged as a global problem. With the technological revolution, with globalization and digital adaptability being pervasive across many disciplines, technology has been fast changing people's mindsets. The significance of information technology has constantly increased, resulting in both good and bad consequences. Identity theft has become an increasing worry in recent years, given to India's rapid development and revolution in information technology.
What is identity theft?
The term 'identity theft' refers mostly to crimes in which a person unlawfully acquires and utilises another person's data. These could include theft of a person's name, date of birth, unique identity number, bank account number, credit/debit card information, or phone number, among other things, in some way involving fraud or deception.
Technically, this happen for economic advantage in order to receive any type of products or services. Additionally, criminals may use this data to get ruin identification cards, bank accounts, birth certificates, and other vital papers.
Even fingerprints have the potential to use as an instrument of identity theft. A breach of personal data can occur when a large amount of personal data is transmit via a fake biometric device. If a person's fingerprints get into the wrong hands, they may enable thieves to benefit off the former's identity.
Some Shocking Facts on Identity Theft in India
People are taking proactive measures to preserve their privacy, but many believe it is too late or perhaps impossible.
However, this should not be the case; having your identity stolen is not something to be overlook or discard with a "It is what it is" attitude. You should take the initiative, take the required preparations, and stand and fight.
According to the same reports:
Around 80% of respondents had been victims of cybercrime, while 66% had faced with it in the previous 12 months.
61 percent of respondents to the poll indicate that they are properly protected against cyber risks.
63 percent of respondents had no idea what to do if their identities were stolen or duplicated.
Finally, Indians are more concerned about the possibility of losing access to their accounts. The average in India is 81 percent, compared to the global average of 67 percent.
How to prevent identity theft in India?
Allowing someone to steal your identity by failing to secure your account might be terrifying. This is a choice you will come to regret. It has a detrimental effect on your financial stability, but also on your social, emotional, or physical well-being.
Therefore, to avoid the unimaginable, implement these protective precautions against all types of cyber dangers. So, here is a list to prevent identity theft in India
Change Password Like your Toothbrush
There are three possible methods for a hacker to get your credentials. They may employ brute force, dictionary attacks, or phishing attacks. A brute force attack is thwart by creating passwords with a minimum of 12 characters.
A dictionary attack attempts to crack your password by utilizing every word in the dictionary. The greatest defense against this is to use uncommon and mixed passwords.
Phishing attempts need you to be cautious and thoroughly investigate any request for personal information from the sender.
Make use of antiviruses
Identity theft can also occur if you do not have enough protection. Install reliable and trustworthy anti-virus software on your phone and computer to protect against DDoS assaults, malware, and ransomware attacks. All of these methods provide the hacker complete access, which they may then exploit to extort money from you.
Manage your social media account with protection
Almost every social media network is require to provide you with the option of securing and hiding your account from unknown web users. Therefore, utilize these settings to conceal all personal information.
Use the VPN to be secure
A VPN protects all home networks, including WiFi and other hotspot devices. This safeguards your data and prevents hackers from accessing it even if they breach the firewall.
Conclusion
Identity theft is a significant violation of a person's privacy, wreaking havoc on the victim's emotional and social well-being. However, identity theft does not just affect individuals; it also poses a threat to organizations and businesses.
From a legal standpoint, Indian laws lag behind when it comes to protecting against identity theft, or the theft of an individual's or organization's data, leaving a large amount of room for improvement in terms of laws, rules, and regulations pertaining to identity theft.
The absence of explicit regulations creates a slew of manipulative offences that have exploded in popularity during the previous two decades. To ensure appropriate enforcement of current laws and to monitor the situation on an equitable footing, a suitable system with an efficient hierarchy of authority is required.
Always be aware about cybercrime and protect yourself from it. But if you become a victim, learn understand how to report cybercrime in India.