What to Do if You are a Victim of Online Fraud? 9 Tips to Avoid Being Scammed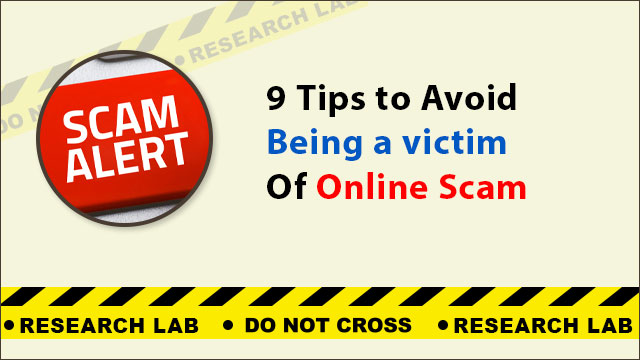 Going digital has its own advantages and disadvantages. While it makes your life easier, it also has the power to turn your life upside down. Since Digital India has become the popular slogan, the number of online financial frauds have drastically increased. Online frauds are nothing but the result of a lack of awareness. What to do if you are a victim of online fraud is a question asked by many in this digital world. However, the answer to this is still isn't clear. 
Is it possible to get my money back from online fraud or what is the number to register complaints about online fraud is the most asked queries by the victim. But, now, you don't have to look any further because the answers to all your queries are here in this blog. However, if you are already a victim of online fraud, then luckily there are ways to get out of these unpleasant situations. Before learning the ways let's first see, apart from online transaction fraud, are there any other forms of online fraud?
Let's be aware of the same!
Most Common Types of Online Fraud
In cybersecurity, there are different ways that fraudsters follow to be considered as online fraud.
1. Home Assurance Fraud
You may receive a call or mail that the government is providing affordable housing for the citizens. So, you can also get home in metro politician city by just paying the initial amount.
2. CEO Frauds
After the pandemic hit, many people lost their job. By taking advantage of this situation the cheater impersonates himself as an employer. Then sends an email assuring the candidates to give offer letters if they agree to pay the entry fee.
3. Phishing
Here the attackers will get access to your date of birth, passwords, online login credentials, etc through the mail, SMS, or call. By obtaining sensitive information they can effortlessly take out money from your account.
4. Online Lottery Scams
The trickster will send you an email that says, 'you won a lottery and you are just a few steps away to get the money. So, what are you waiting for? Pay the processing fee and bag your money!'
5. By Giving Bait
First, you will receive an email with the itinerary of an exotic location with a hotel room booking. Then will receive a phone call to make the instalment of the luxurious vacation. Once you pay the money, the fraudster mysteriously disappears.
However, you might be wondering are there any FIRs registered for doing online transaction frauds?
From the Words of a Victim 
According to Ludhiana Police 2019, a girl named Sakshi Gupta lost her hard-earned money to the fraudster. But, how did he trick her? Well, you will be surprised after reading the truth. 
Sakshi (the victim) received a couple of text messages related to her online transaction of Rs.7 and Rs.55. When she realized that someone was withdrawing money from her bank account, she immediately started the process to unblock her debit card. Then the trickster called her imposing as a customer care representative to engage and prevent her from blocking the card. Sadly, till she could have blocked her card, the cheater successfully took Rs.34000 from her account.
As digital transaction fraud will fall under cybercrime, if you are a victim then you should report the crime.
Guidelines to Follow When a Victim of Online Fraud
There are a few immediate actions that you can perform. Such as,
Send a blocking request to the concerned service provider

Try to retrieve the access by following the procedures as per the norms of the service provider.

Without wasting any time inform all your near and dear ones not to respond to any of the emails coming from you

If you are a victim of bank fraud, then inform the bank immediately to stop the transactions made on your behalf.

Keep all the records of your actions.

Register a complaint on the cyber cell.
Now let's see what banks have to say to keep online fraud at bay.
Can You Avoid Being a Victim of Online Fraud?
Yes! you can be safe from the hands of fraudsters. Even Anuraag Singh, the Cyber Expert of India himself suggests the below measures.
If you receive an email that asks for your bank details then don't respond to such emails.

With the ongoing cases of Money laundering, think before agreeing to transfer money to an unknown person.

Verify before contacting the number you receive in SMS and/or Email. You can verify the same by directly contacting the relevant organization. Also, you can search the phone number through an independent source or online.

As social engineering is one of the weapons that hackers use to manipulate the physic of a person. So, next time you read an email that has a personal touch to play with your emotion then be aware!

Keep in mind that are no schemes to get rich quickly. Hence, don't fall into the trap of an attacker. 

Avoid interacting with strangers over the internet.

Since online transaction fraud cases are registered now and then, make sure you don't share your CVV number with anyone.

Avoid using shared computer networks such as public WiFi, while accessing your internet banking.

Don't just click on any link that you receive on email. As it could be malicious or autoinstall spyware on your device.
If you have become a victim and want to report your online fraud then you can dial the national helpline number provided by the Government to report cybercrime online i.e. 155260.