How to Avoid Online Personal Loan Scams in India?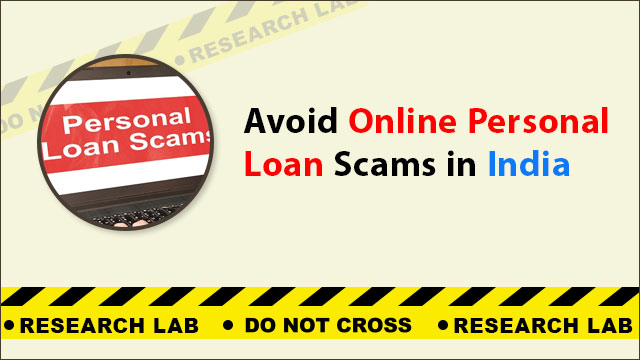 With the COVID-19 disaster, scamsters have been scamming individuals in many ways, including via fast personal loans. Cyber Crime Experts believe such frauds may be recognized and prevented if consumers keep watchful against tell-tale symptoms. In this post, we will talk about online personal loan scams in India and tips to prevent.
With the advancement of technology and digital transactions, all types of fraud are increasing in popularity nowadays. As a result, experts believe it is critical for everyone to understand how to protect themselves from fraud and scams.
Personal loans have traditionally been customers' first choice in an emergency, and following the extraordinary pandemic, an increasing number of families found themselves in financial distress. Instant personal loans (PL) are short-term loans. As a result, more individuals fall prey to scams in times of great financial need.
How do online personal loan scams work?
Scammers extremely skillfully use and deceive inexperienced smartphone users. Users are first prompted to install a particular app, and once installed, these applications have access to their phone's contacts, gallery, and other sensitive data.
Numerous victims have reported that even after returning the loan, scammers harassed and humiliated them in front of their friends and family for engaging in loan fraud.
According to the article, there have been cases of people receiving fake legal notices for loan defaults.
As per a recent RBI estimate, there are over 1100 online loaning applications accessible in India, 600 of which are illegal and dispersed over 80 app stores.
To address these frauds, the RBI recently suggested legislation that would require obligatory authentication of these digital lending applications.
How you can spot and avoid online personal loan scam?
How to determine whether a lending firm is real or not? Here are a few tips to assist you in identifying possible personal loan fraud.
Obtaining Loans Without Confirming the Source of the Funds
Without sufficient documentation and due research, financial businesses that demand money as payment for processing or insurance are not genuine lending companies. Pay no money unless the source is verified. Certain fraudsters may request cash without providing sufficient information about themselves, and then will shut off all contact and vanish.
Loans without a credit check
If a lender is willing to lend you money without doing a credit check, this is a red sign. Your credit score plays a role in determining your interest rate. Legitimate lending businesses are interested in determining if you will be able to repay the loan on time based on your payment history.
Compelled to Take Immediate Action
In the case of personal loan scams, you will receive limited-time offers that will compel you to act quickly. Avoid succumbing to such approaches. Lenders with a good reputation do not impose deadlines. They'll check your credit score first and then let you weeks, if not months, to determine whether to take out a loan. If you are being coerced into making a hasty financial decision, it is almost certainly a fraud.
They Request OTPs During a Phone Call
If anybody calls and requests your OTP, do not provide it. This is true not only for quick personal loans, but for any other service as well. Numerous folks have gotten OTPs by SMS and subsequently been prompted to disclose them during a phone conversation. Do not be duped. Genuine lending firms will never request OTPs over the phone.
Tips to avoid online personal loan scams in India?
Here are a few strategies for avoiding personal loan scams:
Avoid installing untrusted applications on your smartphone. This is especially critical for Android users, as the Apple App Store is somewhat more secure.
Do not believe callers who make simple loan promises. In the majority of cases, those who offer instant money access are deceptive.
Download apps such as Truecaller that indicate whether a call is from a fraudster.
For quick loans, always use popular/verified applications.
The legitimate lender never contacts the borrower first.
In Conclusion
In order to collect cash through regular routes, fraudsters target those who are unable to do so. These con artists prey on borrowers who are drowning in debt, the elderly and physically incapacitated, as well as those who have a low or no credit history. However, by implementing all of the tactics outlined above, you will be able to avoid online personal loan scams in India.