Screen Sharing App Scam Prevention Tips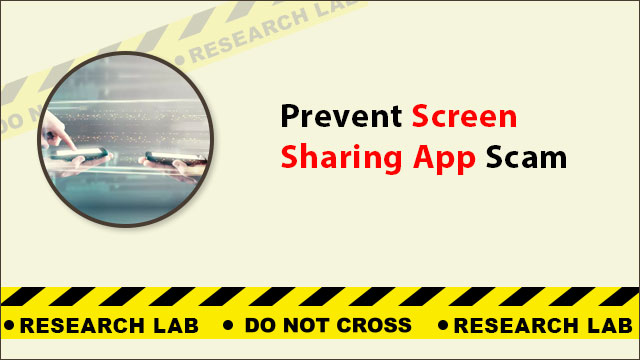 Screen Sharing app scam is being exploited by criminals to steal money from bank accounts belonging to innocent consumers.
Police have discovered that fraudsters are accessing the phones of their targets. And performing transactions on their behalf without waiting for them to submit their OTPs using mobile applications that are legally used to share screens or transfer data.
There are applications available for both Android and iOS devices that are widely used by people across the world.
What is screen sharing app scams?
Screen-sharing fraud is a sort of banking fraud in which a hacker poses as a bank employee and requests that you download a screen-sharing application for remote access. The cybercriminal behind the scam might dupe you into believing that you can easily access your bank account information, especially your net banking credentials, using a specialised screen-sharing application.
If you download and begin using the aforementioned software to gain easy access to your bank details, hackers would be able to view and access your personal details, including your CVV number, OTP data, and passwords. Your personal information may be utilised by these hackers to continue stealing money from their accounts. Also, even without you being aware of the theft.
Several of the fraudsters' preferred screen sharing applications like
Anydesk remote desktop software
Teamviewer remote control
Airdroid file & remote access
Teamviewer quicksupport
VNC viewer remote desktop
Screen share remote assistant
Fraudulent phone numbers are design to seem like legitimate "customer service lines."
The manipulation of data in mobile applications that collect a database of phone numbers from users who download them on their phone, according to cyber specialist, is quite simple.
" For example, there is commonly use software that enables users to authenticate an unknown caller's identity. This software will display my contact information as saved on their phones by my contacts. Also, if a fraudster saves a specific number as 'customer care number' on his or her phone and syncs the data with the internet, there is a good chance that when another person dials that number, this app will display it as the 'customer care number,'" explained a senior police officer assigned to the cyber wing.
How to prevent from screen sharing app scams?
Never put your trust in an unknown caller.
In the event that someone forces you to install any programme. That individual may be a fraudster. as genuine customer service representatives never ask you to install any type of software.
Also, please only download those applications that have confirm, are real, and are entirely safe.
If someone calls and asks you to log in to your computer or mobile device with them, hang up. If they ask for money or personal information, hang up.
Also, remove any apps that are unfamiliar or undesired from your phone.
What to do if you offer screen-sharing access to any of your devices without realising it or suspect other fraudulent activity
If you suspect you have been a victim of this or any other form of scam, we strongly advise you to contact every firm or financial institution with whom you have signed in since the screen-share to report the behavior so that the institution can assist you in taking actions to protect your accounts.
So, be aware of such type of scams.