SIM Swap Fraud Prevention Tips & Tricks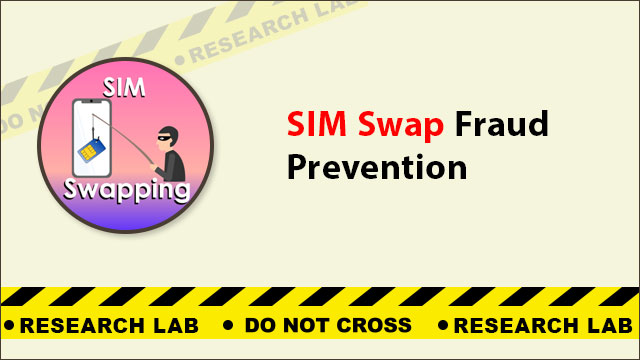 SIM swap fraud occurs when a fraudster illegally moves your phone number to another phone. This enables fraudsters to begin receiving communications related with your phone number, including those granting them access to the social media sites, banking, and other accounts. This type of fraud can attempt on prepaid or post-paid cellphone accounts. In this cyber tip, we will explain some SIM swap fraud prevention tips.
How SIM Swap Fraud Work?
SIM swap fraudsters may target individuals with significant social media or banking accounts. To commit this sort of fraud effectively, they will need more information about you, such as your email address, home address, and phone number. Usually, this information is accessible online, via a search engine or social networking platform. After obtaining this information, the fraudster may contact your cellular carrier and pose as you in order to transfer your mobile number to a new SIM card and device.
How You Can Identify SIM Swap Scam?
It might be difficult to remain one step ahead of SIM swap frauds. It's important to notice warning indications so you can promptly shut down the frausters' access.
You are unable to make or receive calls or texts
The first major indicator that you may have been a victim of SIM switching is when your phone calls and text messages stop working. This most likely indicates that scammers have disabled your SIM card and are now utilising your phone number.
You are alerted of action occurring in other locations
If your phone carrier alerts you that your SIM card and mobile number has been activated on another device, you've been a victim.
You are unable to log into your accounts
If your login details for accounts such as your bank or credit card account no longer function, you have most certainly been hack. Contact your bank and other relevant institutions immediately.
Let's Have a Look At SIM Swap Fraud Prevention Tips
Wireless companies are making strenuous efforts to avoid this sort of scam. You, as a consumer, may also play a key role by taking the following actions to safeguard your wireless account:
Establish a PIN for account access that is difficult to guess. (do not use the very last four digits of your SSN, DOB, or anniversary, for example).
To be inform about security updates and notifications, download your provider's mobile app.
If you suddenly stop receiving calls or messages and are unsure why, immediately contact your cellular carrier. Even if you don't use your mobile device frequently, you should check for provider and account notifications on a regular basis.
Avoid giving your phone number in settings where it might be widely disseminate or publicize.
Adhere to your provider's security recommendations and make use of multi-factor authentication technologies.
In the event of a scam, immediately call phone banking to have your account frozen and prevent additional fraud.
What Wireless Service Providers Are Currently Doing?
SIM swap fraud is taken very seriously in the wireless sector. Wireless companies are continually updating internal systems to keep one step ahead of these unscrupulous actors. While also maintaining genuine customers' rights to port their phone number to a new device or wireless service. While each provider's tools and methods vary, the industry uses a range of strategies to combat SIM switch fraud, including the following:
Offering PINs for wireless accounts and/or the option to lock or freeze your wireless account in order to safeguard it against unwanted access and modifications.
When modifications are request, one-time passcodes are sent through text message or email to the account's phone number or email address.
Adding more security capabilities to your account and providing online training videos on how to utilise them.
Employee education on the symptoms and uses of a fraudulent SIM switch request.
Collaborating with Law Enforcement and Cyber Crime Expert to prosecute SIM swap scammers.