Tips to Stop Unsolicited Emails from Reaching Your Mailbox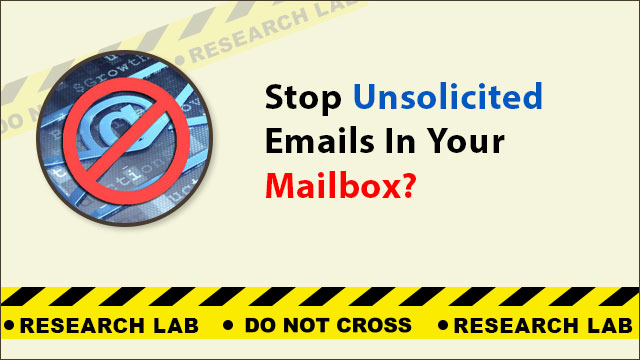 Nowadays each individual owns an email account. From personal to professional file sharing and/or transfer is done through emails. In an email account, there is a dedicated section often ignored by almost everyone, that is 'Spam' and sometimes people receive spam mails on the inbox itself. However, ignoring the spam can cost you your sensitive information being in the wrong hands. So, don't let these unsolicited emails pile up and clutter your digital space. And if you are thinking about how to stop unsolicited emails, then keep reading.
The fact is that not only individuals but also corporate organizations have become victims of sophisticated email scams. And spam emails are becoming the medium for conducting such scams.
What are Unsolicited Emails?
Unsolicited or unwanted emails are emails that often flood your inbox. These emails could be from companies, services, people, and most importantly could be from a scammer.
There are some common types of unwanted emails. Let's have a look at those.
You might tend to receive emails from the online vendors from where you bought some items. Those emails are also known as junk emails. Junk emails or spam emails are sent in bulk to subscribers for promotional use.

When you visit a new website seeking some information, they confuse you and you end up writing your email address. As a result, you start receiving subscription emails.

iOS users may be familiar with ghost emails. These emails don't have a sender name and also no subject. It might happen due to a system glitch.

Sometimes you receive emails from someone you know but you have no intention of replying to those messages. 

Finally,

phishing

emails are malicious emails, that scammers intentionally send to steal personal information. These will appear as if they are coming from a legitimate source. Then the hackers can further use your sensitive data for

identity theft

.
But, are you also thinking about the question, why are you getting such unwanted emails? You will find the answer below.
Why am I Getting a Lot of Spam Emails?
Some standard reasons pile up a lot of spam mails in your inbox:
If you have accidentally subscribed to the newsletters of a company then you are most likely to get promotional emails.

Sometimes you share your email address on public forums or websites. And, you forgot to unsubscribe to stop receiving emails from the same.

There could be a chance that the company that had your details is a victim of a data breach. Then you could receive emails related to the same.

If you remember clicking on a malicious link before then certainly you will receive spam mails.
Now you must be wondering, is there any way to stop these emails from coming? Well, yes!
How Can You Stop Unsolicited Emails from Clogging Your Inbox?
Luckily, you can get rid of unwanted emails by following preventive measures.
When installing a new app or visiting a new website, before clicking the OK button read the fine print. Also, make sure to uncheck the 'do you want to receive emails for our latest offers' option.

If you wish to get updates about a new product launch or offers of reputed brands, then only subscribe for their newsletters. 

Out of frustration, you may want to reply to the annoying spam message to not to send the same. But it is the easiest mistake you would do. Because if you respond to those emails there is a high chance that they may overload your inbox from different sources. 

Be careful about disclosing your email address in public forums or on suspicious websites.

Most email clients provide an option to create email filters that automatically send messages to the junk/spam folder or directly to the trash. So, check for the option and follow the user guide to filter out the spam messages.

Don't use your personal or business emails while participating in any online contest or registering for deal updates. Create a throwaway mail to keep your personal or business mail safe from scammers.

Depending on the email client you are using, you can block the emails from unknown senders. Follow the process given by your email client and block the unsolicited emails.

Be aware of the unknown links and attachments that come with the spam mail. Don't click on the same cause this may lead to receiving more such emails.
Above are some preventive measures you can consider:
However, according to the Cyber Expert of India, Anuraag Singh, many people get victims of Email Fraud via unsolicited emails.
So, what can you do if you become a victim of Email fraud?
Responsive Action Towards Email Frauds Happening via Unsolicited Emails
Email frauds are happening in various forms like phishing, email spoofing, etc. Hence the cyber expert suggests that you should preserve the fraudulent emails and report the fraud immediately.
Secondly, change your email password and de-link all the devices, accounts. In case there is a monetary loss then inform the bank and follow the next steps.
Finally, you can take the help of cybersecurity software to be safe from email fraud. And, be cautious about unsolicited emails.