Text Message Scams with Links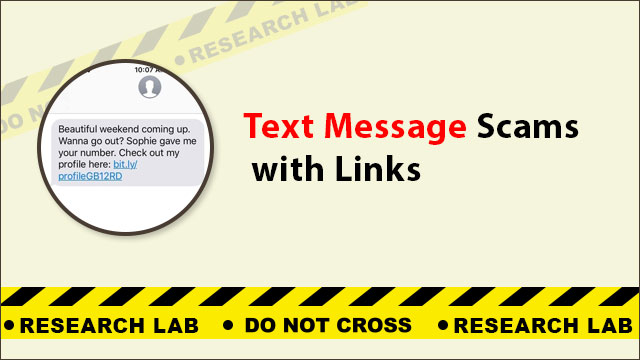 If you own a cell phone, you undoubtedly text your friends and family hundreds of times every day. However, have you ever received a text message with links from an unidentified sender? It might be an attempt by a fraudster to obtain your personal information. Learn what actions you may take in response to avoid text message scams with links.
About Text Message Scams with Links
Scammers send fraudulent text messages in an attempt to deceive you into providing sensitive information such as your password, account number, or Social Security number. They might then acquire access to your email, bank, or other accounts. Alternatively, they might sell your information to other con artists.
Scammers attempt to attract you with a range of constantly shifting lies. They might:
Promise free gifts, coupons, or gift cards.
You might be able to get a credit card with a low or no interest rate from the company.
They say they will help you pay off your student loans.
Additionally, scammers send fraudulent messages claiming to have details about your account or a transaction. The con artists may
Claim to have observed some unusual activity on your account.
The proximity scam involving phone numbers.
Assert that there is an issue with your payment details.
Send you a fake invoice and instruct you to contact them if the purchase was not authorized.
Send you a fake notification of product arrival.
The texts may request that you provide certain personal information — such as your income, debts, bank account, credit card, or Social Security number — in order to collect your gift or pursue the offer. Alternatively, they may direct you to a link where you may learn more about the subject. Certain links may direct you to a spoof website that appears to be legitimate but is not. Fraudsters can then acquire your user name and password if you log in.
Other texts may infect your phone with malicious virus that takes your personal information without your knowledge.
What Should You Do with Fraud Text Messages?
If you receive an unexpected text message requesting personal information, do not click on any links. Legitimate businesses will never text you for account details. If you believe the message is genuine, contact the firm using a phone number or website that you are certain is legitimate. Not the text message's contents.
There are several techniques to filter harmful text messages or to prevent them from reaching you.
Your mobile may include a filtering and blocking feature for messages from unknown senders or scam.
You may be able to block calls and text messages using your cellphone provider's tool or service.
Additionally, some call-blocking applications allow you to block unsolicited text messages. Also, you can conduct an online search for applications. Consider the features, customer reviews, and expert commentary.
How to report Text message scams in India?
The following instructions are in accordance with the information obtained from the TRAI website.
If you receive any unwanted commercial messages within seven days of your telephone number being registered with the NCPR, you may file a complaint by:
By dialling the toll-free number 1909; or Simply sending a text message to the short code 1909.
It is critical to remember that the complaint must be filed from the telephone number used to receive the unwelcome commercial communication.
Within three days after receiving the unwanted commercial message, you must file a complaint.
The final line: Avoid suspicious links
Text message scams frequently include URLs that contain harmful malware that can encrypt your data and lock your phone. If this occurs, text message scams effectively take over your phone and demand money in exchange for regaining access. They may even gain access to all of your personal internet accounts using the code. Keep an eye out for any form of fraud. Anuraag Singh, the finest cyber crime investigation specialist, provides advise on how to stay secure.