Tips to Prevent from Online Sextortion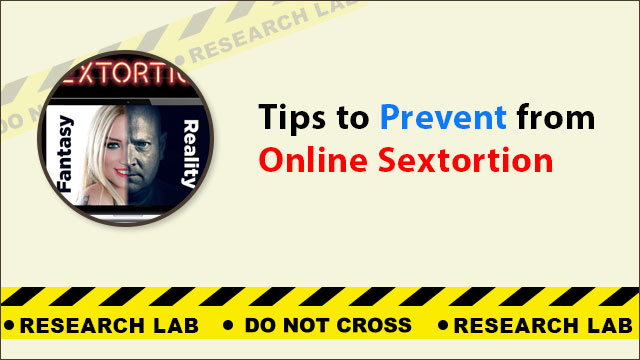 Introduction: In today's guide, you will get to know the tips to prevent from Online Sextortion. Please beware of it. So, to have a thorough understanding of it, read the blog or watch our video.

These sorts of scams can be committed against both male and female victims (despite the fact that the vast majority of victims are female). And the offender can be an unknown or a known individual. In these kinds of crimes, the culprit often entices and convinces the victim to disclose their intimate and naked images or films through phone, which the former then stores and saves for future sextortion.
In many situations, people meet strangers via dating apps or even matrimony websites/apps. They mainly connect with fake profiles. The individual who created the profile is actually a criminal with the primary objective of extorting money from the victim. These bogus profiles are purposefully constructed to appear extremely beautiful in order to lure unsuspecting victims. The individuals who manage these fake profiles initially communicate with the victims in a regular manner for a few days before convincing them to share their intimate/nude photographs and videos with them.
As once criminal obtains access to the sender's private photographs and videos, he begins extorting money from the sender. Sometimes up to several lakhs, claiming that if the victim does not pay, he will upload the victim's photographs and videos to the internet or share them with his/her relatives, family, and friends.
In a recent variation on this Modus Operandi, a large number of people (mainly men) have lately been approached on Instagram by women with gorgeous profiles who instantly want a sex chat or nudity video call. When the individual accepts, they videotape the entire incident and begin blackmailing/extorting money from the victim, threatening to release the video with his relatives and friends.
Sextortion Cases in India
Sextortion cases are on the rising in India, so use caution when using social media.
Dangers
Exploitation and Abuse
Harassment
Blackmail
Threats of public embarrassment
Emotional pain
Channels via which victims are enticed into online sextortion
The scammers proceed to sextortion in accordance with a variety of channels such as –
Apps for messaging
Apps for dating
Social networks, pornographic or unsafe websites, and so forth
Please have a look at the warning signs of online sextortion
Unwanted messages/video calls from an unknown number/numbers
Unknown person's repeated buddy requests
Requests for private personal photographs, video calls, and photographs have been made repeatedly.
Manipulation or redirection the discourse to more personal subjects
Hastily completing tasks and attempting to create intimacy
Tips to prevent from online sextortion
Never share any revealing photographs, postings, or videos of yourself with anyone, regardless of their identity.
Bear in mind that the internet is incapable of forgetting or forgiving. If you share something once, it will be on the Internet in some form or another in perpetuity.
Also, never accept or initiate friendship requests from strangers on social media networks.
Configure privacy and security settings for your social media accounts and instant messaging applications.
Do not publicly share your personal/private photographs.
Also, when not in use, turn off electronic devices and web cams.
Utilize two-factor authentication and strong passwords for each of your social media accounts.
If the individual on the other end of an online conversation or chat appears to be rushing through things and attempting to create intimacy, this is cause for concern.
Accept no video calls or open attachments from strangers.
Do not be afraid to file a report or call the police out of humiliation, shame, or self-blame.
Also, keep in contact with the Cyber Specialist to stay informed at all times.
Above are the most common tips to prevent from online sextortion.
So, should I ignore sextortion? 
No, absolutely not. Those who have been a victim of cyber sextortion should take the steps listed below to protect themselves:
Those who have fallen victim to sextortion schemes should never cave in to pressure from the fraudsters. It doesn't matter how terrifying it is; if you give in to the extortionists, things will never improve.
As a result, the safest course of action is to call the police as soon as possible. It doesn't matter if it's embarrassing; they are your best option.
Another critical step is to notify your internet service provider or cellphone carrier that you have received a sextortion email or text message. They can take actions to prevent the person from contacting you in the future.
Also, while it may be tempting to attempt negotiation with the extortionist personally, it is critical to defer to the authorities and allow them to perform their job.
How to report Sextortion?
Thinking about how do you file a complaint for Sextortion in India? Sextortion can be reported online or at a local cybercrime cell. Remember that you may also register an online complaint anonymously against such a crime on the national reporting portal for cybercrime.gov.in.
The Conclusion
There are a few easy things you may do to protect yourself from a online sextortion scam. However, even if you submit to the desire, it will not be the end of the world. So, it is possible that the authorities will be able to assist in reducing the harm.
Also read: Sextortion laws in India