Work From Home Job Opportunity Scam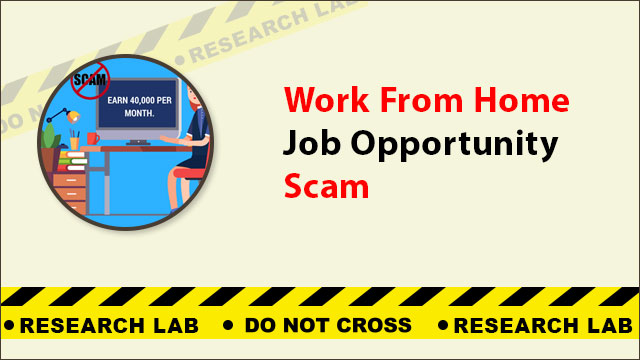 Note: In this cyber tip, you will get tips to avoid work from home job opportunity scam.
You could be particularly interested in a job offer or job description that promises the opportunity to work from home, given the increased adoption of remote work in recent years. However, you should exercise extreme caution as well.
What is work from home job opportunity scam?
Work-from-home scams occur when deceptive individuals establish fictitious job advertisements in order to profit themselves. They may use these to obtain personal information or financial assets from you. As work-at-home professions gain popularity, fraudsters are targeting this industry with ostensibly lucrative employment offers. They may pose as a legitimate business or individual in order to gain your trust.
Have a look at the common signs of work from home scam
While job fraudsters' strategies have evolved over time, there are still certain unmistakable signs that a job is a fake. The following are some common warning signals of a work-from-home employment scam:
You are asked for personal financial details early in the job interview process—such as your social security number, bank account information, home address and phone number, and date of birth.
The job pays well for the amount of labour required. After all, nearly always, if something seems too good to be true, it is.
The firm has a number of rags-to-riches success tales that depict high-flying lives.
The job description makes reference to rapid money, huge income swings overnight, and so on.
The job advertisement has several grammatical and typographical problems.
Numerous celebrities and public figures are allegedly endorsing the product.
The position needs candidates to make various upfront costs.
Compensation is depending on the number of recruits you make.
A recruiter may offer you a job without checking your employment experience or without requesting references.
How to avoid work from home job frauds?
Never respond back, text messages, or emails from unfamiliar or questionable numbers or addresses.
Never provide or receive confidential personal or financial information through email, text message, or phone call.
Do not open any links in a text message from an unknown phone. If a buddy sends you a text with an unusual link, phone them to ensure they were not hack.
Consider joining the National Do Not Call Registry to avoid receiving telemarketing calls.
If you believe you have fallen victim to a coronavirus hoax, notify your state consumer protection authority and the National Center for Disaster Fraud.
Notify local legal enforcement if you have lost money or property as a result of a scam.
The following are some frequent work-at-home scams to avoid
The faulty check
Work part-time for full-time salary
Including a need for you to recruit others
Pay for medical billing training
Legitimate remote employment do exist, but it is critical that you conduct due diligence on each possible employer to ensure you are not dealing with a scam and that you are taking on the remote work that is a good fit for you. Keep this piece in mind the next time you're looking for remote employment, and you'll quickly locate the ideal position for you.
If you have become a victim of any form of online fraud, please take immediate action to stop it. Kindly report cybercrime so that no one else becomes a victim.