Airline Ticket Refund Scams – How to Avoid Them?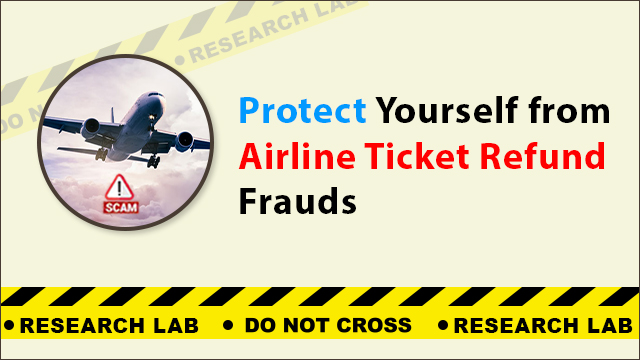 People who are seeking for compensation of flight refunds are being warned to stay alert because cybercriminals are taking advantage of the situation by engaging them in "Airline ticket refund scams". 
Many fictitious travel agencies have cropped up, claiming to be able to handle refund requests, but customers have been urged to be wary.
Similar caution was offered to travelers during the pandemic when con artists stole funds intended for afflicted airline passengers and gain personal information in the shadows by creating fake websites with the intention of defrauding people. In India, this scam is on the rise.
So, in today's article, we will understand this scam. But first, quickly look at the news section. 
Recent Incidents Related to This Fraud
According to the report, A man from Maharashtra become victim of this latest fraud, while he while refund for his cancelled tickets. He filled out the form for a refund but didn't get an answer. Then, the victim started searching for the contact number of an airline on Google. When he found it,  he dialed that number but unfortunately, the call got connected with the fraudster. 
After this, the con artist instructed the victim to download an app, through which he can get a refund. When the fraudster got access to the victim's device. He ended up losing Rs 4.8 lakh. 
What is Airline Ticket Refund Scams?
The COVID-19 pandemic has resulted in an unprecedented number of refund requests for cancelled flights, which has led to a rise in refund fraud in the travel sector. Please be aware that there are con artists out there who are attempting to take advantage of the current circumstance, and thousands of consumers have already fallen prey to this scam. While giving out any flight confirmation numbers, credit card numbers, or personal information over the phone or email, it is crucial to be cautious at the time of sharing any necessary details.
A flight refund fraud may take one of several shapes. They may include
Phishing scams, in which con artists impersonate travel agencies and promise you a refund in order to steal your personal information (and maybe your money, too)

Claims management fraud, in which con artists take your return money after charging you a fee to handle your compensation or refund claim.
Whole Concept of Carrying Out this Latest Fraud
Here you will get to know how cybercriminals accomplish this fraud.
In phishing scams, scammers will email you or they could also contact you over the phone (a practice known as vishing) or by text message (smishing). While executing this scam, they pose as an employee of an airline company in order to obtain your financial and personal information.
They will probably ask you to click a link in an email or text message that redirects you to a fake website where they want your sensitive information. 
When you visit the dummy website, there's a chance that tracking software or malware get install on your device. It will easily steal your information. 
But, How Can You Identify this Airline Ticket Refund Scams?
In part, we will discuss some of the warning signs you can look for:
 Way the Greeting is : In this form of fraud, fraudsters frequently use generic greetings like "Dear Sir/Madam" or "Dear customer". While valid correspondence from your organization will often use your name.
Spelling Errors: we're all prone to the occasional typo, but airline ticket refund scams text are known being for riddled with spelling mistakes, that don't make any sense.
Fake URLs and Email Addresses:

Email addresses with random digits or letters or frighteningly realistic-looking fakes are a few examples of this.

Be especially wary of emails from web-based services like Gmail and Yahoo. As well as any extra punctuation like dashes and full stops that wouldn't be in a legitimate email address or link.

Urgency and Aggression: Fraudsters frequently use this strategy to get you to respond right away by making their message sound urgent. This can entail giving you a deadline to submit your refund claim. If you don't give your information to the scammer, they will gets irritate and aggressive with you 
So, this is the strategy through which scammers try to trick people.
How to Avoid Being the Next Victim of an Airline Ticket Refund Scams?
Scammers are sending texts and emails that appear legitimate airline cancellation notifications but in really they are fake. Before connecting with customer service, verify the accuracy of the information in the message, such as the flight and reservation numbers.  

Remember not to share your sensitive details with anyone.

To avoid airline ticket refund scams. Don't rely on anybody for compensation. Always make sure to request a refund on your own from the airlines through which you booked the flight. However, the procedure may be challenging and protracted, which is why hiring a company to handle your claim may seem like a good option. While there are some respectable claims businesses, some are con artists.

Fraudsters will pretend to handle your refund or compensation claim on your behalf in return for a fee in a flight refund claims scam, but once they have your money, they simply disappear with it. They could offer you an explanation of why you won't get your money, but it's also feasible that they'll just go without leaving a trace.

However, reputable claims management firms also charge a fee to manage your claim. So how can you determine if you've hired legitimate aid or been duped? Promises that seem too good to be true are one red flag of a claims scam. Perhaps the company promises that you'll receive the refund in a remarkably short period of time. So don't trust their words.
Implementing the above safety measures in your daily life will safeguard you from such scams out there.
Summary
After, understanding the full concept of airline ticket refund scams will help you to protect yourself from being the next victim of this fraud. Unfortunately, if you fell prey to this fraud then immediately report at the cybercrime police station. As well as to the airline through which scammers are doing the scams. Stay alert and stay cyber-safe.