Brand Ambassador Scams – Social Media Cyber Crime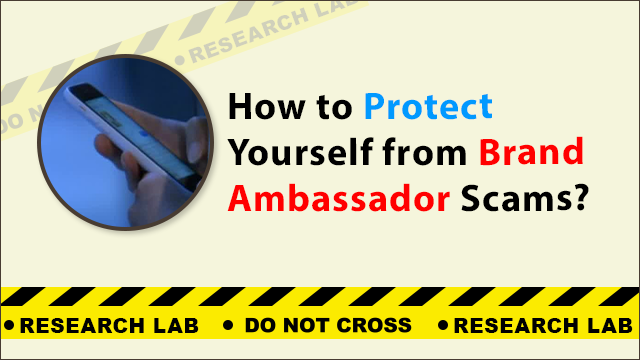 Have you ever received a message in which someone offers you to become their brand ambassador? If yes, then be alert because it could be a scam. We know there are N numbers of techniques through which scammers target people and Brand Ambassador Scams are one of them. Maybe you heard it before but if not then today's post will help you to understand this fraud in a proper way. 
All About Brand Ambassador Scams
Scammers have lots of techniques through which they lure people and ambassador scam is one of the most common tactics. They use social media platforms such as Instagram, Facebook, etc. as their weapon to trick people.
If you are also using any social media platforms then reading this…
In this fraud, first scammers make a bogus (fake) profile on any social media platform and start sending messages of brand ambassadors to the user. That message looks so attractive that the user gets excited about the opportunity that they got. 
When fraudsters notice that the user is showing interest in the offer then they start asking for his/her sensitive or financial details and they also ask for the user's photos. 
After that, they start asking for the fee or paying an amount to start the collaboration with them. 
When the user pays the amount he/she become the victim of this scam. 
But don't worry we have the key for safety but before that quickly look at some red flags through which you will get to know that it's a scam. 
Warning Signs that You Need to Know For Avoiding Such Scams
Fraudsters have quite good at building complete websites that seem legitimate in spite of themselves. Consumers sometimes fail to see the difference because its look like an original one. To trick you into giving them your personal information, these con artists even set up social media profiles that seem to represent a brand's voice means brand ambassador.
We've put together a list of warning signs so that you don't become a victim of a brand ambassador scam. 
Ask for Your Personal Details:

Potential ambassadors are rarely contacted by ambassador marketing coordinators to collect photos or confirm personal information like banking details immediately away. You won't be use in this way by any account that claims to represent a well-known brand. If you're ask to provide personal information so that they can verify your legitimacy. See this as a huge warning sign. 

Spelling Mistakes:

The development of any type of formatting, spelling, or grammatical problems is one of the indicators of online identity theft or brand ambassador scam. It is very reasonable to doubt the legitimacy of a social media account if you have gotten a message from it that is rife with peculiar writing errors. Poorly made photos that appear pixelated or are cropped in an odd way are frequently another sign of a phoney account. 

Sense of Urgency:

Scammers frequently urge you to enroll in their program and transmit your information right away. The cause of this is because they are mass texting several Instagram users, which frequently leads to the account or accounts in question being reported or soon removed from Instagram. This calls for registering as many users for "sponsorships" as they can in a short amount of time.
Having a marketing timeline for a brand is fair. However, it might be a warning indication if "brand managers" are insisting or urging you to sign up for a brand relationship right away or to make a purchase using a limited-time discount coupon.
How to Prevent this Brand Ambassador Scam?
If you want to stay safe from this dangerous scam then must follow all the safety tips that we will discuss in this section.
Never share your personal or financial details with any stranger.

Don't trust any offer immediately.

Remember not to pay any amount or a fee. 

Make sure not to share your personal pictures with anyone.

Before applying for any such offer always make sure to verify everything. If you have some doubts then immediately block that fake account.

Make your account social media account private.

Don't accept every request that comes on your social media account.

Report the fake account from which you are receiving such suspicious messages.

Verify the brand website before applying for anything.

Use two-factor authentication on your account.
Bottom Line
Today we have learnt so many things about brand ambassador scams. Hopefully, at the end of the day, this information would be helpful for you. For more updates on the latest cyber frauds visit our official website "anuraagsingh.com". If you are looking for professional training then get in touch with India's well-known cyber expert Anuraag Singh. Stay cyber-safe!