BSNL Fake Notice and Safety Measures to Prevent This Scam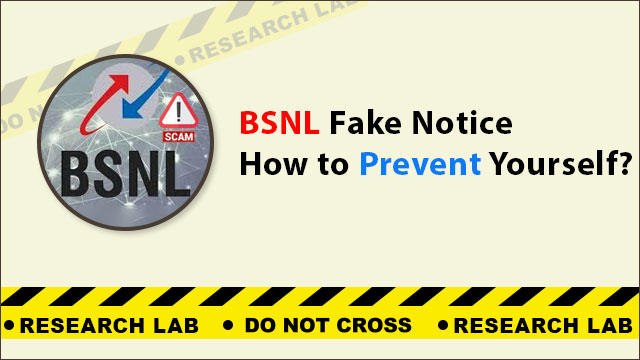 As we all are living in a digital era, doing our work with smartphones, whether it is financial transactions or some office work or so on. Moreover, we all use SIM cards for communicating with our friends, family members, colleagues, etc. So now cybercriminals are luring people by using the name of a reputable technology-oriented integrated telecom service-providing company that is BSNL. It's known as BSNL fake notice scam. They send a forged 'notice' from Bharat Sanchar Nigam Limited (BSNL) to consumers, warning them that their SIM cards will be blocked, resulting in disconnection.
It could be pretty dangerous for BSNL users, so you have to be aware of what is happening in the cyber world. If you want to be safe, reading this post will assist you in comprehending this fraud and how to avoid it.
What is BSNL Fake Notice Fraud?
Cybercriminals have changed how they operate in order to swindle individuals. Earlier, scammers threatened to block phones by sending SMS messages. Now, fraudsters have created a BSNL forged notice to persuade customers of the authenticity of messages."
On social media, a story alleging that consumers have gotten warnings from BSNL informing them that their SIM cards would be banned within 24 hours and that TRAI has stopped their customer's KYC has gone viral. It should be mentioned, nevertheless, that the report is false. According to a PIB fact check, the accusations are untrue.
BSNL never send such types of notice to anyone. So, you should never provide your personal or financial information to anybody.
How Cybercriminals Do Cyber Fraud in the Name of BSNL?
Cybercriminals carry out this scam so cleverly that no one can detect that it's a fake notice of BSNL. For understanding how this scam will be accomplished by fraudsters then read the modus operandi of it.
First, a cyber-criminal sends a BSNL fake notice which looks like this:

Dear Customer, The Telecom Regulatory Authority of India (TRAI) has suspended your SIM KYC. Within 24 hours, your SIM card will disable. In addition, a customer support number is provided on the fake notice. It also includes the contact information for a KYC verification executive.

In such fake notices, malicious links could be given which will redirect the victim to an unknown website where he/she would be asked for their confidential details or download the malware in the victim's device.

Or there could be written as to download any remote desktop application like (Any Desk).

If users update their KYC from them. They fall victim to the BSNL forged scam. Which leads to a big monetary loss for the victim.

One such forged document bears a national emblem and mentions TRAI (Telecom Regulatory Authority of India). It also includes a forged stamp from the Government of India. It gives the impression that the notice is genuine," the inspector added.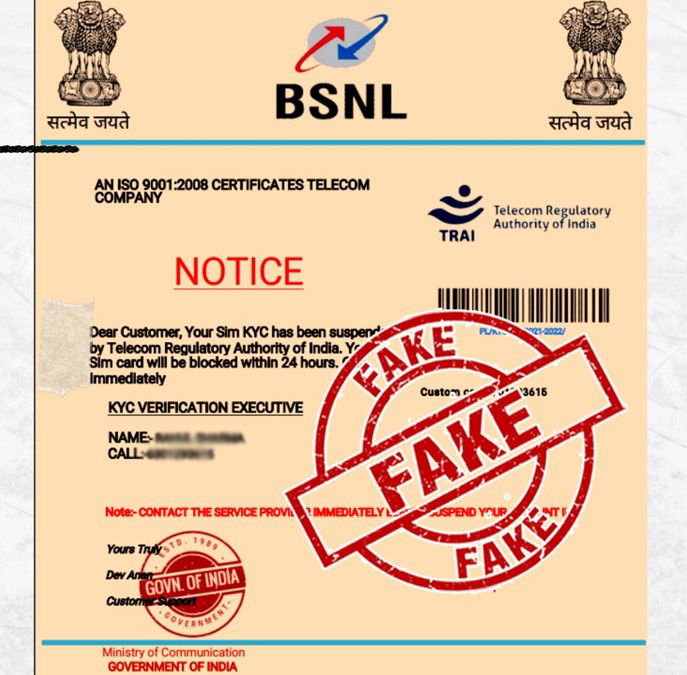 How Can You Prevent This BSNL Fake Notice Fraud?
Previously, we discussed the modus operandi of BSNL fake notice fraud. Now let's discuss how you can avoid this scam.
Don't trust these types of messages blindly.

Never share sensitive information to anybody.

If you want to avoid BSNL fake notice fraud then always update your KYC from the official website of BSNL.

 Don't click on any links.

Remember BSNL never sends any alert notices to anybody.

Don't download any remote desktop applications like Any Desk.

Never share your remote desktop ID (Any Desk number) with any anonymous user to stay safe from BSNL forged notice scam.

In case you fall victim to any cybercrime and feel helpless, you can contact India's best cyber expert Anuraag Singh. He will guide you in a professional manner so that you can easily come up with
Conclusion 
Cybercrimes are on the rise in India, which puts everyone at risk. So, in this article, we discussed the latest scam that shows how cybercriminals con people by sending telecom service-providing company BSNL fake notices. In these kinds of frauds, you have to be alert and follow the safety measures that are mentioned above.