Cyber Security for Small and Medium-Sized Enterprises – Cyber Tips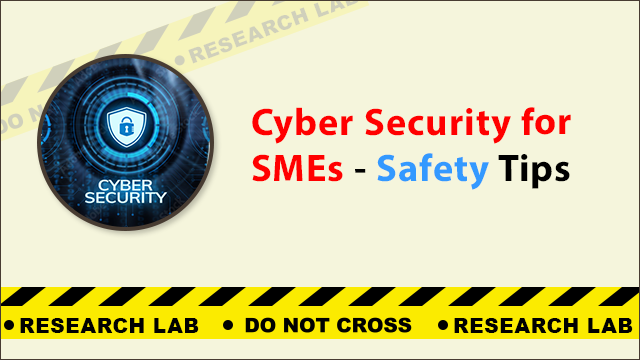 Overview: In this article, we will discuss the most crucial topic, "Cyber Security for Small and Medium-sized Enterprises". If you want to understand its depth then carefully read our today's article. 
These days all enterprises are becoming victims of cybercrimes it is because of a lack of cyber security. Yes, it's true! Cybercriminals are stealing information from businesses by accessing computers, servers, networks, systems, etc. They can obtain financial benefits or terrorize and hinder all enterprises from operating. So, if you are pretty concerned about your business security then this article would be helpful for you.
What is Cyber Security? 
The main goal of cybersecurity is to safeguard the numerous pieces of personal information that we save online and on the devices we all use (computers, cell phones, laptops, and tablets).
Cybersecurity is critical because computers, cell phones, and the internet are now such integral components of contemporary life that it is difficult to think how we would live without them. More than ever, taking precautions to stop cybercriminals from accessing our accounts, data, and device is crucial. 
Keep on reading to know more about curial cybersecurity…
12 Cyber Security for Small and Medium-Sized Enterprises 
There is a wide range of threats facing small and medium-sized enterprises at the moment. The best way to protect the business is by implementing the 12 best cyber security tips. Let's understand those in a simple way.
Keep Software Up to date:

Updates are made available by software developers for a variety of reasons, such as improved functionality, bug fixes, and security patches. Make sure to update your software immediately.

Automate Your Security Compliance:

With over 1,000 separate laws affecting cybersecurity, privacy, and governance throughout the world today – and these numbers are rising – this may be a burden due to complexity. Automate whenever you can better see, manage, track, and ultimately strengthen your compliance throughout.

Use VPN:

Your private information is protected online when you use a VPN, even from your ISP. So, always use virtual machine. 

Secure your mobile device:

You need to safeguard more than just your home or business computer. Establishing a security routine for your mobile device is crucial. Use biometric features and strong 2 Factor Authentication passwords.

Don't click without thinking:

There are various ways that malicious links might cause harm. The identification of such relationships requires training for your staff. Before clicking on links make sure verify them, whether they are from reputable or not.

Keep your device safe, always have a back plan:

It's crucial to protect data, especially data that is kept locally by your staff. Sensitive data may be kept and transferred as securely as possible with the aid of encrypted USBs. This can be quite useful in this situation. For any small or medium business, secure data backups are crucial. Keep in mind that hostile threats and hackers may employ ransomware with the intent to encrypt or delete your data instead of only stealing it. Resilient data recovery is essential.

Disable Bluetooth:

Turning off your device Bluetooth is also a tip for cyber security for small and medium-sized enterprises. with so many apps using this communication protocol, Bluetooth devices are frequently connected to phishing messages that tempt you to "click here" — don't fall for it!

Outdated Hardware, Upgrade When Needed:

You don't have always to adopt the most cutting-edge technological advancements, but you must at the very least stay on top of your software updates. Software developers provide a recurring update because they are aware of the potential of software vulnerabilities. These new upgrades, however, might not be compatible with the device's hardware. Avoid taking the risk of having obsolete hardware that cannot run the most recent software releases. This is what causes outdated hardware.

Educate Your Employee:

The human aspect is one of the major cybersecurity concerns, and since social engineering, phishing, and ransomware attacks are now commonplace, it's important to periodically educate yourself, your family, and your team on the subject. Be vigilant as well. And from SME to Enterprise, there are wonderful and frequently free tools available to assist you in doing just that.

Have a plan for dealing with breaches:

It's a "not an if, but when" situation, and with the always increasing cybersecurity threat landscape, it can be challenging to always remain one step ahead of harmful attempts that are also becoming more sophisticated. Plan for "after the fact" breaches and routinely test and practice your reaction.

Collaboration is the antithesis of ecosystem fragmentation:

To reduce security risks, we must combine technology, governance, compliance, law, education, and insurance. Look for ways to "get involved" and offer your knowledge and best practices. Such a collaborative and open method of sharing security helps everyone.

Social engineering:

When security flaws are not there, hackers will try alternative methods of attack. here comes social engineering. In order to access systems and information, this kind of assault concentrates on the user's thoughts and worries rather than the equipment. Delete any requests for passwords or personal data. Nobody needs to get in touch with you asking for personal information. Always be aware of the hazards.
Bottom Line
We know that small and medium-sized enterprises are facing the problems of cyber fraud. The greatest defence against these dangers for enterprises is a complete set of security solutions. In addition, it is important to implement security awareness training to make sure users are aware of security hazards and how to defend against them.
You can also take cyber training from India's best cyber expert Anuraag Singh, for this you can visit our official website "anuraagsingh.com".
Do share this "Cyber Security for Small and Medium-Sized Enterprise" with everyone you know. So that they will also get some knowledge.