Cybersecurity Awareness for Students – Cyber Tips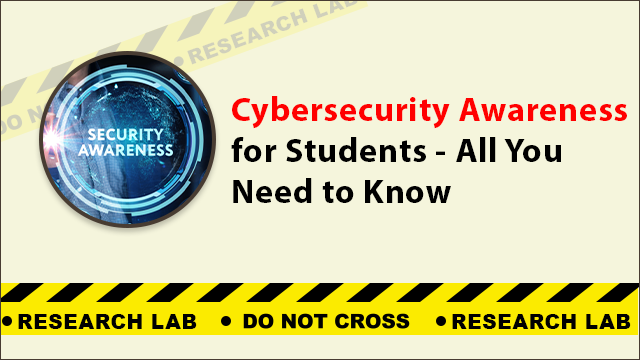 In this 21st century, children do everything online such as studying, playing games, communicating with their friends and family, doing their assignments etc. And with this, they are facing lots of problems like cyberbullying, child sextortion, identity theft, etc. This is happening because students are not cyber-aware. They don't know what to do for their protection. But this article will help to protect every child from cyber criminals. Let's start our today's blog on cybersecurity awareness for students.
What is Cybersecurity Awareness?
Cybersecurity awareness training and education are continuing processes that teach students about the dangers that exist online, how to avoid them, and what to do in the case of a security crisis. 
Additionally, it fosters in them a sense of proactive accountability for safeguarding themselves from cybercrimes. Simply said, cybersecurity awareness is the knowledge of security hazards and responsible behaviour to reduce risks.
Why it is Important to have Cybersecurity Awareness for Students?
If you were curious about to know that why cybersecurity is necessary for children then this section will guide you. 
1. Phishing Attacks: In this cybercrime, a cybercriminal poses as a reliable source to coerce the victim into disclosing sensitive information. Due to their constant need to interact with new individuals, college students are an especially vulnerable target for do these attacks. Because of this, it is rather simple for an attacker to pose as someone the student can trust and ask for access details by email or text message. 
Costly data breaches have been caused via phishing and spear phishing, which target a single person. University authorities would be prudent to cover all forms of phishing when talking about security awareness in higher education to stay secure online.
2. Risks of Social Media: College students have grown up in the social media era, and many of them are unaware of all the risks that exist in the online world. Attackers frequently target student and university social media accounts to exploit this information gap.
3. Password Security Weakness: Students and others frequently revert to using a password they've already used on a number of other websites and accounts because so many applications and websites demand passwords. These are frequently predictable and simple to forecast. All of your accounts that use the same passwords are exposed if one of your accounts is compromised. 
4. Computer and Mobile Security vulnerability: Since a long time ago, cybercriminals have developed new methods of breaching computer and mobile security systems. The variety of dangers also grows as there are more computers and mobile devices in use. College students are particularly vulnerable since they often interact in a range of security situations. 
Cybersecurity Tips for Students 
Students frequently have no idea about the internet, even when they find it fascinating to research other topics. It is essential that adults act properly in order to ensure that they may browse securely. Students should be taught many cybersecurity recommended practices to aid in their online safety.
1. Use Unique and Strong Passwords: Always create 12-15 character passwords with upper case (A-Z), lower case, digits and Symbols.
2. Always Back Up Your Data: A backup of your important data should always be kept on hand. Nowadays, it's simple to locate affordable storage choices. It's important to keep in mind that hazardous threats and hackers could prefer to encrypt or erase your data rather than take it. To ensure you have the finest recovery tool, make a backup of it. 
3. Use Encrypted Websites and Apps: The greatest method for securing any online data transmission is encryption. In order to protect data from network snoopers, hackers, and other parties, it is necessary to use websites and applications that encrypt data. It is also part of cybersecurity awareness for students.
Therefore, to prevent data leakage, always utilize websites with URLs that start with "https". Analyze the privacy policies of the applications similarly before using them.
4. Think Before Click: This is a straightforward but crucial piece of information that may be shared with a student who frequently uses the internet. They will have another opportunity to check what they are about to click on and determine whether it is essential or safe to do so.
Never click on dubious links given by strangers, and stay away from messages coming from someone you don't know.
5. Be Careful What You Share: Children should exercise caution while sharing something online since the repercussions can occasionally be significant.
Simple errors like publishing a photo of a driver's license after passing a test, a photograph of a boarding pass when on a trip, or disclosing information about credit cards, for example, might get people into trouble. Using the private information that people disclose online, there have been several reports of identity theft. 
6. Use Virtual Private Network: This is always a wise decision to make in order to shield student internet traffic from hackers who are ready to steal passwords or other critical data. For educational duties, a VPN on the institution's network can assist safeguard students' personal data security.
Similar to this, a VPN may encrypt an insecure Wi-Fi connection to protect students who are learning remotely from a café, their house, or coffee shops.
7. Lock Up and Shut Down: It is necessary to keep any active gadgets, such as a phone, tablet, or laptop, nearby or in a secure location. Never leave it unlocked so that someone else may use it to steal your identity or access your info.
Always log out and shut down your devices after usage, especially if you're leaving them alone. Protect your devices with passwords or thumb scans. Additionally, avoid leaving the gadgets alone in public areas.
8. Protect Your Personal Information: It is important to teach students how to handle their personal information responsibly. It is crucial to confirm the information that is provided, with whom it is shared, and the potential effects.
Sharing passwords, email addresses, and other information with others can enable someone to mimic you for bad reasons. Children may get into problems even if they share a their social media accounts with an unreliable buddy.
9. Only Access Secured Websites: Before moving on, make sure the website is safe and secure. Numerous unsecured websites serve as the most important spawning grounds for data thieves and potential hackers. Visit only websites with URLs that begin with "https" to prevent data breaches. Likewise, carefully read the privacy rules of any programs before using them.
10. Enable Two-Factor Authentication: Remember to on 2 step verification method on your every account. 
11. Social Media Should be Secured: When students use social media, always make sure they are safe. Verify the privacy settings on the account to confirm what information is shared and with whom.
The easiest strategy to safeguard shared data from outsiders is, for example, to set the Facebook account to "Visible to friends only." Similarly to this, the Twitter account may be made "protected" so that only the people the kids follow can view their information. It is important in cybersecurity awareness for students. 
12. Look for Software Updates: Not every software patch or update brings in new features. They also deal with weaknesses or security gaps. Because they could ignore update alerts, remind your kids to run updates periodically.
13. Don't use Unsecured Wi-Fi: Avoid using insecure Wi-Fi networks since they might allow a stranger to intercept your online communications. Students frequently make this type of mistake of accessing free public Wi-Fi. 
Conclusion 
College curriculum ought to include cybersecurity instruction. Students may defend themselves against online dangers and secure their personal and academic information in this way. Additionally, it may make the internet a safer place, assist people to make moral decisions online and guard against reputational harm.