Dual SIM Fraud and How to Protect Yourself From It?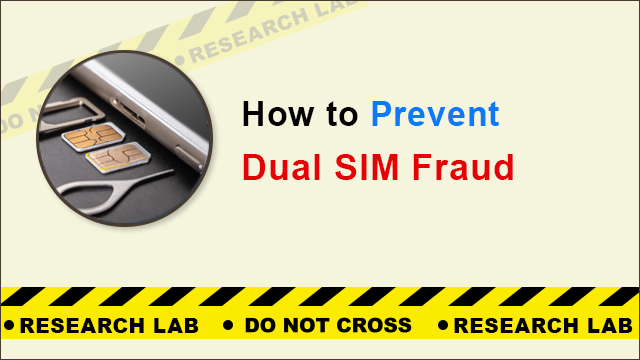 In this digital era, the majority of the country's population uses the internet and smartphones. Dual SIM Fraud is the new way of cybercrime. UPI has become the most popular method of transaction, and most of us must have two or more numbers for our convenience. 
Considering this requirement, all the smartphone brands provide dual sim card slots with their smartphones. Imagine a scenario of skipping recharge of one of your least used sim cards and this leads to a monetary loss!
Yes, you heard it right.
Cybercriminals develop new techniques for conning you using your non-functional SIM. If you want to know about this scam in depth then this tutorial will help you out.
What is Dual SIM Fraud?
If you forget to recharge your SIM card then it can give you a headache because of your small carelessness and cybercriminals can take advantage of the same. Many such cases have recently come to light, where people have stopped recharging their second SIM. Later, this SIM got into the hands of cybercriminals, who emptied the victims' entire accounts.
Why is Dual SIM Fraud Happening?
Cybercriminals are taking advantage of the new Telecom Regulatory Authority of India (TRAI) rules. TRAI issued a new guideline in the year 2022. Which telecom companies were offering lifetime validity on SIM card purchases. It was shut down due to which dual SIM fraud is increasing constantly.
According to the new rules, if the user wants to keep his number active, he must recharge his SIM card once a month. If he does not do this, the number will be closed after three months. The telecom company can then issue that SIM to someone else.
As per the zeenews.india.com, a cybercriminal stole Rs 75 lakh from Delhi businessman Shiv Kaushik's account by reissuing the deactivated SIM card of the victim and he has not received even Rs 1 back after 5 months. 
Modus Operandi of Dual SIM Fraud
Let's talk about the process of how cybercriminals do dual SIM fraud. After reading this modus operandi you can understand it in a complete manner which might help you to protect yourself and stay aware of these kinds of scams. 
In dual SIM fraud, cybercriminals begin by purchasing a locked SIM card with a forged ID. In many cases, they have worked together with SIM vendors.

Cybercriminals attempt to purchase these old digit numbers because most people have this old number associated with their bank account and email ID. 

They do not even change it due to negligence or a lack of information.

Once they have the SIM, these criminals use it to access any app, such as BHIM-UPI, Paytm, PhonePe, or Google Pay.

They obtain your bank account number and email address after logging in.

After obtaining your bank account information, these fraudsters visit the bank's Internet Banking website and first click on Forgot UserID.

The bank's website prompts them to enter their account number, email address, and registered phone number, after which an OTP is sent to Victim's

deactivated SIM card, which was previously registered with the bank but that SIM card is in the hands of the cybercriminals.

As soon as the OTP is entered, the criminal obtains the Internet Banking User ID to execute dual SIM fraud successfully.

During this process, the attackers use the Forget Password option to generate a new password.

Immediately after this, cybercriminals open your account via internet banking and clear the entire balance.

And you won't even find out because you've already closed that SIM.
How to Prevent Dual SIM Fraud?
So here are some safety measures which you can easily take and keep yourself on the safest side so that you don't fall victim to it. 
Don't forget to recharge your SIM card regularly.

If there is any number on which you last recharged that SIM a long time ago, in that case, you have to close or block your SIM from your SIM operator.

And if you want more knowledge related to cybercrimes or if you want any guidance you can directly contact to India's best cyber expert Anuraag Singh. 
Conclusion 
So in this tutorial, we learned about dual SIM fraud. Which is constantly  increasing. Always keep yourself aware of these kinds of fraud. You can share this article with your family members and friends so even they also don't fall victim to it.