Electricity Bill Payment Fraud – Beware of Fake Electricity Bill Scam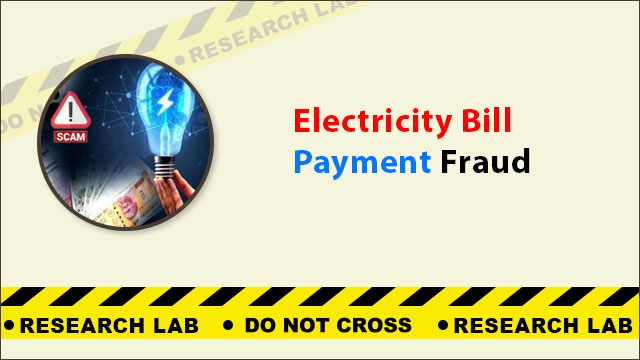 Nowadays everything connects with our phone numbers whether it is a bank account, UPI, or anything related to the house such as paying electricity bills. Every update comes on smartphones. And most of us do bill payments or any other transactions online. Yes, it makes our life easy but sometimes it puts us in danger as well. Cybercriminals seem to be taking advantage of this online payment. So now cybercriminals again come up with a strong weapon which is electricity bill payment. Hundreds of cases per day are coming to light. Electricity bill payment fraud could be dangerous for any age group. It's a number of cases that can easily stop only by getting aware. 
Yes, you heard it right.
You can protect yourself and your loved ones by doing some easy steps in your daily life. 
Explanation of Electricity Bill Payment Fraud 
We all pay for electricity and now in this modern era we pay our bill with our smartphones. However, now in the book of cyber fraud one scam increases. Which might affect every person. Cybercriminals are sending messages for unpaid electricity bills. 
So to understand in depth. Let's look at the latest news of electricity bill payment fraud.
Latest News Related to Electricity Bill Payment Fraud
As per the indianexpress.com, 57-year-old businessman received a "non-payment of bill" message on his phone that was ostensibly delivered by the power department, he was allegedly the victim of a cyber fraud.
The victim of electricity bill payment fraud, was duped into disclosing his Paytm and Google Pay credentials on a shady app a con artist had advised him to download. 
After that, the fraudster took Rs 3.47 lakh from his bank account. He received a message warning that the electricity to his home will be turned off since last month's payment wasn't paid when he dialed an unknown number.
Pandey was informed that his payment for December was still due by the con artist who claimed to be from Adani electricity. He then instructed Pandey to download the "QR App" and pay a minimal fee of Rs. 1 before using it. Following the accused's instructions, Pandey attempted to utilize two of his UPI applications to pay the sum approximately four times on the app. Ultimately, the scammer took Rs 3,47,803 out of the victim's account. This is how victim fall prey to electricity bill payment scam 
How Cybercriminals Accomplish Electricity Bill Payment Fraud?
As we know every cyber fraud has a modus operandi so this fraud also has. This accomplished process will help you understand it. 
First, cybercriminals send messages to users related to unpaid electricity bills. They write that message in this way . scammers notify victims to pay electricity bills asap otherwise their electricity will be cut over the night. Then, they will call those users pretending to be from an electricity department official. So, they will trust them easily.

Afterwards, they instruct the victim to download remote access software so that they will easily access all the details of the victim.

Once a fraudster gets access to the victim's information. Fraudster transfers money from the victim's bank to a fake account. 

This is how cybercriminals executes electricity bill payment fraud.                                                                                                                   
Preventions of Electricity Bill Payment Scam
So here are some easy safety measures to prevent electricity bill payment fraud that you can do in your busy life. 
Never blindly trust on these kinds of electricity bill payment messages.

Remember not to download any of the remote access software.

Always keep an inquiry related to your unpaid electricity bill.

Never pay any amount for these unknown electricity bill payments.

If you don't want to become a victim of electricity bill payment fraud then don't scan any QR code for payment.

Reread the message you just got. Verify the number from which you received the message. Moreover, make sure the message is free of grammar mistakes. Always double-check your sources before acting.

Contact the power provider or board directly if you have truly forgotten to pay your electricity bill. You may find the contact information on your prior power invoices.

For professional opinion, directly contact India's top cyber expert Anuraag singh who has more than 15 years of experience in the field of cyber security. He has the best solutions for your problems. 
Conclusion
Scammers are constantly looking for new methods to lure victims into their traps, and electricity bill payment scam is one of them. In this fraudster sends messages related to pending bill payment of electricity and users think that actually their electricity bill is pending and they become the victim of electricity bill payment fraud . So, i