Stay Safe from Fake Banking App Scam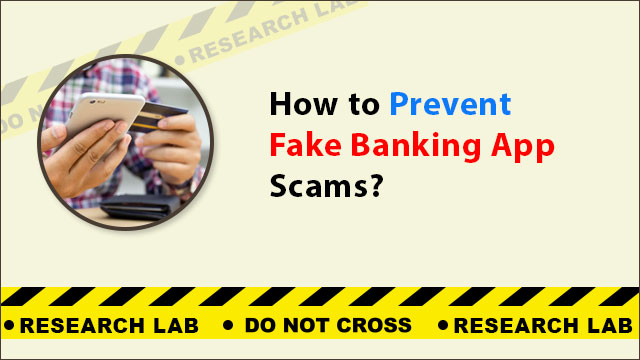 In this digital world, we do our bank-related activities with our smartphones. This saves our time and makes our work faster and easier. However, as online banking facility increase with time, the cases of cybercrimes are also increasing rapidly. The main reason for the rising cyber fraud in India is that many people still have not aware of crimes that are happening in the cyber world. Recently "Fake Banking app scam" caught users' attention.  
Nowadays, cybercriminals are luring people with this new technique. They have eyes on people's sensitive data and online banking details to steal their hard-earned money. Cases of this fraud are on the rise, if you don't want to become the next victim of this scam then keep on reading this article till the end. 
All About Fake Banking App Scam 
In this fraud, Scammers make fake banking apps for the Bank of Baroda, Punjab national bank, SBI, ICICI, Axis Bank, Indian Overseas, Yes Bank, Citi Bank, etc. These apps are generally available on Google Play stores. 
These fake apps look exactly like the original ones which makes it more difficult for bank customers to identify which one is fake or real. These fake applications contain malware it which may steal your information. 
However, a few banks have launched an investigation and have contacted CERT-In, the national coordination point for handling computer security problems.
According to Recent reports, the applications enticed users to download and utilize them by impersonating Internet apps or e-wallets and making promises of perks like cash back on purchases, free mobile data, or interest-free loans. 
In a fake banking app scam, some even asserted to be offering a service that seemed too good to be true, allowing customers to withdraw money from an ATM and have it delivered to their doorstep step. 
Now, you might be thinking that how we can identify these fake applications.
Right? 
If yes, then our next section will help you with this. 
How to Identify Banking App is Fake?
Here are some points through which you can easily find out the fake application. 
The battery on your smartphone can be swiftly depleted by fake financial apps. Therefore, if your mobile phone is brand new but the battery consistently drains in a short period, it might be an indication of malware or a virus.

Check the spelling of any app's name before installing it. Only download it if something goes right with it. Understand that an app can be fraudulent even if one character in the name is spelt incorrectly. This program can defraud you or deplete your bank account.

Consider the number of downloads the software has received when you are downloading it. You should check the number of downloads if you notice that several applications have the same name because this may help you distinguish between genuine and phoney apps.
How to Avoid Fake Banking App Scams?
If you are genuinely worried about your safety then this section will help to fight against this scam. Let's look at those important safety tips that can become your power. 
Don't download any banking application without verifying it properly. 

Always look for the ratings and reviews before installing any app.

Remember not to share your confidential data or banking details.

Install Anti-virus on your device.

Never pay the amount for any exciting schemes. 

If you find any malicious application on the google play store immediately inform the bank 
Where to Report If You Become Victim of This Fraud?
If you fall prey to this scam don't panic because we have a solution for this also, that you may follow to come out of it. 
Online Complaint: Go to the national cybercrime reporting portal.

Offline Complaint: Visit your nearest cyber crime police station.

If you want to take an expert's advice then get in touch with Anuraag Singh India's best cyber expert. Surely he will guide you in a better way. 
Bottom Line
Now you know how dangerous this scam could be. This fake banking app scam can affect anyone. Even the most secure mobile banking applications can have security issues, data exposure, and cons. However, for your safety be cyber-aware and do follow all the safety tips that we have discussed in this article. 
Also, stay updated with the typical mobile banking frauds and vulnerabilities. And follow the above best practices to protect yourself from such scams. 
Follow our page for more cybercrime updates "anuraagsingh.com".
FAQs
Q. Within how many hours I can file a complaint?
Ans. You must file a complaint within 48 hours if you want to see some action against cybercrime. 
Q. Is there any helpline number for filing a complaint?
Ans. Yes, for an immediate complaint you can dial "1930" it's a toll-free number.