Fake Government Websites – Most Common Way of Conning People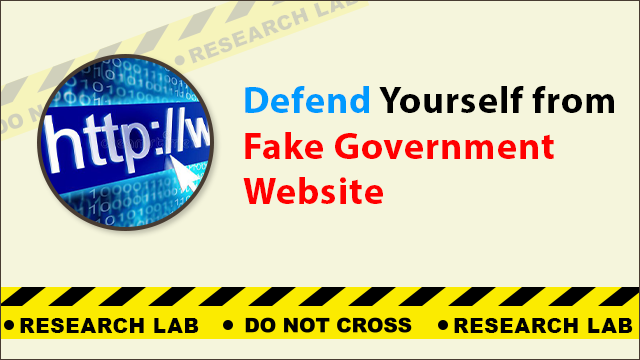 Nowadays, Fraudsters host fake government websites. Recent research shows that con artists are mimicking government websites to trick users into disclosing their personal and financial information. They use to follow many strategies to lure people but these days these scams become a major issue for people. And cases of this fraud are going on the rise so it's become necessary to understand this scam in deeply.
In today's article, we will learn about this scam and its safety measures so that you can keep yourself safe from it. 
What are Fake Government Websites?
Ayushman Yojana, PM-Kishan Yojana, and other schemes are among the many bogus websites that seem to be official government websites and are offered through online portals. The con artists profit from these programs and create websites with identical offers of employment, financial advantages, subsidies, free equipment, etc. on the online portal. These websites also contain malware, spyware, adware etc. They trick people into paying registration fees, examination fees, document verification fees, etc. by making false promises.
How to Identify Website is Fake?
There are many ways through which you can find that you are on a fake website. 
1. Use McAfee WebAdvisor to Check For Safe Websites: Using a free and useful program like McAfee WebAdvisor is one of the best methods to determine whether an online business is legitimate and prevent issues like domain name and subdomain name takeovers, debit and credit card frauds, and other issues. 
This smart program guard you from harmful websites that could contain: 
Adware

Spyware 

Viruses

Phishing scams
2. Look for the Padlock in the Address Bar: If you want to check whether you are on a fake government websites or not then always check for the padlock icon in the address bar. Often, cybercriminals use such URLs which exactly look like real ones. It will protect you from falling prey to this scam. 
3. Check for Spelling Mistakes or Grammatical Errors: While writing the content of the fake website usually fraudsters use broken English or make spelling mistakes. 
4. Always check certified trust seals: The goal of a trust seal is to convey to the user that the website is secure. The seal bestowed by a security partner (such as a certification authority, or CA), which attests to the website's reliability. If a trust seal is real, clicking on it will confirm its validity.
5. Do cross-check with the Google Safe Browsing transparency report: To determine whether a URL is safe to access or whether it includes malware. Consult the Google Safe Browsing Transparency Report if you are unsure about the security of a website.
How to Defend Yourself From Being Victim of Fake Government Websites?
Now it's time to talk about the most important section of this scam. Here, we will discuss all the essential safety techniques that you have to follow while browsing. 
Please check the website's credentials if you come across one that purports to give government employment, financial perks, subsidies, etc.; and its design seems suspiciously like a website run by the government.

Regarding the verification of any government portal, you can get in touch with the parent government agency or tweet PIB Fact Check @PIBFactCheck.

Remember that only websites ending in ".gov.in" are legitimate government websites. Before engaging in any financial transactions or disclosing personal information, other websites with the ".in" or ".org" suffix that pretend to be official government websites should be scrutinized with scepticism.

Websites that display official symbols like "Ashoka" or "Swachch Bharat" need not be run by the government. Verify the site's credentials using additional techniques.

A malicious government website would be cross-referenced on several other official websites, social media posts, etc., however, a phoney website won't be mentioned on other government portals.

Accidentally, if you become a victim of this fraud then within 48 hours file a complaint. You have 3 options through which you can easily report any cybercrime.
Visit governments' official websites for cybercrime is "cybercrime.gov.in" which is the national cybercrime reporting portal. 

If you want to report it on offline basics then also you have an option. Simply you just have to go to your nearest cyber crime police station.

And lastly, dial "1930" is a toll-free number through which you can easily file a complaint against any cyber fraud that happened to you. 
Summary 
As we know that there are various types of techniques through which people try to trick people and fake government websites is one of them. In this article, we have learned everything about this fraud. Now, you just have to implement those best practices that we have discussed above. 
And if you want training or expert advice, get in touch with India's best cyber expert Anuraag Singh on his official website: https://anuraagsingh.com/
Stay cyber-aware!