Google Drive Phishing Scams – All You Need to Know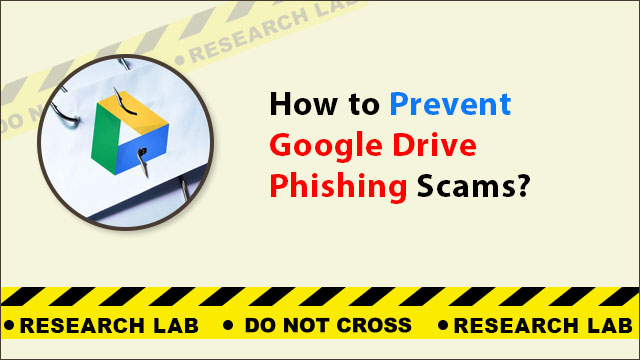 Google Drive is a cloud-based storage service through which users may save files online and access them using it. With the help of this service, you can store files online for free and view them from anywhere via the cloud. You may also use free web-based programs through Google Drive to create documents, spreadsheets, presentations, and other types of files. A flaw in the drive is being used to send out emails and push alerts from Google that appear authentic but, if clicked, users may redirect to malicious websites. Cybercriminals discover a new way of conning people through "Google Drive phishing scams". Although the scam itself is not new—messages requesting users to click on dubious links are as ancient as the internet itself—it may take many users off guard.
Phishing knowledge has become crucial for preventing security problems as these attempts become more frequent and sophisticated. This article will shed light on this scam, how scammers accomplish this, indicators, its safety measures and what to do if got scammed. 
What Exactly Happens in Google Drive Phishing Scams?
Now, it's important to know how scammers are smartly carrying out this common scam. 
At first, scammers send fake Google Drive emails to thousands of Gmail users 

That email contains dangerous links in it. If the user clicks on that link he/she will be redirected to a fake website.

Fraudsters wrote those emails in broken English and claim to the user that they won a reward or alert them with

bank suspicious activities (fraudulent activity on the user's bank account)

This is how this scam starts. 
Although this scam occurred long ago, it is still widely used enough that Google included a warning banner to emphasize the risks of opening potentially harmful files to make it easier for users to spot illegal use of Google Drive.
Indicators of Google Drive Phishing Scam that You Can Look for
If you are really concerned about your safety, then here are some signs through which you will easily understand that it is a scam.
Push Notifications:

This is used by scammers as their biggest weapon, just as easily as emails and SMS messages can. This implies that, much as with unwanted email or SMS messages, it is essential to exercise caution when opening unexpected push notifications.

Suspicious Links:

Cybercriminals create fake messages or emails which contain bogus links. 

Be Wary of Fake Prize Offers:

Fraudsters claim that you have won a reward. Any email or SMS message that says you've won a prize or something like this then don't trust them because you can fall prey to this scam.

Spelling Mistakes and Grammatical Errors:

In this fraud, con artists write fake Google Drive notifications and emails in broken English.

And Lastly, if they ask for personal information then be alert that could be a fraud. 
How Do Defend Yourself From This Google Drive Phishing Scams?
Let's have a closer look at this section because it will help you to stay safe from this scam. 
Remember not to click on links shared by an unknown person.

Delete all the fake emails that you receive from fraudsters

Avoid login into Google via links in emails; instead, visit the actual Google.com website and continue from there.

If fraudsters give you gives you a login page then be alert that you don't have to fill your credentials on that suspicious page.  Update your operating system on time. 

Use and maintain firewall and antivirus software. Protect your computer from viruses and Trojan horses that might steal or alter your data by using an antivirus application and a firewall. 

It's important to update software as soon as it alerts you to a patch in order to stop hackers from taking advantage of known flaws or vulnerabilities. Set up frequent, automated spyware screening programs as well to find weaknesses.

Check for the "green lock" or padlock icon in your browser bar—this denotes a secure connection—to practice safe web browsing wherever you are.

Never divulge personally identifying information to unauthorized parties, like your bank account number, SSN, or date of birth.

Instead of clicking links or copying and pasting emails, enter website addresses directly into the address field.

And lastly, enable the two-factor authentication on your account.
What to Do if You Fell Prey in This Scam?
If you accidentally got scammed into this fraud then here are some points that you can follow.
If you got to know that you got scammed by cybercriminals scam then without any delay file a complaint at your nearest cybercrime police station.

And, you can also file a complaint against this scam on the National Cybercrime Reporting portal "cybercrime.gov.in".
Bottom Line
Nowadays, Google Drive phishing scams are in the light. Many people are becoming victims of this fraud because of their lack of awareness. If you don't want to be one of them then always keep yourself updated with cybercrime news. So, that you get alert.