Google Pay Fraud Alert [Safety Tips for You]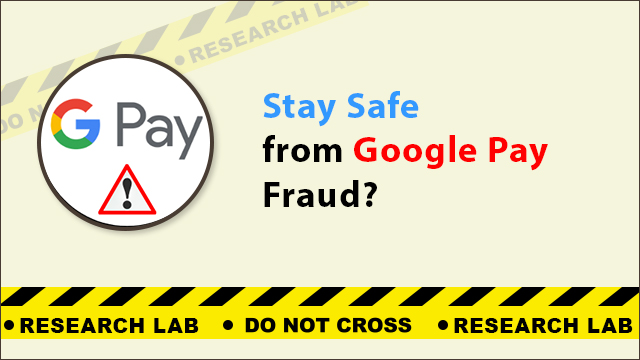 Cybercriminals mostly perform social engineering for executing cyber frauds, and sometimes they use different manipulation techniques to con people with the intention of stealing their credentials and hardcore money. Nowadays, cybercriminals find a new tactic to lure people and they use Google Pay for that. In this fraud, con artists trick people and make them click on malicious websites or links to steal their personal details. This fraud can be dangerous for Google Pay users if not addressed at the right time. This article explains what google pay fraud alert is, and how to avoid becoming a victim of unauthorized transactions. 
What is Google Pay Scam?
Since the COVID-19 pandemic, Google Pay has played an important role in everyone's life. This Upi platform is designed in such a way that it keeps your money safe. Additionally, for more protection, it provides us with a screen lock feature and a PIN lock option also. As well as it makes it easier for everyone to do quick transactions from anywhere in the world. But nowadays, cybercriminals are taking advantage of this popular UPI platform. According to recent studies, thousands of people are getting defraud in this Google Pay fraud alert. As a result, it has become a major issue for every individual who uses Google Pay. 
Moreover, cybercriminals create a solid strategy before targeting any user. So, for better understanding first look at the following section. 
How do Scammers Execute this Google Pay Fraud Alert?
Now, it's time to understand the whole working of this scam. 
At first, cybercriminals send a fake message to the user. 

That message is structured in a way that fraudsters can easily manipulate the user into their trap. 

In that fake message, scammers claim that "you have won a lucky draw" and insert a suspicious link in it. 

If the user clicks that suspicious link, he/she will be redirected to a malicious website where the user might ask for several personal details including OTP.

As soon as the user puts the details into it fraudsters will get the chance to steal all the sensitive information as well as the user's money.
There are several tactics through which cybercriminals try to trick you. Sometimes fraudsters may also try to sell some goods or services through which they try to convince people to make payment in order to receive the product or services. 
Anyway, let's move on to the section on how to avoid being the victim of this scam. 
How to Protect Yourself from Falling Prey to Google Pay Scam?
Keeping your hard-earned money safe from this scam is much easier than you think. You just have to follow all the safety guidelines that will discuss in this part.
Never share your OTP of Google Pay because it should be private

Don't transfer money to any stranger via using google pay.

To avoid Google pay fraud alert, make a habit of using strong password on your google pay app. A strong password should be 12-15 characters, which contain upper and lower case letters, digits, symbols, etc. 

 Always keep changing your passwords after some time. It will help you to protect your money from fraudsters.

Make sure to update your google pay app on time.

 Avoid allowing unfamiliar payment requests. Before authorizing a Google Pay UPI request, always verify it again and take a moment to think.

Don't download malicious software. 

Moreover, always remember not to share your sensitive details with an unknown person.

If you fall prey to this rising scam, immediately file a complaint at your nearest cyber crime police station. You can opt for the online complaint by visiting the national cybercrime reporting portal "cybercrime.gov.in". 

And you also file a complaint at "1930" ( it's a helpline number from the Indian government)
The Bottom Line
Now, you know that scammers are constantly targeting Google Pay users. You can easily prevent it by Implementing the few safety tips mentioned above. And keeping yourself aware is the best key to avoiding this Google pay fraud alert. You can also take expert advice from India's best cyber expert Anuraag Singh. 
FAQs
Q. Can Google Pay be compromised?
Ans. No, It's impossible that someone can hack your Google Pay account because it is completely encrypted. But through social engineering practices, fraudsters may easily steal login credentials.
Q. Is there any helpline number in India for reporting Google Pay fraud alert?
Ans. In India, you can dial 1-800-419-0157, a toll-free customer care number for reporting this scam.
Q. What should I do if the transaction failed, but the money was deducted from my account?
Ans. To complete the processing of online transactions banks take up to 3 working days to complete. If you don't receive the money back, make sure to contact your bank and provide all your bank statements.