What is Insurance Renewal Scam and How to Defend Yourself?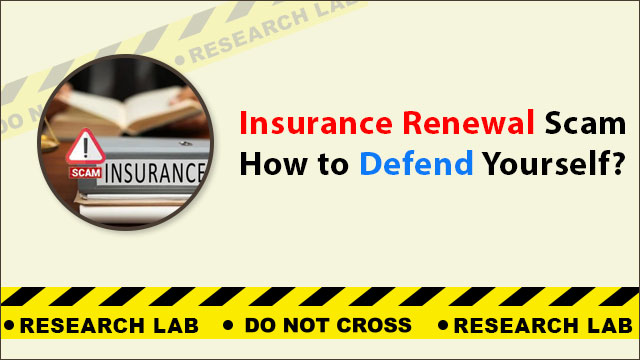 In this modern era, we all invest in our life insurance policies. The demand for life insurance is rising. As a result, cybercriminals seem to be taking advantage of this. On the basis of renewal, they con people and many people call it an "Insurance Renewal Scam". 
So in this article, we will discuss how this scam takes place and some safety tips to make you familiar with these frauds.
All About This Scam
This fraud is the most recent luring method used by online thieves. This scam is carried out by thieves under the guise of an insurance renewal policy. Yet, it could be risky for everyone who invests their money in life insurance.
Now let's discuss some recent news stuff pertaining to this hoax so that you may adequately comprehend it.
News Related to Insurance Renewal Scam
As per ndtv.com, a senior citizen from Noida lost around ₹ 2.67 crores under the guise of renewing his life insurance policy. The complainant received a phone call from an anonymous call informing him that his insurance policy had expired and that he would need to pay for a new one if he wanted it. In the end, the complainant paid 2.67 crores across numerous accounts in lieu of the guarantee of policy renewal.
How Do Fraudsters Accomplish this Insurance Renewal Scam Successfully?
Now let's discuss how fraudsters accomplish this scam so easily. Then further we will discuss a few crucial safety guidelines so that you can follow them for your safety.
In this fraud, fraudsters call or send texts to users, which is related to the renewal of insurance policy.

And cybercriminals ask the victim to pay some amount. If he/she wants to renew his/her insurance policy back.

If once a victim pays the amount. After that, cybercriminals demand for more money.

And this is how fraudsters use life insurance policy renewal as a weapon to lure innocent people into this fraud.
Ways of Avoiding Insurance Renewal Scam 
Hence, here are a few simple methods to avoid this con. Let's learn about them and make this a habit.
Ask the insurance agent for his/her ID proof

:- All agents representing insurance firms must go through stringent training and get proof of identification. According to strict instructions given by the IRDA to insurance businesses, if a representative contacts you, you should first request their identification, and write down their information. Thereafter, you should call the insurer's customer service line to confirm their identification. This is a precaution that has been suggested to prevent you from being a victim of an insurance renewal scam.

Never pay any amount without proper confirmation

:- Always be aware while doing any financial transitions online. Moreover, ensure that you do a proper inquiry before paying any amount for insurance renewal.

Renewal from the official website

:- It is always recommended to renew your insurance policy with the official website of your insurance company itself.

Verify with your bank

:- If you receive a call from an unknown individual promising advantages under the guise of an insurance policy renewal or by any other methods. Please verify with your banks before making any financial transactions.

Government's helpline number

:- Immediately call and file a complaint by calling 1930. It is the government's official helpline number for cybercrime.

Government's website for any cybercrime complaints

:- You can also file your complaint on the national cybercrime reporting portal cybercrime.gov.in as it is an official website of the government.

Reach Out to a Cyber Expert:- If you fall prey to this scam, you don't have to worry. For professional help, you can keep in touch with India's leading cyber expert Anuraag Singh. He will assist you on the right path.
Conclusion 
Hope this tutorial helps you to understand this Insurance renewal scam. In India, cyber crimes are rapidly increasing day by day and it's a topic of concern. We all have knowledge about these kinds of cyber crimes so we know how to protect ourselves from such scams or frauds.