Investment Frauds – Stay Cyber Safe!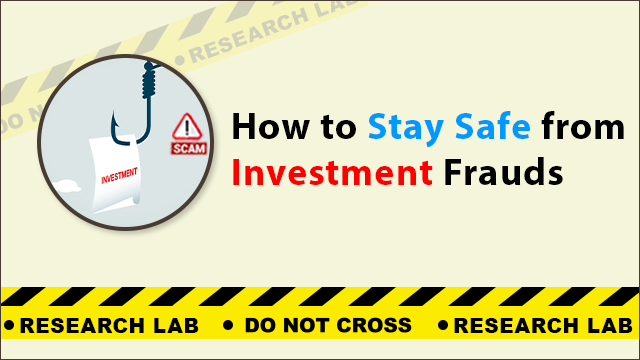 Every year, thousands of people lose their hard-earned money due to "Investment frauds". These sorts of frauds are becoming more prevalent and challenging to spot because of the Internet and developments in digital communications. Thankfully, there are several indicators that you can look out for to prevent falling for con artists.
Real-Life Incidents of This Fraud
As per the Times of India report, a man from Panvel Mumbai lost Rs 1 lakh when he was looking for online investment schemes. 
In this case, the first fraudster created a Telegram channel for the victim in which he was asked to invest Rs 1,000. And he was also duped into entering his personal information on a fraudulent website. After that, the victim saw an increased balance of Rs 1,620. Then the victim thought that he got profit from an investment. 
Eventually, Finally, he requested to deposit Rs 1 lakh once again. And his Telegram account displayed a balance of Rs 2.2 lakh in relation to this sum. When the victim tried to transfer all his earned money into his bank account he was enabled to do so. In the end, he realized that he got scammed into investment fraud and immediately filed a complaint against it. 
What Does This Investment Frauds Exactly Mean?
Investment fraud occurs when someone tries to trick you into investing money. They could advise you to invest in securities like stocks, bonds, notes, commodities, cash, or even real estate. A con artist could tell you lies or give false information regarding a legitimate investment. As an alternative, they may create a bogus investment offer.
The perpetrators of investment fraud may pose as telemarketers or financial counsellors. They exude charm, intelligence, and friendliness. They can assert that you must seize an opportunity for business right away. Fraudsters do investment fraud with the intent to gain your sensitive information.
There are many ways of defrauding people in Investment scams.
Some Common Investment Frauds That You Need to Know
This scam has different types of techniques that are used by scammers. Let's understand the following types:
1. Unwarranted Rapport: Have you ever thought about how many times your friends or family may have encouraged you to put your cash into investments that promised you huge returns quickly? This type of family influence also extends to members of socioreligious groups, intimate friendships, or cat-loving organizations when one or more members attempt to persuade others to invest in purported business prospects. 
This is a very popular tactic which is employ by insurance brokers to pursue an old or powerful member of a group to purchase high-commission plans. This member then persuades the other members to buy the aforementioned instruments. This person occasionally fabricates stories about troubled family members in order to foster a false sense of kinship.
These types of investment frauds incidents act like cheese rat traps. Only when you are duped into investment schemes with promises of large returns or assurances of safety do you comprehend the humiliation and misery involved. This typically occurs when the reasoning behind all of your financial decisions is overridden by emotions.
By doing your homework on the business and the goods before investing your money in it, you may prevent being a victim of such situations. Never disregard the fundamental principle of personal finance which states, "Don't invest if you don't understand."
2. Internet Frauds: How many times have you verified if emails purporting to be from a bank, an insurance company, or a mutual fund company were legitimate? Scammers who pose as high-ranking individuals send emails to unsuspecting investors instructing them to engage in different schemes, move cash into various deposit accounts, funds, or insurance policies, or reinvest the maturity profits of one policy into a different policy into a phoney financial instrument.
The easiest method to protect your funds from such a money-laundering scam is to disregard unsolicited communications that promote novel investing strategies. No matter how impressive the offers may be or how official the emails may sound, phone your bank or relationship manager to confirm the email's legitimacy. The most essential rule is to always invest from a reputable source and to not invest unless you want to.
3. Pump and Dump Schemes: It's common knowledge that the Securities and Exchange Board of India is looking into cases of widespread stock "pump-and-dump." What is shocking it is horrifying that, despite repeated official recommendations against doing so, vulnerable investors still flock to unregistered brokers to manage their assets.
Some brokers use their social media followings  to persuade subscribers to buy a certain stock, falsely inflating demand and, as a result, volume purchases. This is a highly prevalent market practice which connects to the fraud. After appealing to the interest of shareholders, they raise the price at which they sell the shares in order to realize a profit. Numerous investors lose money since the share prices essentially fall following the transaction. 
To avoid losses, stay away from the herd mentality. You will pass up more profitable investment opportunities throughout your lifetime than you will let in your portfolio. This does not need you to panic. Assessing hundreds of companies and narrowing them down to a select number that you can believe in and retain through volatility is the key to successful investment. It won't help to play the guessing game or live in constant worry of losing out on a lucrative investment.
4. Miss-Spelling of Products: Many banks frequently try to convince their clients to purchase insurance products that are cloaked as endowment policies, money-back plans, or unit-linked insurance plans. The majority of the time, this activity targets elderly people who do not require insurance and persuade them to invest their whole lifetime's profits in these subpar products.
A greater percentage of investors choose to invest in risk-averse securities as they get older. These gullible clients are drawn to life insurance by the promise of assured returns but end up mistaking it for fixed-income investments. 
Use your wisdom to realize what you need and set it apart from what is being supplied using your wisdom. Avoid purchasing any financial goods from bank workers. Your financial objectives are less important to them than achieving their sales ambitions. Determine the type of investments you want to make after doing some research on the product. Never buy at someone else's urging, whether it be a family member, acquaintance, or bank staff.
5. Ponzi Schemes: Swindlers draw attention by creating devising schemes that promise large profits and rely on attracting new investors to keep the plan in operation. In the event that they are unable to locate new recruits, Ponzi schemes, so named after the well-known fraudster Charles Ponzi, have led to the loss of money for many people.
The majority of Ponzi scams prey on people's greed. Look for assets that have a foundation in markets and logic. It can be disastrous to join a widespread cult. Although they may appear harmless at first, investing in them repeatedly might result in unintentionally parking substantial sums of money. Unrestrained greed and the desire to make quick money do not lead to prosperity; the only thing that will enable you to prosper in the long term is your grasp of finances.
Signs of Investment Scams
High-pressure sales techniques and promises of enormous profits are frequent red flags that something is unreal. Here are six indicators that an investment opportunity could be a scam:
For certain deals, you must pay a finder's fee upfront.

Fraudster give you an offer of high return on low-risk investment. 

If cybercriminals insist you act quickly in order to take advantage of the investment opportunity. Because it is a limited-time or one-time offer.

Cybercriminals pressured you to send money. 

Fraudsters ask for your sensitive details. 

Scammers usually create a sense of urgency while executing this scam. 
How to Stay Safe from Investment Frauds?
Here are some best ways through which it becomes easier for you to get yourself safe from it. 
Always pay for investment after proper verification.

Remember not to share your financial or sensitive information with any unknown person. 

High-risk investments often include more dangers. If fraudsters promised you high returns with low risk then do proper research about the company.

Make sure that company or advisor is legitimate or not.

Do not feel compelled to make an investment choice. Take some time to determine whether an investment is good for you or not.
Summary
Be aware of investment frauds. Fraudulent businesses may take advantage of this and claim to assist you in getting part or all of your money back. If anyone calls you and offers to assist you in getting your money, without verifying don't trust them. To get more updates follow our page "anuraagsingh.com". Stay alert from such cyber frauds.