KYC Frauds in India and its Safety Measures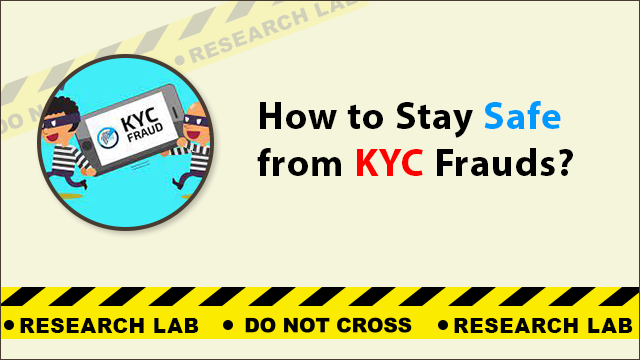 Do you know? KYC frauds in India have increased dramatically due to the development of e-payments, online marketing, and online banking. To trick people, con artists frequently develop new techniques, scams involving KYC, different ATM scams, or banking frauds all qualify.  These con artists try to deceive people into their trap for stealing their money. 
Everyone should know what is the safety precaution to prevent falling victim to such scams. There are several kinds of KYC scams and how to avoid them will be covered in this article.
What is KYC? 
The term "KYC" stands for "know your customer," and it is a helpful approach for an institution to authenticate and afterwards verify a client's legitimacy. Before investing in various instruments, the consumer must present complete KYC papers. This is a quick method of verifying the customer and it is a one-time process that applies whether the consumer chooses offline KYC or online KYC.
However, this has become a medium for scams. Even, the Reserve Bank of India (RBI) has lately warned individuals against scams carried out under the guise of Know Your Customer (KYC) updates and encouraged them not to provide sensitive information, such as account information or passwords, to unknown people or organizations.
What are the Several Types of KYC Frauds in India? 
 This fraud has various ways through which scammers do this scam.
1. Smishing: This is the method through which a scammer sends a message to the user which exactly looks like reputable organizations in an effort to trick recipients into disclosing private information like passwords or credit card data. Typically, these text messages contain harmful links or attachments, allowing the fraudster to access the user's phone and steal the necessary data when the victim clicks on the link or opens the attachment.
2. Phishing/Vishing: In this technique, con artists gather user data, including phone number, date of birth, and email address, from a variety of sources, including social media, bank data, and online application forms. Then, they pose as the user's registered bank or firm to place a phoney call on their behalf. The user is then prompted for their KYC information so that the database may be updated. Once the user has consented, they are required to click on a website or download a malicious program before sharing the code. The user is imprisoned as soon as they click the link or spread the code. This is referred to as phishing or vishing.
When a user is on the phone with a fraudster, it might be difficult to end the call since the fraudster won't let the victim hang up.
3. Identity Theft: In this fraud, scammers steal user's identity by stealing personal information. Your information could be used to submit a credit application, file taxes, or obtain medical aid. These actions can seriously damage your credit and result in substantial financial loss. 
What are the Warning Signs That You Can Look For?
Here are some of the red flags that you must know:
You may be asked for your confidential details such as your CVV, Debit or credit card number, account number, PIN, etc.  

Insisting you download a fake app or remote access application.

Fraudsters always create a sense of urgency while talking to you. 

Poor English (Spelling mistakes and grammatical errors)

Bank never call you for any KYC updates. 
How to Safeguard Yourself from KYC Frauds in India?
You can follow the below safety tips to defend yourself from it. 
Always remember not to click on any malicious links.

Don't share your confidential information with an unknown person. 

Always remember that banks, wallet providers, and other approved entities never conduct KYC updates over the phone or provide links to their clients.

Never call customer service or contact numbers shown in a Google search.  Use only the official phone numbers listed on the original banking websites.

By installing software that provides remote access (such as AnyDesk, Quicksupport, TeamViewer, etc.), you should avoid giving anybody access to your device.

Enable two-factor authentication methods to your bank accounts.

Never share your OTP.

Inform the relevant financial authorities right once if you encounter any such problems.

Before reporting, always take screenshots of the chat for evidence.

File an immediate complaint on the national cybercrime reporting portal "cybercrime.gov.in".
Bottom Line
Fraudsters con individuals using a variety of strategies and tactics. KYC frauds in India is one of them that occurs rather often. We own the key to our own defence. At all times, we should be vigilant and avoid opening or clicking on any dubious links or attachments. Additionally, we should refrain from discussing sensitive information with anybody over the phone, in messaging, or in emails.