Online Survey Scams [Detailed Explanation]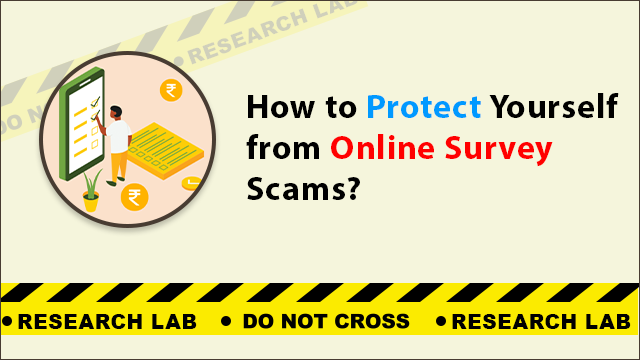 What do you think, are online surveys legit? There are many genuine surveys from reputable companies but some are fake. Yes, it's true! Now, cybercriminals are taking advantage of an online survey. These scams are coming to light. Due to these frauds, some people hesitate to participate in surveys. If you are one of them then read this "Online Survey Scams" article carefully, you will get to know all the necessary information related to this scam. Let's start our today's article.
What Does Survey Scam Exactly Mean?
An online survey fraud is done through email, websites, digital advertisements, or text messages sent to phones. In order to lure potential victims, con artists frequently promise them perks like sweepstakes entries (often for trips or cash prizes), Expensive gifts (like an iPhone), or gift cards for online surveys in exchange for doing the survey. 
There are various ways through which fraudsters defraud people. Let's look at those in our next section. 
Various Types of Online Survey Scams 
This fraud can differ significantly based on the type of fraud, the target, and the objectives of the attacker.
1. Money Theft Scams: Some online survey frauds aim to defraud people of their money. For instance, some scams involving paid surveys may demand money for an ineffective "survey training kit" or a charge for "membership" in the club that guarantees to sign you up for several prospective paid surveys. Of course, they are fake.
Advance fee scams are also common; in these scams, the victim receives a bogus payment check for participating in the survey before being asked to wire a portion of the "payment" to a different party. The victim has already sent the fraudster their legal payment by the time they learn the check is fraudulent.
2. Identity Theft Scams: Online survey scams are frequently made to gather the personal data of potential victims. Once a fraudster gets access to this data, they could sell it on the dark web to other users. They could even use it to commit identity theft on their own. According to the data they have obtained, they could apply for new credit cards or loans, for instance, racking up tens of thousands of dollars in losses for each identity stolen.
3. Spam Scams: Some con tricks only delimit you with offers. The con artist will guarantee a list of paid surveys in return for some personal information (such as your household size, income level, and educational background). You won't receive the list after submitting the form, but you will be inundate with offers and requests from other marketing firms to whom they sold your information. 
4. Business Compromise Scams: Other online survey frauds could aim to defraud a company. Scammers will target workers of certain businesses in an effort to get data that relates to security questions. IF fraudsters obtain their credentials, they can easily access private corporate data and conduct fraud.
5. Personality Quiz Scam: It is in our nature to desire to understand ourselves. So some con artists produce fake online personality tests that include inquiries such as, "What is your favorite food? "Which is your dream car?" or "Which destination do you enjoy most?" These queries are frequently used by fraudsters for identity verification. The answers to these inquiries will allow con artists to demand password resets and access their victims' internet accounts. Afterwards, they could steal their identity, utilize services that the victim paid for without their knowledge, or commit financial fraud.
Indicators That You Can Look For
It's not difficult to spot phoney surveys. There are several warning indicators that you may look out for to assist safeguard yourself against this fraud. To assist you in protecting yourself from online scammers, we have created a list of warning signs that you can watch out for.
Fake online surveys ask you to provide your personal details such as your security number, credit or debit card details, bank information, CVV, or account password.

In those surveys, fraudsters generally use poor English, misspellings, or odd word choices. 

A survey website doesn't make its privacy statement or use of the information it collects from you clear.
What are the Safety Precautions That You Can Take to Avoid Online Survey Scams?
Here, are some important safety tips that you can follow:  
Firstly, be cautious of surveys that ask you to pay a shipping or processing charge in exchange for receiving pricey goods like an iPad or a trip.

Always check for the reviews and ratings of online paid survey websites.

Do pay close attention to the email address of the sender on a survey invitation. It's suspicious if the email comes from a free email provider like Gmail, AOL, or Yahoo rather than a business domain.

If you receive a survey, do an online search to determine if there is a fraud notice. Several businesses publish thorough guides on recognising phoney accounts on their websites.

Make sure to block all the contacts and emails through which you are receiving fake survey messages.

A suspicious email or text message concerning a survey should not contain links or attachments.

Don't give your private or financial information to anyone. Because genuine surveys won't request it.

Never reply to a survey mail using the contact details provided. Visit the official website of the business the survey claims to represent and seek the customer care number or email address to see whether the survey is legitimate.
Closing Words
Online surveys are quick, simple, and affordable to perform, they are a common market research technique utilized by many businesses. Sadly, fraudsters also like using internet surveys to deceive people into giving them money or personal information. Always be careful while doing online surveys and follow the safety measures that are outlined in this article of "Online Survey Scams".