Stay Safe from OTT Mobile App Attack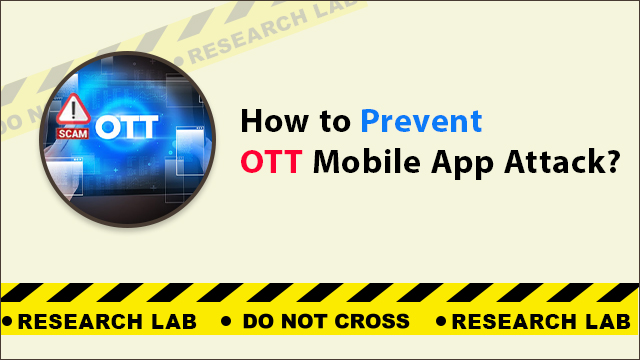 In the past several years, using OTT has steadily increased. At the same time, cybercriminals are constantly back to the grindstone for new luring techniques. Hence, OTT become a new big weapon for cyberpunks. Cybercriminals have devised a defrauding plan to deceive trusting people into installing fake OTT applications (through YouTube) so they may use them to steal their personal data. It is commonly known as OTT mobile app attack Which results in a heavy monetary loss for the people. 
First and foremost, let's discuss what OTT is. Then we will come to the Latest news of it, its modus operandi and its safety measures.
What is an OTT?
Firstly understand the meaning of it, OTT is an abbreviation meaning "over the top." This handy little phrase describes a new way to watch movies and TV shows whenever we want, on a variety of devices, and without the use of traditional broadcast, cable, or satellite pay-TV providers. OTT streaming is when you pay an internet service provider like Xfinity for internet access so you can watch Netflix without paying for cable TV. But Fraudsters defraud people through it. It's important to discuss the modus operandi of this attack 
How Do Scammers Execute OTT Mobile App Attacks?
Here we need to understand the whole process of executing this fraud so that you keep yourself alert from it.
 Fraudsters are circulating about these apps by using YouTube videos.

While reviewing these videos, we found it embedded malware in these programmes that, once installed, will harm the device. 

When a device is hacked, data theft from other devices begins. There are installed programmes that send the stolen gadget to the assailant. The majority of these cracked programmes are just modified versions that also contain some possible viruses, rather than genuine ones.
This is how cyberpunks accomplish this scam very smartly. Yes, this scam become a perilous threat. But you don't have to worry about it. Because in our next section, we will discuss some essential safety measures that will help you to fight these kinds of threats. 
Safety Measures to Protect Yourself from OTT Mobile App Attack?
Previously, we discussed the modus operandi of the OTT mobile app attack that how it takes place. Now let's move on to the safety measures which become the safeguard for you.
Stay Safe From Digital Platforms:

First, you must avoid downloading malicious platforms that may infect your device. 

Never Click on Suspicious Links:

The second thing you need to remember is to avoid clicking on links that look suspicious. Fake links will redirect to any fake website which may infect your device. 

Regularly Change Your Passwords:

Make a habit of changing your password on a regular basis. It becomes more difficult to hack . So to avoid this OTT mobile app attack you need to use a strong password. 

Install Anti-Virus:

Make sure you have a premium version of anti-virus on your device because it will notify you in time, making it safe from this scam.

Backup of Your Data:

Always frequently back up your data so that, in the event that it is taken by a fraudster, your vital data is still fully protected. 

Never Use Partied Software:

Avoid installing malicious software since it will install malware on your device and allow criminals to steal your data.

Update OS and Software:

Do a regular practice of updating your OS and your device software it will help you to prevent this scam.

Avoid Using Public WiFi:

Always be alert while using public WiFi because through public networks your device can be hacked by scammers which results in losing sensitive information. 

Clear Cache Data and Cookies:

Always make a habit of clearing the cookies and cache data from your browser. Because with the help of cookies, fraudsters get to know more about you and try to steal your sensitive data. 

Use Strong Passwords:

To prevent this scam always use strong passwords. While making strong passwords always keep in mind, it should be 12-15 characters long including uppercase letters (A-Z), lowercase letters (a-z), digits (0-9), and symbols (@,#,$,…). It helps you to avoid it.  
Conclusion 
 OTT mobile app attack is one of the most dangerous threats that's rapidly  rising in India. But it can be easily prevented by implementing safety measures in your daily life. And with this, you need to be updated with all the cybercrimes. If you become the victim of this scam, don't hesitate to file a complaint about it. For further guidance or cyber training, you can directly get in touch with the most trusted cyber expert Anuraag Singh.