Be Safe from PAN Card Fraud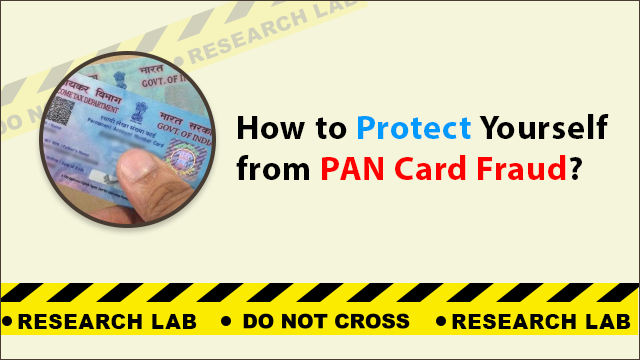 As we know, a PAN card is essential for every financial transaction. It comes with the 10 digits of the alphanumeric PAN number. Without its utilization, no financial transaction can be completed. But are you aware that these days cybercriminals are targeting people through PAN card fraud? 
If not, then you should read this article. So, stay tuned till the end. 
Everything About This Fraud 
In India, PAN cards become the primary source of bank fraud. Its cases are increasing over time. In this scam, you receive a call or a message in which fraudsters claim that your bank account has been suspended. In messages fake links are available. If you click on them you will redirect to a malicious website through which fraudsters can steal your PAN details. This is how fraudsters operate PAN card fraud.
For controlling these types of cyber fraud government made an announcement of linking the Aadhaar card to PAN cards and bank accounts.   
Do you know?
Celebrities also become the victim of this scam.
Yes, you heard it right. 
To know more keep on reading…
How celebrities' Become Victim of this PAN Card Fraud? 
It could be pretty dangerous to anyone. Even Top celebrities like MS Dhoni and Shilpa Shetty have frequently fallen prey to this cyber fraud caused by a third party using their PAN card. 
Scammers obtained the celebs' GST information through Google. They were informed that the GSTIN's first two numbers represent the state code, and the following ten represent the PAN number. Fraudsters had the PAN cards illegally updated with celebrities' photos on them so that, during video verification, their appearance get a match to celebrities' PAN/Aadhaar card photos.
Cybercriminals similarly falsified the information on their Aadhaar cards. They applied for credit cards after knowing this. They were asked questions during the video verification process about their financial operations, which they could respond to quickly since they had all the necessary information from CIBIL.
In our next section, we will talk about the different ways through which this fraud can happen. 
What are the Ways Through Which PAN Card Fraud Can Occur?
While Renting Vehicles or Hotel Rooms:

In India, you need to submit your identity proof, while for check-in

into a hotel room. To obscure their identities, scammers typically add personal information from PAN cards that have been stolen. Authorities will contact you if any criminal activity occurs in these hotel rooms, and this proof is typically faked or forged. 

During Illegal Purchasing of Jewelry:

Cybercriminals can use your PAN card details to buy expensive jewelry, after then you get a call from the income tax department.

While Applying for Credit Cards and Loans:

After stealing your PAN details fraudsters can easily apply for a new credit or debit card. And use that cards to do unlawful activities or in purchasing illegal products. And in the end, you will be responsible for every illegal activity that is done by scammer.

 
How to Know Your PAN Card Is Misused?
So, here's how to find out whether someone is using your PAN card fraudulently. 
By simply producing credit ratings, you may determine whether your PAN card is in scammers hands. 

If a loan has already been disbursed, check the status of the loan using CIBIL, Equifax, Experian, or CRIF High Mark.

Periodically check your Credit Information Bureau (India) Limited (CIBIL) rating. If there is a mistake in record of your CIBIL portal, it is likely that you are the victim of fraud and you need to immediately get in touch with the police.

You can see your financial reports by going to Paytm or Bank Bazaar.
How Can You Avoid PAN Card Fraud?
These scams are connect with an uptick in bank fraud and illegal hacking. Therefore, it is crucial to maintain your PAN safe from these kinds of risks by taking the precautions mentioned in this article, you can prevent such scams. Otherwise, you will be get under the burdens of debts that hackers have obtained using your information. So, let's have a quick look on this section. 
Before entering your PAN number into any website, check the legitimacy of the site. Use less susceptible forms of identification, such as a driver's license or voter ID.

To avoid PAN card fraud, share your PAN photocopies only with legitimate individuals or businesses. And keep a record of where you are submitting these.

Never enter your entire name or date of birth on any suspicious websites because hackers can easily find your PAN card details.

All of the financial transactions that included your PAN are recorded on Form 26A of your income tax return. Check your Form 26A frequently to be sure your PAN card hasn't been used suspiciously.
How to Report PAN Card Fraud?
As you already know, how to identify PAN is in hackers hand and how to defend ourselves from it. But not its time to learn how to report this scam. to be simple. The Indian Government's Income-tax Department has created an internet website where PAN complaints can be submitted through Aayakar Sampark Kendra (ASK). As a result, if you discover misuse of your PAN, you can report it by following the instructions below.
Visit the TIN NSDL official website. On the Home page, look for the Customer Care area. 

Choose the "Customer Care" tab. It will reveal a drop-down menu. 

From the drop-down menu, select "Complaints/Queries". A complaint form will be open. 
 Final Analysis
To sum up, using your PAN information, fraudsters might apply for credit cards or debit cards and use the money to finance illegal activities. However, the victim will be entirely responsible for satisfying any debts and paying any fines. If you want to stay on the safer side then follow all the safety measures mentioned above and you can also take cyber awareness training with cyber expert Anuraag Singh for this visit on "anuraagsingh.com".