Pension Scheme Scam and its Preventions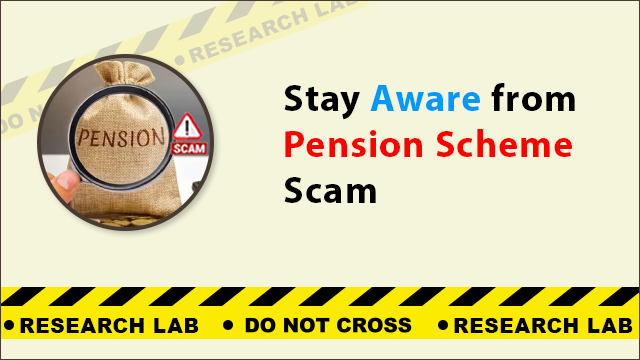 Scammers are constantly improving their techniques and using the internet to defraud people on a bigger and more sophisticated scale. According to recent studies, cybercrimes are taking advantage of government pension schemes such as the "PM Yojana Pension" usually it is known as a "Pension scheme scam". It's not a new term, maybe most of you have heard it before. 
And if you are unaware of such a scam then reading this informative article will help you. 
Before moving ahead first, let's have a look at the topic of what scam exactly means. 
What is a Pension Scheme Scam?
Pension savings can be a prime target for fraud since many individuals do not start thinking about them until later in life, and it may take a long time before someone realizes they have been duped. If someone loses their pension due to a pension scam, there is no certainty that the funds will be reimbursed, and there may be little to no possibility to restore pension savings.
Criminal offences, regulatory violations, and ethically questionable behaviour all fall under the umbrella of pension scheme scams. Fraudsters may try to get financial gain by charging fees, having direct access to pension funds, or getting investments. False or unrealistic promises, operating without the pension saver's permission, and gathering information for future fraud are all common characteristics of pension fraud.
How Scammers Operate Pension Scheme Scam?
If you are thinking about how scammers are conning people then read this section because we will discuss the whole process of this scam. It execution process is so simple to understand, only you have to read all the steps carefully.
First, scammers create fake pension messages under PM Yojana. 

That message is designed so the user thinks it comes from the government. 

They claim that "Congratulations! Your eligibility confirmed for Rs. 30K under PM Pension Yojana. This type of suspicious message also contains a phishing link. If the user clicks on that he/she will be redirected to the bogus website.

After that, the user asks for their confidential details through which cybercriminals can easily steal their money. 
After this section we will discuss one of the necessary parts among all, it is the indicators that you have to know. 
Warning Signs of Pension Scheme Scam
If you are curious to know what are the red flags that you can notice if you receive any such messages. 
If fraudsters ask for sensitive information such as your CVV, debit or credit card number, account number, Aadhaar or PAN card number, OTP, etc.

Con artists use poor English (Spelling mistakes or grammatical errors)

Always create a sense of urgency while talking to you.

That fake message contains a malicious link.

Giving you a higher monthly pension.
What are the Precautions that You Can Take for Your Safety?
It is the main section that will help you to know how you can avoid such scams by doing some simple safety tips. 
Remember not to share your private information (OTP, CVV, bank details etc) with any stranger.

Make sure not to click on any malicious clicks.

If you want any details related to the pension scheme then go to the government's official website for pensions.

Never trust anyone for any such schemes.

Without doing proper verification don't pay any amount for pension.

 Install anti-virus on your device.

Make sure to block those contacts from which you are getting fake pension messages.

Always remember that the government will never ask for any amount for providing you with a pension.
Where to Report Against Any Cybercrime?
If you become a victim of any cyber fraud don't worry you are not alone, cybercrime people, government and cyber experts are there for you. You have to just report against it. 
Within 48 hours file a complaint against this fraud at your nearest cybercrime police station. 

You can also report on "cybercrime.gov.in" an official government website.

Dial the toll-free helpline number '1930' 
Conclusion
After reading this article, hopefully, now you understood the whole content of pension scheme scams. If you receive such types of messages ignore them and follow all the safety measures that we have discussed above in this article. And if you want professional cyber awareness training then get in touch with cyber expert Anuraag Singh. 
FAQs
Q. If I get late in filing the complaint will I get my money back or not?
Ans. No, your chances of getting the stolen money back. If you want to increase the chances then remember to file a complaint within 48 hours. 
Q. What should be kept in mind while filing a complaint? 
Ans. While you are reporting against any scam remember to keep all the evidence handy with you.