Pink WhatsApp Scam – New Conning Technique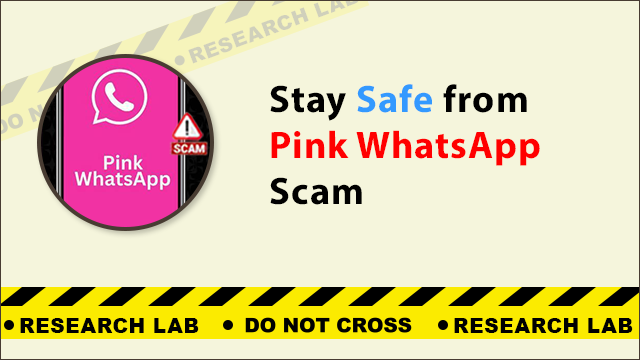 Have you also received the message about downloading Pink WhatsApp? If yes, then don't download it cause a new cyberattack named the pink WhatsApp Scam is emerging. Keep reading on to know more about cyber fraud. 
According to the media report, this scam is the new cybercrime in the cyber world through which many people get trapped in this fraud. In this article, we will cover everything about this scam. First, let's understand the concept of this fake WhatsApp scam.  
All About Pink WhatsApp Scam
Scammers are attempting to steal user data by sending messages requesting that individuals download the "New Pink Look WhatsApp with Extra Features". If users click on that fake link his/her device would be compromised by cybercriminals. 
When consumers download the link, automatically malicious software is installed on their phones which starts stealing their contacts, bank account information, and other sensitive data, including financial information like OTP.
Users should be wary of messages such as "Update Your WhatsApp to Enjoy New Features With Pink Look Must Try This," "Officially WhatsApp launched Pink WhatsApp with Extra New Features.
These texts can come from a compromised phone belonging to a friend or contact. A notification to download the WhatsApp Pink app will be sent to all of your contacts from your name without your awareness in the event that you download the app.
Now, in our upcoming part, we will discuss some best practices that are important for your safety.
What are the Guidelines that You can Follow to Protect Yourself from Pink WhatsApp Scam ? 
In this section, we cover every safety measure that will safeguard you Let's quickly cover those.
Without verifying the authenticity don't click on suspicious links from an unknown source.

Always install or update your WhatsApp application from the google play store or IOS App Store. 

Avoid sharing your sensitive or financial details such as login credentials, debit or credit card, etc with anyone.

Make sure that your device has good anti-virus software through which you will get the notification of the malware. 

To avoid pink WhatsApp scam, enable a two-factor authentication method. 

Don't hesitate to file a complaint.

If you are sure that you accidentally got scammed into this latest fraud then without any delay report this scam on the "cybercrime.gov.in" it's a reporting portal from the Indian government. 

You can also visit your nearest cyber police station or dial the government's toll-free number '1930'.

And always remember to collect all the evidence that you can like your all chats with the scammer, this number, etc then only you can file a complaint. 
How to Remove Fake Pink WhatsApp?
If you are wondering how to remove this application then follow all the steps given below. 
By mistake, if you clicked on that fake link then immediately uninstall the app. 

You must make sure that the application is not connected to any other device before removing Pink WhatsApp from your smartphone. You can check by going to the setting > linked devices. 

Some reports claim that after the WhatsApp Pink app has been installed, fraudsters try to remove it from the list of installed programs. As a result, physically eliminating suspicious devices is a crucial part of uninstalling the program. 

For further protection of your data, it is essential to examine all the download directories to make sure that no further suspicious files are present on your device.

Last, but not least, forward these communications to other people in order to prevent the scam from reaching additional trustful or susceptible consumers. Please be careful to notify the recipients of the message if it has been shared from your device. 
These steps will help you to stay safe from pink WhatsApp scam.
Bottom Line
Watch out for Cybercriminals who are always coming up with new tactics to scam people. Keeping yourself updated with the latest scams is the best practice you can do. If you want to stay updated with cybercrimes or need cyber training then do follow our page "anuraagsingh.com". Always remember that if any offer seems too good to be true then don't trust it. And follow the safety guidelines mentioned above in this article.
FAQs
Q. Where to report this pink WhatsApp scam?
Ans. You can file a complaint at your nearest cyber crime police station or you can also place an online complaint to the government's official website "cybercrime.gov.in".
Q. What is the first and foremost step to keep ourselves safe
Ans. You should be updated and alert from all new cybercrimes happening daily.