Public Wi-Fi Scam- How to Prevent it?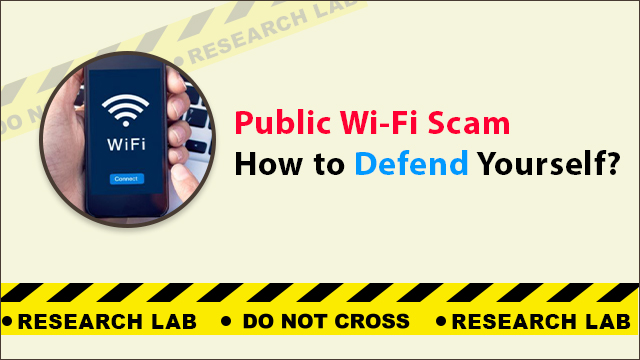 Overview: Do you often use free public Wi-Fi? If yes, then this article is specially for you. Recently, cybercriminals are engaged in public Wi-Fi scams. So, stay tuned until the end to learn more about this scam. 
Every one of us wants to take benefit of free Wi-Fi facilities. Undoubtedly it is convenient but sometimes this public Wi-Fi could also be dangerous.
If you are thinking about how it is possible, keep reading this article until the end. 
Scammer's New Defrauding Technique [Public Wi-Fi scam]
We all know cybercriminals always try to take advantage of every situation. So, they come up with a new conning technique. They are using public Wi-Fi as a weapon to trick people into their trap. 
In fact, every day thousands of innocent people are becoming the victim of public Wi-Fi scams. Its cases are rapidly rising in India. So if you don't want to fall prey to it then taking safety precautions in your daily life can become a safeguard for you.
Is Public Wi-Fi Secure to Use? 
At some point, you must have used free public Wi-Fi but you never have thought that it can be a medium of scam. Yes, free Wi-Fi is not always secure. Hackers have the ability to send malware to your device through public Wi-Fi with the intention of stealing your sensitive information. They can also steal all your money by getting access to your bank accounts. So, it's important to know about public Wi-Fi scam. First, we will understand some points through which you will get an idea that how risky this public Wi-Fi can be.
What are the Risks of Using Unsecured Wi-Fi?
In this section, we will discuss some risks that you can face while using unsecured free public Wi-Fi.
 Infected Your Device with Malware:

Using free public Wi-Fi can make it simple for hackers to install dangerous software (malware) on your device for stealing your confidential data. 

Stealing Your Business's Accounts:

In public Wi-Fi scam cyercriminals trying to take control of your work email through this Public Wi-Fi scam.

Spoofing for Your Confidential Information:

Bad actors use public Wi-Fi to spoof your confidential data for their benefit.

Ransomware Attack:

Free Wi-Fi can also infect your device with ransomware which will help cybercriminals in stealing your sensitive data and your money as well.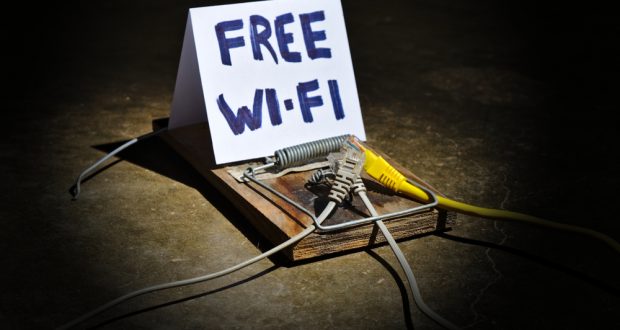 Safety Tips to Prevent Public Wi-Fi Scam
This scam can be dangerous for everyone but you reduce the risk by implementing  safety measures in your daily life. 
Never connect to an unfamiliar network. 

Use 2-factor authentication. 

Install an anti-virus on your device.

Don't connect to familiar networks.

Make sure that your machine is not configured to connect to networks automatically.

When you're travelling, disable file sharing.

 Make sure to turn off your Wi-Fi when it is not in use. 

Install a firewall on your device.

Apply security updates.

Use the security settings on your browser.
Here are some more tips to avoid public Wi-Fi scam that will protect you.
Regularly Update Your Software:

You'll receive the most recent security updates and bug fixes if you keep your programme updated. As soon as your browser or antivirus programme notifies you that these updates are ready, download them.

Securely Connect to Websites

: You have a secure connection to the website if the web address starts with HTTPS. But using HTTPS does not imply that a website is trustworthy. Scammers are skilled in site encryption. They've started adding HTTPS to their websites since they are aware that users automatically believe a website is secure. Because of this, the information you provide is encrypted on the way to the website, but it won't be safe from hackers who control that website.

Use Your Mobile Data

: In most cases, your mobile data is secured. If you're on the go, can't access a secure website, and don't have VPN encryption, use your mobile data instead of Wi-Fi. It can be challenging to determine whether an app is encrypted, so this is a good choice when entering sensitive information into it.

Use a VPN app:

To avoid public Wi-Fi scam make sure to use virtual private networks or VPNs provide encryption. Find out more about VPN applications and what you should know before downloading one.
Conclusion
Next time be alert while connecting to free public Wi-Fi become as you know it can cause you a huge monetary loss especially when you are careless about it. So for your safety, you need to follow the preventions mentioned above in this article. And make a habit of reading news or cyber awareness articles and stay updated with latest cybercrimes. If you want to be at safer side, you can take expert advice from India's trusted Cyber expert Anuraag Singh.