Skype Scams [Types & its Safety Tips]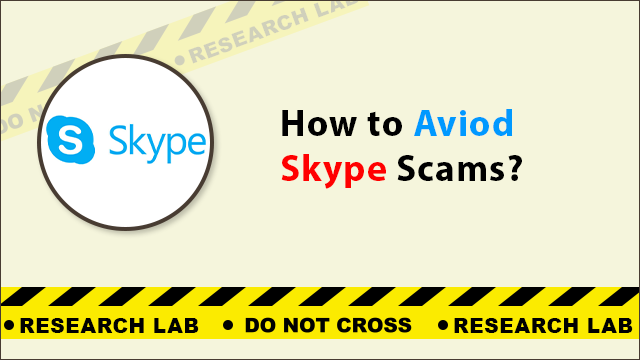 Since 2003, Skype is a popular audio and video chatting platform. Around 300 million+ users are using this social media platform. The online platform makes it more convenient for people to communicate with anyone across the world. But like other platforms, these days Skype is also on the target board of cybercriminals. Scammers are constantly trying to trick the users of this platform through "Skype Scams". If you are also an active user of Skype. Then be alert of this new scam because if it is not addressed on time, it could be pretty dangerous. So, Stay tuned with us!
Different Types of Skype Frauds
This scam is a fraudulent activity, in this fraud cybercriminals use to target users by performing various types of scams. So, let's put some light on those scams to understand them in a better way so that you will stay alert while using Skype.
1. Fake Job Interview: In this method, fraudsters use to host phoney interviews on Skype. They post legitimate-looking job positions on employment forums or websites, and their interviews are moved to Skype.
Scammers trick their victims into thinking they are taking part in a real job interview. When a victim is ready to be for the job, con artists will next ask for personal information such as Social Security numbers, bank account information, and other facts they may use to defraud. This scam has been increasing since covid-19 pandemic. so, stay alert while applying for the job and always make a habit of verifying everything about those offers.
2. Phishing: Recent statistics on cybercrime classify phishing as a sort of scam that constitutes cyber fraud. Con artists use this technique to get access to your data or trick you into sending your money to them. The majority of phishing con artists use links to websites that seem trustworthy to collect emails or other personal information. These websites are generally use for tricking people.
3. Malware: This is another type of Skype Scams. In this con artists pose as possible employers or officials from the government who wish to connect with you over Skype. 
fraudsters use this method or random accounts to entice innocent individuals. Scammers use Malware to get access to devices or try to steal data. Malware is use for various purposes. Sometimes this malware can install spyware, utilize keyloggers to collect your bank information and passwords, or exploit your information to commit identity theft.
4. Skype Automated Message Scam: The last scam on our list involves automated messages sent over Skype from con artists informing you that your laptop or other gadget is running poorly and needs to be serviced. They then give you instructions to carry out certain tasks that give them access to your device, enabling them to steal your data.
How to Avoid Skype Scams?
If you want to keep yourself safe from such scams then follow all the safety tips that we will discuss in this section. 
Make sure to block, delete, and report rogue accounts on Skype and stay away from entertaining shady characters.

Never put a phone number or other sensitive details on Skype. 

Disable Skype search on your account to keep scammers away from finding you.

Only chat with close friends and family on Skype. And, before adding them to your contact list first, make sure to verify their account that it's original or not.

If someone sends you any link or information, before clicking on it make sure to verify it.

Be aware that not every contact you make on Skype is reliable or trustworthy.

To avoid fraudsters and stop identity theft, use safe online privacy practices and check Skype's Privacy and Security Support Centers.
What to do if You get Scammed into Skype Scams? 
If you fall victim to this scam then don't worry because in this section you will get to know where to report this scam 
After falling prey to this immediately file a complaint in the nearest cybercrime police station.

You can also report online at the national cybercrime reporting portal "cybercrime.gov.in".

You can also file a complaint by dialing the number "1930" it's a official helpline number from the Indian government.
When you realize you've been conned, cut off all contact with the con artists and ban their accounts. You will be shielded from more harm as a result. If you become a victim of a Skype scam, get in touch with Payback, the money-back experts, for a free consultation and to recover what is legally yours. 
Closing Words
Skype is a safe and secure social media platform that enables users to communicate and strengthen connections even when they are have long distance. But cybercriminals make it their strongest weapon for them. If you are a Skype user then you don't have to worry because the above safety measures will help you to stay on the safer side. Stay Safe from Skype scams!