Snapchat Scams: Social Media Cyber Fraud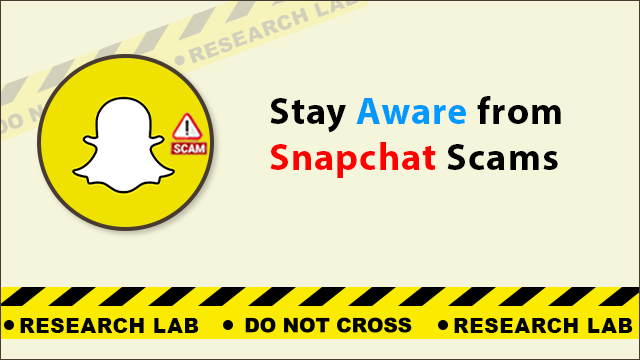 Nowadays Snapchat become the most prominent social networking platform. It has 300+ million daily active users, who love to share snaps with their loved ones. Mostly young people get attracted towards this platform. Since Snapchat makes it simple for them to send messages and share original content such as photos and videos, unfortunately, India is witnessing "Snapchat Scams" these days. 
Let's explore what this scam is all about, whether is it dangerous to teens, and what safety measures you can take to avoid such a scam.
What are Snapchat Frauds? 
We know that nowadays cybercriminals use Snapchat as a conning weapon. Recent research sources found that cases of this scam are constantly rising. As a result, several users have warned the authorities about potential hacker activity on their accounts.
However, Scammers use a variety of strategies for defrauding Snapchat users. But the most frequently used method is data breaching, where users' ID and login credentials are leaking. Hackers can to hack users' accounts stealing all their hard-earned money. 
This Snapchat scam puts users' sensitive information and money at risk. If you want to know more about this scam, keep reading this blog till the end.
First, let's have a quick look at our next section we will talk about several types of this scam that scammers undertake. 
Different Types of Snapchat Scams 
Here, we will cover the various types of scams one by one. Let's understand those. 
Snapchat Romance Scams:

These scams typically begin on dating websites, but the con artists may encourage you to talk on Snapchat in order to keep their accounts on those websites alive and unblocked. These scammers use another person's images or videos so that you start believing them. After winning your trust, the fraudster asks for a money transfer.  

Snapchat Premium Scam:

This fraud involves accounts that publish pictures and videos of ladies in sexual poses before demanding money from viewers in exchange for "premium" content that shows the girls completely naked or engaging in sexual activities. Even if you pay them a lot, they won't truly deliver this stuff. 

Snapchat Meetup Scams:

Premium scams and Snapchat meetup scams are quite similar. However, the con artist promises a meet-up in exchange for a sizeable sum of money rather than promising to offer adult content. Con artists impersonate famous people to trick their unwary victims into sending money or, occasionally, giving out their credit card information in return for a fake in-person date.

Fake Money-Making Opportunities:

Typically, these fraudsters will contact you through a friend's account that has been hacked. Next, they will make a money-making pitch for a job in advertising, a sponsorship, or another kind of deal. In order to get started, con artists will ask for money, and after receiving it, they'll ask for your login details so they may "promote this advertising opportunity to your other friends." Once these are given, your account will be locked, your money will be taken, and you won't hear from them again.
After reading this it is clear that yes this scam could be dangerous for teens.
How to Stay Safe from Snapchat Scams?
The most significant defense against Snapchat fraudsters is to be aware of their strategies.
Avoid accepting friend requests from strangers. Even if someone claims to be someone you might know.

Never divulge your login information or believe threatening communications that seem to be from Snapchat. Snapchat will never ask for your password or My Eyes Only passcode or reveal your private photographs.

Make sure to always use a strong password to stop scammers from accessing your account. A strong password contains 12-13 characters (upper- and lowercase characters, digits, and symbols in a distinctive, challenging combination.) Never use this password for another account. Use a password manager to keep track of these lengthy passwords. This avoid Snapchat scams

Initiate Two-Factor Authentication (2FA) but exclude SMS. By delivering a special code to your smartphone each time you log in, 2FA makes Snapchat more secure. If they have access to your phone, though, hackers can avoid SMS authentication. Use authenticator software like Okta or Google instead.

Modify the privacy settings. Reduce the number of people who can send you Snaps, access your Stories, see you in Quick Add, and locate you on Snap Map. So that nobody can see where you are, think about using Ghost Mode.
Conclusion 
These days, it's difficult to believe anyone. Even thought there are various ways to avoid these cunning Snapchat scams, con artists are getting more creative. Always remember to cross-check the identity of the person before communicating online. 
Knowing how to avoid falling victim to these scams might help you avoid wasting time and money.