Twitter Frauds & How to Prevent It?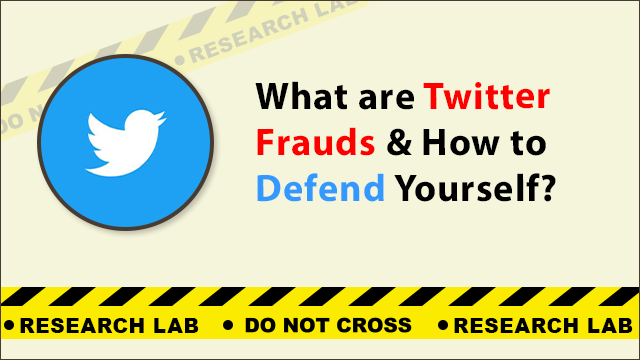 More than 15 million users are using the Twitter application. Are you one of them? If yes, then let's take one step towards awareness by understanding how scammers are using Twitter applications against you and how you can safeguard yourself from such scams. However, with advanced technology, cybercriminals are also upgrading their way of techniques. Although these Twitter Frauds" are not new in the market still its cases are on the rise. 
So, without any further delay let's get started.
What Do You Mean by Twitter Scams? 
Let's understand this scam with an example. Suppose you are facing some issues with your Punjab National bank account. You tag your bank in the tweet and summaries your concern in a sentence. 
Usually, companies and banks respond to these Tweets with a button that lets users DM them to explain their concerns in depth. Punjab National Bank would then walk you through the issue in your DMs or reach out to you later. 
Now, cybercriminals get the chance to take advantage of this situation. So, fraudsters start posing that they are from your bank and start sending you replies to your tweet in which they give malicious links that will redirect you to a suspicious website. When you put your confidential details on that bogus website, your information will get compromised by scammers. Which results in "Twitter Scams".
In this above section, we have talked about how this scam. Next, we will discuss some types of this cyberattack. Let's understand together. 
Different Types of Twitter Frauds
There are several kinds of fraud that take place on the Twitter application. Let's understand together 
1. Hacked Accounts: The blue tick on Twitter has always been reserved for the most eminent people, including celebrities, politicians, and influencers. On the other hand, hackers have always coveted the social evidence that comes with obtaining a blue check. They routinely hack verified accounts in order to get one.
2. Phishing: This a sort of cyberattack in which a threat actor impersonates someone or something they are not, and may affect any social media network. With Twitter, a con artist has virtually endless opportunities to phish users. To provoke the target into entering their credentials, they can, for example, use email phishing, an assault that entails sending false messages.
3. Crypto Scams: It is another type of twitter frauds. In the cryptocurrency industry, scams are all too rampant, and many of them take place on Twitter. You have probably encountered one if you follow cryptocurrency-related accounts or sometimes post about cryptocurrencies.
Twitter cryptocurrency scams come in various forms, some of which are glaringly evident while others are more subtle. One way con artists do this is to pretend to be a well-known digital currency influencer or analyst, publish false tweets, or even send direct messages to their intended victims. Their tweets may promote worthless coins that will eventually lose value or advertise phoney airdrops and dubious services.
Another way of scamming by fake cryptocurrency gifts. This kind of hoax relies on persuading the victim that they would receive a huge reward in exchange for a tiny Bitcoin deposit to pay a "fee" or something like that. Of course, the fraudster will just take your money and move on to the next victim if you make the mistake of depositing the money.
What are the Steps that You Can Take For Your Safety Against Twitter Frauds? 
Here are 8 best practices to reduce the risk of Twitter scams. If you are also concerned about your safety then do implement the below safety tips. 
1. The most important thing to remember is that your bank will never ask for any personal or confidential details such as your OTPs, CVV, credit or debit card details, passwords, etc. If someone posing from your bank and asks for your details then it's a scam. 
2. Keep in mind not to click on any links given by an unknown person. 
3. Always remember to install anti-virus and firewall protection software on your device so that you will get each and every notification when your device in danger. 
4. Be aware of unsolicited DMs.
5. Enable to two-factor authentication on your Twitter application. 
6. If you have doubt that it could be fraud then immediately block and report that fake Twitter account. 
7. Make sure to thoroughly research any information regarding a particular asset and only trade on reputable cryptocurrency exchanges if you want to avoid falling victim to crypto-related scams on Twitter.
8. Accidentally, if you become the victim of this scam, then immediately report the scam on Twitter. After then don't hesitate to file a complaint at the "cybercrime.gov.in", and report the scam to the cybercrime police station.
Final Thoughts
In today's blog, we have discussed everything related to these "Twitter frauds". There are numerous cyberattacks that are happening daily. In this situation you have to be aware of such kinds of fraud because it is the only way to keep yourself protected. Usually cyber criminals target those who are unaware of such scams if you don't want to be the next victim of cybercrimes then make a habit of reading cyber awareness articles. We have many articles through which you will get information. For that, follow our official page "anuraagsingh.com".