Work-from-home job scams – Most Common Cyber Fraud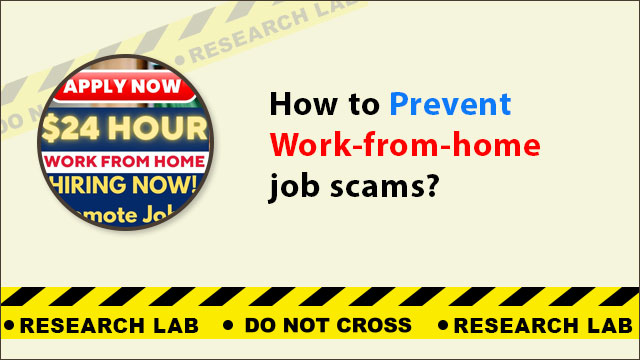 Who doesn't want to work flexible hours and earn money in the comfort of their home, everyone, right? But do you know? Recent studies reveal cybercriminals continuously target thousands of Indians through work-from-home job scams.
Yes, it is a bitter truth!
But don't worry it can be easily avoided if it is addressed on time. That's why this article is structured in a way so that you can protect yourself from this scam. So, stay tuned till the end.
First, let's have a close look at the news section. 
Latest News Related to Whf Job Scams
As per timesofindia.com, 3 women from Gurgaon, Noida, and Delhi lost around Rs. 42 lakhs through clicking on work-from-home jobs. Cybercriminals offered those women to earn easy money by giving ratings and reviews on movies. When women get to know that they fell prey to this fraud they immediately filed a complaint at the cybercrime police station. 
All About Work-from-home Job Scams
In India, these scams are on the rise. In this fraud, first fraudsters create fake job offers with the intention of stealing your hard-core money. To gain your trust, they can pretend to be the HR of a well-known company. 
Cybercriminals have serval of tactics through which they defraud people in their trap. Let's have a brief look at that section. 
Various Types of Wfh Jobs Through Which Fraudsters Scam People
Following are the several ways through which scammers are targeting innocent job seekers. 
Medical Billing and Data Entry Jobs:

Scams involving medical billing and data entry jobs employ several tactics. Some jobs offer recruits phoney software, training courses, or certificates.  Some request personal data that can be used for identity fraud. Others use this scheme in conjunction with the bogus check scheme to defraud new "employees."

Investment Scams:

In this fraud, con artists deceive victims into thinking they can beat the stock market. Vulnerable investors purchase trading recommendations and services, which result in market losses.

Start Your Own Online Business Job Scams:

In this scheme, a false recruiter or a dishonest business coach is frequently used in the "start your own online business" deception.

Depending on the fraud, users may be asked to purchase educational materials, sell products, or find new business owners to hire. They only succeed financially by defrauding others or the products user buy will turn out to be useless.
Assembly at Home:

This fraud includes making crafts or toys at home for a promised per-unit price. Usually, you have to pay for the items you receive, and in the end, you will not get the user's money back.

Fraudulent Recruiters Who Promise Positions:

By making false job offers to job seekers, dishonest recruiters take advantage of them.  After an interview, candidates could be told to complete their personal and financial information via an onboarding site. 
Red Flags that You Can Look for While Applying for Any Job 
First, look for these warning signs at the time of applying for a job.
In a work-from-home job scam, Fraudster always offers you easy and quick money opportunities with simple jobs.

Asking for your sensitive information such as credit or debit card number, CVV, Aadhar and pan card details.

Usage of Poor English 

Cybercriminals ask you for registration fees or investment before giving you a job.
If you are worried about your safety then don't panic because the next section will provide you with some best practices to prevent this fraud. 
How to Defend Yourself from Work-from-home Job Scams?
If you are looking for a job then consistently implement the following safety measures.
Remember not to share your personal or sensitive information with any unknown. 

Before applying for any job always do research for the company through which you got the offer.

Never apply for jobs that pay more for the little work because from these you can fall prey to these types of scams. 

If there are spelling or grammatical errors then it can be a fake job offer. 

To avoid wfh job scams, always remember to refrain from paying any amount for the job registration.

Never respond to calls, texts, or emails coming from shady numbers or addresses.

Make sure not to click on any links that are sent from unknown numbers. 
Where to File a Complaint?
At your nearest cyber crime police station or you can also go for the online complaint from the national cybercrime reporting portal "cybercrime.gov.in" (its Indian government's official website for cyber frauds)

 you can file a complaint by dialing the helpline number "1930"  (it's the provided by the government of India)
Closing Words
Since the Covid-19 pandemic, these work-from-home job scams are coming to light. Many innocent people are getting tricked in this fraud. If you don't want to be the next victim of this fraud, don't take this scam lightly and always be cautious while applying for any job online.