Account Takeover Fraud Preventing Tips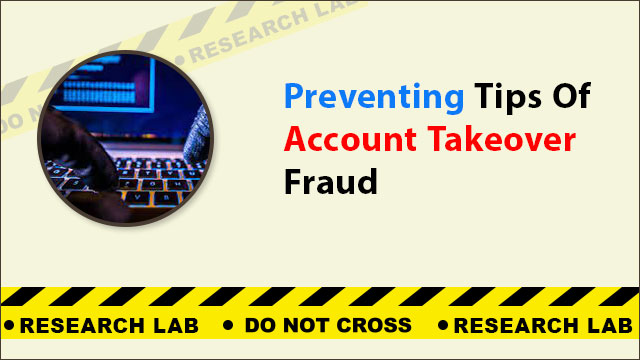 When a cybercriminal obtains access to a victim's login credentials in order to steal money or information, this is referred to as account takeover fraud. To get control of a financial bank account, fraudsters digitally breach it using a number of approaches, including phishing, malware, and more assaults. This post will discuss account takeover fraud preventing tips and tricks.
Account Takeover Fraud
Existing accounts, such as bank, credit card, and ecommerce, might be access by fraudsters. Certain account takeovers begin with fraudsters acquiring personal identifying information from data breaches or purchasing it on the Dark Web. Private details including such email addresses, passwords, credit card numbers, and social security numbers gathered for financial gain are extremely valuable to cyber hackers. When a successful account takeover assault occurs, fraudulent transactions, credit card fraud, and illegal shopping from hacked consumer accounts may result.
Account takeover is frequently referred to as identity theft, however it is primarily a kind of credential theft because it includes the theft of login credentials, which the criminal then uses to steal for financial benefit. The Account takeover fraud is a constantly developing danger that manifests itself in a variety of ways. Account takeover attacks that are successful result in fraudulent transactions and unauthorized shopping using the victim's stolen financial accounts.
What Do Scam artists Do With Stolen Bank Accounts?
Once hackers obtain access to your account, they can do a variety of things to cause you problems. They could, for instance:
Purchase a new credit card from your credit card company.
Purchase a new smartphone from your wireless provider.
Account holders may access and use their account credits or reward points for their own gain.
Make a payment from your bank account to a bogus firm.
In your name, open a new bank account.
Orders can place on a retail or restaurant delivery website.
Reroute unemployment compensation.
Intrusion into and theft of personally identifiable information.
Change your bank details, such as your phone number, email address, mailing address, or login and password information.
They then use the information they've gathered to gain access to additional accounts.
On the dark web, sell the account details.
Despite the numerous complications that account takeover might cause, it can be difficult to identify. Often, fraudsters take the further step of altering your account parameters, preventing you from receiving alerts that might otherwise alert you to an issue. Take a defensive position: Keep an eye out for password change notifications and other account alerts as they arrive to prevent fraudsters from disabling them. If you are warn of suspicious activities, investigate immediately.
Account Takeover Fraud Preventing Tips
Take care with passwords: Hackers will have a greater chance of success if you often use the same usernames and passwords across various websites. Ideally, each online account must have a unique, safe password. Utilizing a password safe manager to create and store these passwords across several devices may be really beneficial.
Utilize two-factor authentication: Simply configuring your accounts' security settings to issue a one-time passcode through email or SMS will help resist account takeover attempts. Additionally, biometrics such as face recognition or fingerprint recognition can be beneficial. While multifactor authentication is not accessible on all accounts, it is on a significant number of them. It will activate wherever possible.
Protect your credit: Even if you are not a victim of account takeover, you may wish to consider setting a fraud warning or credit freeze on your credit report with all three credit agencies. Credit bureaus will request that creditors take efforts to verify your identification before granting credit in your name with a fraud warning. Unless you voluntarily "thaw" your credit information, a credit freeze prohibits potential creditors (and others) from examining your credit report and ratings.
Above are the most common account takeover fraud preventing tips.
What to do if you are a victim of a fraudulent account takeover?
If you realize that your account has compromise, follow these straightforward procedures for resolving account fraud.
You may require to deactivate your account or update the security on your account.
Determine whether any of your other accounts, particularly those that share a password, have been compromised.
Account information should be updated for the impacted account and any others with whom it shares passwords. Even better, you may want to use this time to update and improve all of your passwords.
If you've not, consider freezing your credit, adding a fraud warning to your credit reports, and activating credit monitoring. Experian can assist you in beginning the recovery process.