Can Police Recover Deleted Data from Phones ?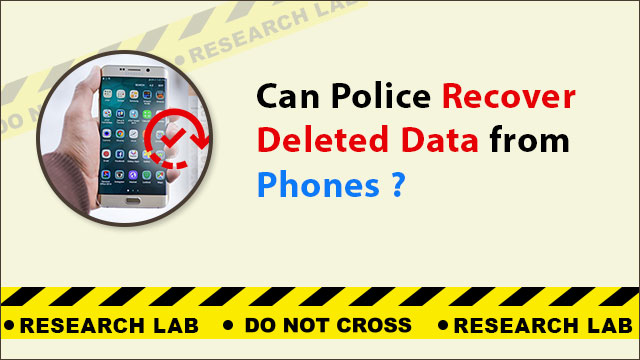 When Police reach to investigate a crime scene, the first thing they do is to seize the mobile phone and other electronic devices of the victim. The main purpose of doing so is to collect electronic evidence whether stored or deleted to help them solve the case. But the main dilemma is, can police recover deleted data from phone?
Let's uncover the truth!
Is it Possible for Police to Recover Deleted Data from a Phone?
Yes, it is absolutely possible! But how? We will discuss this later on.
Firstly, when someone attempts a crime, to bury the evidence, the first thing they do is to wipe phone data permanently or perform a factory reset. They think that by doing so their misdoings will hide from the eyes of the law. 
But, the truth is, the police can easily recover deleted data whether it is deleted WhatsApp, Instagram, Telegram or messages from any other platform with the help of a Digital Forensics Expert.
Now, let's discuss how police succeed in retrieving deleted pictures, messages, etc, from any android or iPhone?
Is Recovering Deleted Messages and Pictures from Phones Easy?
You might be wondering, how the police are able to recover the messages, photos, and other deleted data from a phone?
In reality, when you erase any file then it is not completely deleted from the device. It actually creates the space for another file. So, until the file system completely gets overwritten, the deleted file path still exists on the phone. And any data recovery software could easily restore the file.
In fact, if you recently deleted a file then there is less chance of the path being overwritten. On the other hand, if it is more than 30 days since you have deleted any texts, pictures or any other data from your phone, then there might be a chance that the file system may have overwritten it on its own (provided you used your phone a lot after deleting the file).
As many phones automatically back up data to the computer or cloud, it becomes easier to regain the information.
Moreover, as we know that re-collecting data is possible, the police take the advantage of the same and recover important information that is vital for the case. Since they are not very adept at technology, for this, they usually join hands with a Mobile Forensics expert.
In addition to mobile forensics investigations, authorities can get more concrete evidence through deeper examination and memory card forensics. This will help them a lot in solving the case that they are working on.
However, you may ask what are the other reasons a mobile forensics investigation is needed? And what kind of deleted files do they recover from a phone?
Data Recovery from Phones through Mobile Forensics Investigation
Many types of information can help police to solve a crime investigation. And the phone is the source which can provide that kind of valuable information.
For instance, you might remember a case registered in 2020 against Rhea Chakroborty, her brother, and four others by NCB (Narcotics Control Bureau). Here, the NCB team extracted mobile chats from the two mobiles of Rhea that contained evidence. How was NCB able to do it? It was successful in recovering deleted data from the android/iPhone with the help of ED (Enforcement Directorate).
So, whenever the phone data is crucial in solving any case then carrying out mobile forensics investigation is a must.
In mobile forensics investigation, the forensics analyst will try to recover the browsing history and other kinds of files from the mobile phone. The file types include text & voice messages, iMessages, call history, emails, contacts, photos & videos, notes, calendar events, etc.
In crime investigation, even a small piece of information can help investigators in solving a critical case. 
Also, along with this knowing how the experts acquire valuable data especially deleted data is vital.
Different Phone Data Acquisition Methods
There are different types of phone data acquisition ways that forensics analysts follow. Some of them are listed below.
1. Manual Acquisition
The most simple, you can say traditional approach. That is meticulously searching through the phone for evidence collection. This doesn't disclose deleted files.
2. Logical Acquisition
In logical acquisition, a forensics investigator finds more detailed information. The process involves transferring data from a mobile phone to a computer. It will make it easy for the investigators to work with data. But, it is not likely to recover deleted files.
3. File System Acquisition
When the investigators want to access the hidden data, they consider 'file system acquisition'. As mobile devices contain relatively large databases, there can be files buried in the big database. So, using file system acquisition, it becomes easy to access the hidden and rooted files but still no deleted files.
4. Physical Acquisition
Finally comes the physical acquisition method. It is quite the hardest type of acquisition. It is an imaging technique used to recover the incriminating data, especially the deleted ones. This method involves copying bit-for-bit data from the mobile to a physical storage device.
Hence, the police utilize this technique to retrieve crucial information from the phone.
From the above data acquisition methods particularly from physical acquisition, you may say that recovering data is not that easy as it seems.
Challenges faced by a Digital Forensics Experts to Recover Deleted Data
Recovering deleted files from the phone using the existing path may be easy. But, what about encrypted chats? 
Since most of the chats and other files use data encryption features. Hence, it becomes a little bit difficult for the experts to find its encryption/decryption key to decode the messages.
However, the committed and skilful Cyber Investigation Expert of India-Anuraag Singh and his team have the capability of recovering data. They are able to do the same by utilizing continually evolving data recovery tools.
To conclude, resetting your phone can no longer save you from the police. Because along with the help of a Digital Forensics expert, police can recover deleted data from your phone.