Trusted Services to Wipe Phone Data Permanently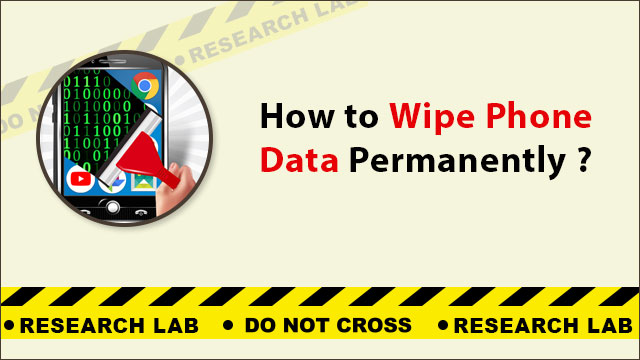 Did you know the files that you erased from your phone, believing they could never be recovered, can be restored? Thus, knowing how to wipe phone data permanently is essential if you want to ensure that no one can access your data once you've removed it.
At some point in time, we might want to sell or exchange our old Samsung, Vivo or any other android phone, because who doesn't want to keep themselves updated with the latest technologies, right?
What is the basic thing you want to do before exchanging your mobile phone? 
It is to know how to delete data from an android phone permanently before selling, right?
So, the first thing that pops into your mind to completely erase the cell phone data is to reset your android phone completely.
However, the main question here is, when you reset your device, is it wiping phone data permanently?
The bitter truth is, it's not!
According to a well-known Cyber Expert, " Retrieving of data, whether it's a multi-media file or valuable documents, is possible even after you have performed a factory reset on your device."
Sounds shocking, right?
Yes, you or somebody else can recover your mobile phone data, even after deleting them permanently.
In addition to that, they could also be misused if they get in the wrong hands.
What happens After Deleting the files from the Device?
If you are wondering what happens to the deleted files, then here is the answer!
When you try to erase a file from your phone, it moves to the deleted file folder.
Until and unless you erase your cell phone data permanently, it will remain in the device. 
Most of us believe that to remove our data entirely, we need to perform a factory reset on our device. Sadly that's not the case!
Can you Rely only on Factory Reset to Wipe Phone Data Permanently?
Now, the question arises, does a factory reset delete everything on android?
Let me elaborate the same.
So, when you master reset your phone, it clears the path to the data but the actual files remain on the memory. It just frees up the space for new files.
Until and unless you overwrite the freed memory, there is a high chance that it is possible to restore your data.
Thus, you need to wipe phone data permanently and not let any outsiders misuse your data.
So, considering an expert's assistance could be favourable.
Advantages of Availing Professional Help for Mobile Data Wiping Services from a Cyber Expert 
When it comes to wiping confidential data from your mobile permanently, you can rely on the services of an experienced professional like Anuraag Singh, who is a renowned expert in the field of Cyber Security and Data Forensics. 
By making use of his services, you can securely resell or discard your mobile without worrying about the threats such as data leakage or breach.
Some of the services he offers are:
1. Certificate after Wiping Data
Once the wiping is done, you will be provided with a certificate, which acts as proof of the secure deletion of data. These certifications are mostly required in organizations to meet the audits and compliance requirements. It shows that the data is permanently deleted through the services of a professional. 
2. Data Migration Service
When you want to upgrade yourself and decide to purchase a new phone, you need to move personal data from the old mobile.
So, the services of Anuraag Singh are helpful to ensure hassle-free data transfer from an old device to a new device without compromising on privacy.
3. Tech-Support Team to Assist you
Considering the importance of deletion of private data, Anuraag and his dedicated team are available at your service 24*7 and 365 days a year. They are here to resolve any queries related to Data Wiping Services in a structured manner.
On the other hand, ensuring yourself about the files before erasing them entirely, would be advisable. 
Questions to Ask Yourself Before Deleting files Completely
There are many scenarios where you might want to permanently erase data so that it cannot be recovered. It could be to make room for new files or you may want to dispose off your phone.
But, before getting rid of your data completely, you need to ask these questions to yourself and then move forward with the process: 
Am I ever going to need this data in the future?
Will I feel uncomfortable if an unknown person recovers my information?
Can somebody use my sensitive files against me?
If the answers to all the above questions are 'No' then it is alright to format the files.
However, under other conditions, you might want to look for professional help for wiping phone data permanently.
Consequences of not Wiping Phone Data Permanently
Most people are unaware that their data is not entirely erased even after resetting their mobile phones.
Just imagine, if your device gets in the hand of a hacker, what damage can he do?
He could make you lose your hard-earned money in the blink of an eye. 
In some instances, women commit suicide after their confidential photos and videos went viral on different social media platforms.
Small ignorance can make you pay a heavy price later on.
So, you require a systematic approach for erasing cell phone data permanently.
Different Ways to Deleting files from Android 
With the release of Android 6, by default, users' data are encrypted and chances of data recovery are negligible. 
But to be on the safe side, we should know various techniques to permanently delete files.
1. Use File Manager for Wiping
It's quite difficult to delete photos and files from the apps because after removing them, these get transferred to the Bin or Trash folder which will hold your information.
Google photos, for instance, can retain your deleted media for 60 days. For iOS users, it is 30 days.
So, what you can do is, use a File Manager or File Explorer App to permanently delete your file. 
Here, you just have to select the items in the file explorer and click on the trash option or tap on the Three-dot menu and select 'Delete' and it's done!
2. Utilize PC
If you don't wish to download an App to wipe your android phone permanently, there is another approach to follow.
You can completely wipe your Android phone from your computer.
Once connected to the system, it will ask you to choose an option between use as charging and file share or transfer.
Here, you have to select the File Transfer option. Now you can discover your Android device on your Desktop.
Go to the folder and select files you want to delete. For Example, if you want to delete photos then simply search for a folder named DCIM and you can pick the unwanted photos for deleting. 
3. Erase Data from SD Card
Suppose you are storing your data in your SD Card instead of internal storage, there is a possibility to remove your data entirely.
Simply Look for Settings then go to Storage and finally click on SD Card.
Decide which information you want to remove, select those files and delete them.
It doesn't guarantee the entire deletion of your data, so you might need to format your SD Card.
One of the methods may give you a general solution. However, can you rely on them when it comes to your private data, financial statements, or any other data you don't want to disclose? 
Full-Proof Services for Wiping Phone Data Permanently
Well, who doesn't want to keep their sensitive information, safe and secured, right?
But generally, what we do, we search online for solutions and try them. But, let me ask you one simple question, is it worth taking the risk to bear the financial loss or lose your dignity to a hacker?
So, in such situations, you can always look up to the reliable services of a cyber crime expert like Anuraag Singh.
He has been working with different Government and Law Enforcement Agencies and carries 21 years of experience in handling Sensitive Data, cases of Identity Theft, Cyber Security, and Data Forensics. 
His excellent approach of delving thoroughly into an issue and providing a systematic solution has earned him the trust of several reputable institutions, including the Narcotics Control Bureau, the National Crime Records Bureau in New Delhi, and many more.
This is what makes him an expert in handling mobile data and would back you up in entirely wiping sensitive data permanently from your phone.