Is your Phone Secure? Best Ways to Protect your Device – Android, iOS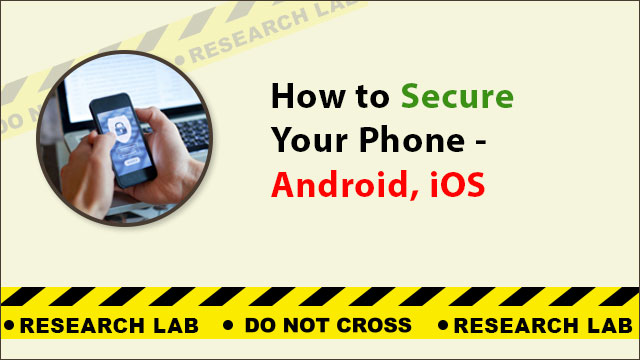 Smartphones, your digital companions, let you do almost every task that you wish. Be it social networking, attending a business meeting, or even grocery shopping. Name any task (online) and you are just one swipe away to get it done. But, with growing cyber attacks, is your phone actually secure?
You must be thinking why suddenly there is a need for asking such an intriguing question? Well, let me share an incident with you. it was back in 2020, a Delhi resident came seeking the help of cyber expert Anuraag Singh. Why you may ask? As soon as the victim found that he was not able to access any of his online accounts, he wanted to double-check his phone. And, after examining the phone, the expert concluded that his phone had been cloned by a hacker.
While most of you pay attention to securing the computer and laptops. After reading the above incident, think twice before asking, 'does your phone even needs to be secure?'
Signs your Phone is Not Secure
Today's reality is that everyone gets so much involved in using their phone that they forget it also contains their personal and professional information. Also, these could be at risk at some point in time.
So, pay close attention to when your phone is trying to tell you about its insecurity.
Some of the hints could be:
You suddenly discover the apps you don't remember downloading

Phone bills are nearly emptying your pocket

When your inbox is filled with numbers of unknown calls and text messages 

The graph of the performance of your phone is decreasing

Your phone is losing its battery life day by day

Annoying ads pop up on your screen every time you open a gaming app

If you are not streaming or gaming for a long period but still your phone gets unnaturally hot. Then it's a sign that your is not actually secure.
Sometimes, people usually do not want to be convinced by the fact that is their phone might be in danger and is not secure!
Hence, let's discuss some fact-based scenarios.
Real Life Incidents of Phones being Hacked
Incident-1: (Dec, 2021-Noida)
It is about a retired colonel A K Rajpal, a Noida Resident. He mysteriously received a text message stating that your SMS service has been blocked. Also, he needs to contact the given number(attacker's number) for further assistance. The message was from the accused, Chetan Prakash Upadhyay, a resident of Rajasthan.
Further, the victim contacted the number and Prakash made him do an Rs.11 online recharge. Prakash cleverly kept the caller engaged. He then successfully hacked the phone. As a result, he had the access to the victim's bank account and took Rs. 6 lakhs out of the account.
Incident-2: (Oct, 2020-Goa)
Not just ordinary individuals the intruders don't miss any chance to hack a politician's phone. E.g., Goa deputy CM registered a complaint against an unidentified person for hacking his phone. And posting obscene material on Social Media. 
So, the deputy CM decided to take the help of a Digital Forensics expert. Further, sent his phone to the Goa Forensic Science Laboratory for mobile data analysis. 
Incident-3: (Jan, 2022-New Delhi)
According to the article published on the Times India page, 'a gang of cybercriminals hacked WhatsApp accounts of people.' In addition to that, they impersonated themselves and tricked their relatives to help them with money. After receiving a complaint, police arrested two culprits(Nigerians) who were residing in Uttam Nagar, Delhi.
Using technical surveillance, police traced the IP addresses of their phones and found their exact location.
Now, after reading the above incidents, you might be thinking, 'is my phone actually secure?'
In reality, you can secure your phone by taking simple precautions.
How to Secure Your Phone- Android, iOS
You know, your phone is probably connected to your email, online banking apps, social media accounts, etc in real-time.
Hence think seriously about securing your phone and implementing the safety measures.
1. Strong Password
Almost everyone spends an average of five to six hours on the phone. And entering the PIN every time you open your phone seems uncomfortable. So, some of you might feel convenient leaving the phone unlocked. 
As a result, hackers take advantage of this loophole to hack your phone. Hence always use a strong password. If your phone has a feature of biometric or FaceID unlock systems, then utilize it.
2. Multi-Factor Authentication
Some apps like Gmail, online banking apps, etc provide a two-step authentication process. If you have not set up the same then don't waste any time and do it.  
As multi-factor authentication makes sure that you receive a code via SMS and/or Email, the chances of cyberattacks are less.
3. Seriously Think about Encryption
Most smartphones are coming up with in-built encryption. However, if you are willing to add an extra layer of security then you can opt for a VPN.
4. Stop Downloading from Third-party Resources
It's usually tempting to install brand new gaming apps. Once you hit the download button, your phone might prevent you from downloading the same. Why? The reason is that most of the time the apps are present in third-party resources which are usually unsafe. 
Hence always download apps from reliable sources. And, avoid clicking on malicious-looking links and apps.
The above measures may seem like a hassle. But, if you think about it closely, then it is somehow going to protect your phone and its data from cyberattacks.