How to Prevent from Online Vehicle Sale Fraud?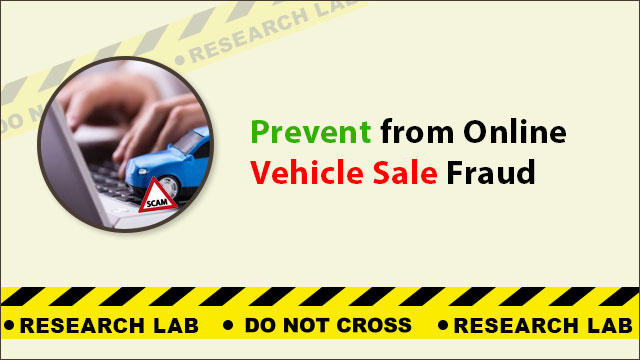 In a time of economic crisis, many purchase decisions are made out of desperation rather than consideration. This is a period when automobile purchasers and sellers must exercise extreme caution when it comes to scammers preying on their financial and emotional fragility! In this cyber tip, we are going to cover the topic how to prevent from online vehicle sale fraud.
The internet has developed into a critical weapon in the hands of scammers seeking anonymity when targeting automobile buyers and sellers.
What is online vehicle sale fraud?
A scam is described as an intentional, deceitful, or dishonest act with the purpose of defrauding an individual of money or property. The individual who perpetrates the fraud is generally referred to as a scammer.
Nowadays, vehicle scams can be present in a variety of ways and are typically initiate by the fraudster using internet technology, E-mail, or SMS.
What Techniques Are Typically Use in Vehicle Scams?
It is critical to be aware of some of the approaches and methods employed by scammers to defraud prospective buyers and dealers. We discovered the following:
Verify and authenticate the buyer's identity.
To avoid criminals obtaining forced custody of your vehicle, meet at a safe public location.
Never allow a prospective automobile buyer to test drive the vehicle alone; in some cases, another person may need to accompany you on the test drive.
Ascertain if the prospective buyer possesses a valid driver's license and adequate insurance in the event of an accident during the test drive.
Never leave the automobile alone or the keys in the ignition. A key swap is a strategy that thieves frequently employ to steal an automobile.
Be suspicious of car purchasers who refuse to inspect the vehicle in person.
Be suspicious of check payments. If the buyer pays with a check, hold off on transferring ownership or giving over the car until the check has been reviewed, cleared, and assigned value by the bank.
If the buyer wishes to pay in cash, arrange for a meeting at a bank where the money may be confirmed and safely deposited.
How to prevent from online vehicle sale fraud?
Scams exist in online markets, so it's advisable to proceed with care with any communication you get. Here are a few pointers to keep in mind to safeguard from online vehicle fraud:
Face-to-face meetings with users are preferable, ideally with someone you trust
When you communicate with someone online, they may be on the other side of town or the planet. A face-to-face meeting confirms that you are working with a reputable customer. It is preferable to meet in a public place and with someone you trust. Avoid telling strangers alone if feasible.
Accept the cash and verified checks only
When selling your vehicle, cash is usually the ideal alternative. But if the overall amount of money being sold is large, it may be more convenient to take a check. To do this, arrange a meeting with the buyer's bank or credit union, where you may have them cash their check and convert it into a cashier's check made out to you in your name.
Consider establishing an escrow account for purchasers from out-of-area
Whenever selling to out-of-town or international purchasers, an escrow account might help mitigate fraud risks. Ship your car to the buyer only once you have received confirmation from the escrow agency that their money has cleared.
Be Alert Always
As technology advances at a tremendous speed, cybercrime is also rising. Every day, numerous internet frauds occur, including lottery scams, online shopping scams, and many more. As a result, it is always good to be aware of it. Always follow the advice of the top cyber-crime expert to be secure.