Tips to Prevent E-Commerce Scams in India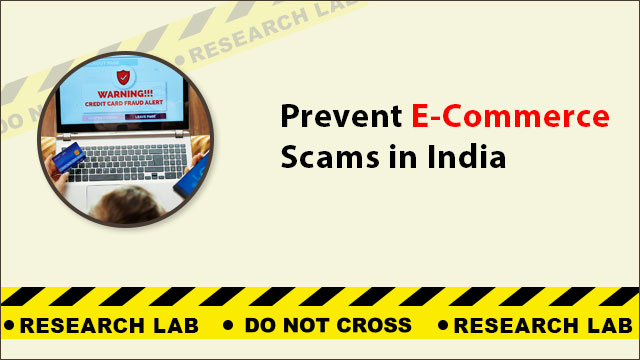 Note: In this guide, we will explain tips to prevent E-Commerce scams in India.
In 2022, ecommerce fraud protection must be your top focus. You are aware of why? Because online sales are expected to surpass this year (2022).
Wherever there is money involved, fraudsters will be on your tail. Online fraudsters are constantly improving their strategies in order to reap greater rewards. In today's digital market, combating emerging ecommerce fraud strategies requires your online business to have strong ecommerce security.
While there is nothing you can do to prevent online scammers from becoming you victim, you can fight back. If you're wondering how to prevent ecommerce scams in India, keep reading the guide.
What forms of e-commerce frauds are there?
Overcharging is one sort of internet fraud. Certain businesses will conceal additional costs in the tiny print of your checkout statement, while others will just steal a single or numerous payments without your knowledge. To avoid this, it is usually a good idea to purchase from a reputable website.
Phishing is a term that refers to untrusted websites. While some internet websites may appear to be associated with a legitimate or even well-known brand or organization, the URL may reveal otherwise. Many phishing websites are designed to seem like legitimate shopping websites, but actually retain all data entered for later use by the perpetrators.
Phishing is similar with identity theft. While many individuals trust websites with their information, this information is not necessarily safe. It's especially risky if you're using a credit card on an unfamiliar website. These websites will then have all the information necessary to create a new card or obtain a loan in your name.
Apart from technical fraud, physical fraud is performed as well. When people shop online, they may believe they are receiving a fantastic price on a product that is generally rather expensive. These deals from reputed websites are frequently deceptive.
Finally, whenever it comes to ecommerce, keep an eye out for refund and return policies. While many websites that enable users to sell things have a method in place for refunding purchasers who receive damaged or faulty goods, not all do. It is critical to ensure that anything you purchase is completely back by the vendor, manufacturer, or store. If the things are not supported, they may be sent damaged or faulty, leaving you with little recourse for your lost money. Always verify the integrity of all websites before making a purchase and restrict which websites have access to your sensitive information.
How you can detect E-Commerce scams?
Fraud detection is becoming a critical component of eCommerce. How precisely fraud occurs. Who do scammers intend to defraud? What types of items should a firm investigate in order to detect fraud?
The following are some red flags that indicate whether a transaction is fraudulent or not:
First-time buyers on an eCommerce website
Numerous items
Shipping is expedited
Shipping to a remote area
Disparity between postal address and IP address
Multiple cards connected to a same IP address
Numerous transactions in a brief period of time
Shipment to an invalid address
How to Prevent Ecommerce Scams in India?
Regardless of the volume of credit card theft on your platform, it has an impact on your revenue and bottom line. While it may appear as though defending your ecommerce business against escalating dangers is an uphill struggle, here are some fast actions you can take to prevent ecommerce scam and decrease fraud risk.
Utilizing up-to-date, high-quality software to manage internet shops.
Use an enhanced and dependable third-party payment processor.
Utilization of the Address Verification System (AVS) and the Credit Code Verification (CVV).
Assuring that all websites associated with the online store use HTTPS encryption.
Detecting high-risk transactions through the use of fraud detection and management software.
Analyzing risk variables and conducting a risk assessment for fraud.
Ensure that the online payment procedure adheres to all applicable rules, laws, and regulations.
Sessions on fraud awareness for staff and consumers