How to Prevent Fake Antivirus Scam? Cyber Tip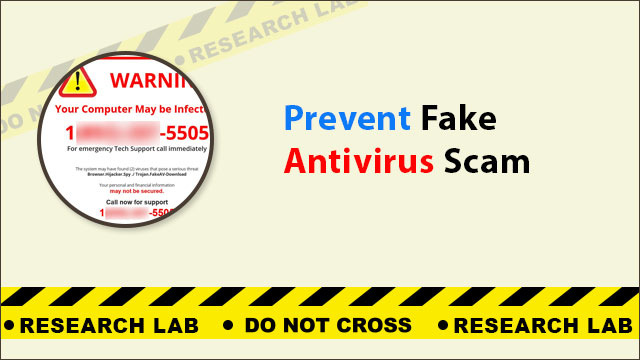 Are you concerned about how to prevent fake Antivirus scam? If so, this CYBER TIP will help.
We are all aware that the internet is infested with hackers and fraudsters, as well as their toolkits: trojans, viruses, and crypto-miners, all of which are after your money and personal information. That is why the majority of us have antivirus software installed on our PCs. Generally, antivirus software is the first line of defense against "internet bad guys."
However, there are fake antivirus software available. And installing one of them will do nothing to keep viruses out, and may in fact cause havoc on your computer, or worse, send your personal information away for fraud, identity theft, as well as other nefarious purposes.
How can you tell the difference between a real antivirus application and a fake one?
Fake Antivirus
To begin, your fake antivirus software would be one of two types. Real antivirus software that has been changed. Or fake antivirus software designed from the ground up by an obscure business you've probably never heard of.
Therefore, avoid downloading antivirus software from The Pirate Bay. Purchase it. Additionally, acquire an antiviral created by a recognized brand from a respected retailer.
You do not want to install an antivirus software from an unknown source. And you definitely do not want to install McAfee from a torrent site, regardless of how many seeders it has.
False antivirus alerts
So, you're not going to download an antivirus torrent and you're not going to purchase an obscure antivirus product from a sketchy shop you just entered for the first time. Good. What else should you be on the lookout for in order to prevent being duped by bogus antivirus software?
An frightening antivirus pop-up window appearing in your browser, warning that your machine infect by something incredibly awful and that you need to take urgent action and CLICK HERE – or words to that effect – is the most typical method individuals are duped into installing bogus antivirus software.
This strategy preys on people's insecurities, particularly the less tech-savvy. And, oddly, there's a considerable possibility the pop-up would not have appeared at all if you'd installed a competent antivirus.
Those with less technological knowledge may believe the pop-up was present by their operating system, feel there is a real issue, and click the link in the pop-up. Others, with such a bit more confidence, may attempt to shut the pop-up window, only to discover that doing so spawns other pop-ups until their screen is completely fill with them.
What if you clicked on the link to purchase the fake antivirus software?
To be sure, this is an obvious instance of the remedy being worse than the issue.
If you're lucky, you'll merely have lost the money you spent on the fake application, and the software will be ineffective but harmless. If you're not so fortunate, you've not only wasted money on garbage software, but you've also installed a fake antivirus product, which opens the door to more problems: additional malware or viruses, slowdowns, lock-ups, and compromised personal/financial information.
How to recognize and prevent fake antivirus scam?
There are two components to this. The junk software's behaviour and the junk it downloads on your computer, such as malware, viruses, and crypto-miners. They may be related to the same issue, but when it comes to identifying fake antivirus software, they are independent components.
That is, any virus, malware, or other infection that you wind up with on your system will act almost identically to how it would behave if your computer had infect by a legitimate antivirus application. Thus, any of the following symptoms may indicate that you have junk antivirus software. The symptoms are lock-ups, slow-downs, rogue processes running, frequent junk pop-up ads appearing, strange toolbars etc.
If you're already aware that you install a fake antivirus, the two are very certainly connect. If you are certain you did not install such software, they are unrelated – yet they remain an issue that you should address with legal antivirus software.
Fake antivirus systems have a propensity to compensate for their ineffectiveness by reporting more faults than authentic software would ever report. And they're going to advertise that fact to you via, you guessed it, more pop-ups that may request further money to resolve your "problems."
This can happen fool users into believing the antivirus application is functioning normally. Hence, increasing the probability of the antivirus programme remaining installed on the computer. It might be an attempt to up-sell further dubious security goods. Alternatively, it might be a mix of the two. However, regardless of the reason, the likelihood is that you will see considerably more pop-ups than you did previously when using a fake antivirus.
What to look for when spotting fake antivirus software?
Your computer is equipped with an antivirus application that you never installed.
Also, you cannot shut down the antivirus software.
Your antivirus software will continue to scan for threats and display pop-up windows.
The flaws it uncovers can only resolve by upgrading your membership or purchasing additional software.
How to remove fake antivirus program?
There are a variety of methods for removing a fake antivirus application from your machine. And the way you should use is determine on the fake antivirus and how it was construct.
The answer is simple: format your hard drive, reinstall your operating system and apps, and restore your backed-up files. It's inconvenient, but it works and leaves no traces of the illness. You'll end up with a clean system that performs far better than it did previously.
I recognize, however, that this will not be possible for everyone. Therefore, how can you uninstall unwanted software without reformatting your system and starting over?
Sometimes, installing and running a malware detection product will identify and remove the fake antivirus. This is how you can prevent fake antivirus scam.