How to Prevent from Zoom Meeting Invite Phishing?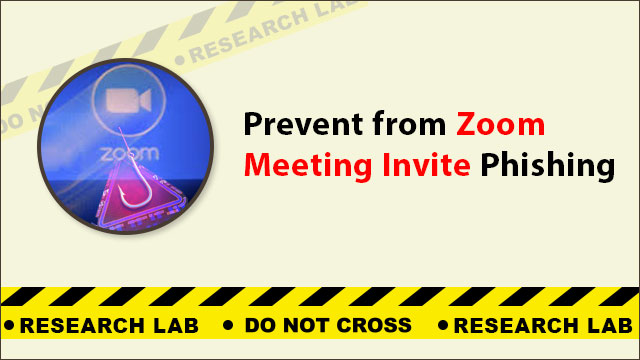 Introduction: Numerous Cyber Crimes such as text message scams, e-greeting fraud, and others are on the rise. Like this, another common fraud nowadays is zoom meeting phishing. In this article, we will talk about how to prevent from Zoom Meeting invite phishing.
Scammers are attempting to defraud you using a new tool that you may be using on a daily basis.
How does zoom meeting invite phishing scam work?
This past year, Zoom has made it possible for us to stay connected at work and in our personal life. It is now being utilized to defraud individuals through a phishing scam of some sort.
By telling the user that meeting is missed, the Zoom phishing scam attempts to develop a feeling of urgency and fear in receivers, a crucial characteristic of many similar phishing scams.
It is probable that targets will be more trusting of such messages in the future, as regular online meetings and video conferencing grow increasingly common among distant workers.
In an attempt to create even more urgency, the notice also claims that Zoom will only retain the message for 48 hours, after which it would be permanently destroy.
Whenever the link is clicked, the phishing victim is redirected to a fake Zoom sign-in page that looks identical to the actual Zoom sign-in website. This website, on the other hand, requires the victim to check in with their work email credentials.
Although the fake login page matches Zoom's logo, it has warning flags such as a strange URL, broken links, and misspelt instructions.
When an unknowing victim enters their business login credentials, their credentials are collected and can be sold on the dark web, or used to breach other accounts with sensitive information.
How to prevent from Zoom meeting invite phishing?
All through the pandemic — and before — the message regarding unwanted texts has remained consistent: do not click on anything. This contains not just hyperlinks, but also images and files.
We propose the following steps to prevent falling for the scam:
Please deeply check the sender's details:
Zoom.com and Zoom.us are the company's main official domains. If an email appears to originate from a similar-looking domain that does not exactly match the official domain name, it is almost certainly a hoax.
Never click on links contained in unsolicited email messages:
Phishing schemes always entail convincing an unwary user to click on a link or file attached to an email, which then downloads hazardous software onto their machine. If you get an unwanted email and are unsure who sent it, never click on any links, files, or images included inside.
Directly resolve concerns:
If you receive an email saying that your account has been compromise and you are unsure whether it is authentic, contact the firm immediately. To obtain assistance, navigate to the official website by putting the name into your browser and locating the "Contact Support" function.
Verify the authenticity:
Verify the links' legitimacy and pay particular attention to the URL addresses. Numerous bad players will host landing pages on domains that are unrelated to their business.
Do not login:
Avoid logging in using email links. Rather than that, access the specified website directly.
Zoom doesn't send emails:
In the event that Zoom believes that your account has hack or that a meeting has miss, Zoom does not send emails to individual users demanding that they check in to their accounts.
This is how one can easily prevent from Zoom Meeting Invite Phishing.
Kindly educate your employees on cyber security
It is strongly recommend you educate your employees about cyber security. Additionally, you may seek the services of the top Cyber Security professional. He can provide guidance in order to keep you secure from cybercrimes.