How to Prevent Invoice Fraud Risk?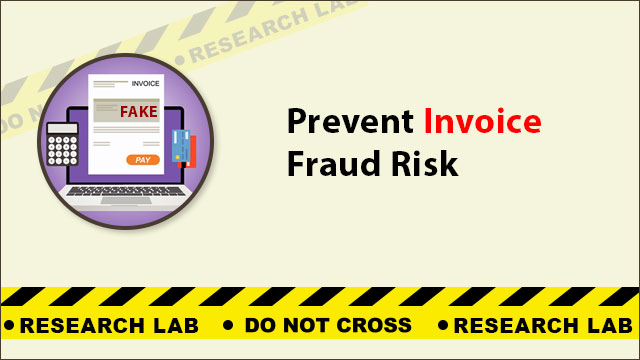 Invoice fraud includes a fraudster telling your organization that supplier payment information has changed and offering other data in order to defraud you. The fraudster may pose as a representative of a legitimate supplier to your business or even as an employee of your own. Due to the speed with which funds are frequently transfer, retrieving funds from fraudulent accounts may be incredibly challenging. Therefore, in this guide, we will explain how to prevent Invoice fraud risk.
What happens?
Between the time the invoice is post and the time it is receive, the criminals intercept it, or they compromise the mail accounts use to send invoices by e-mail.
The scammers modify the invoice to include their own financial information. They can do this in a variety of ways. A new invoice is created with the updated information, a sticker (typically fluorescent) with the fraudsters' banking information and a note indicating a change of bank is placed on the legitimate banking information, and so on. The invoice is then resent.
The invoice is received and paid to the newly established bank account. It is quite likely that subsequent bills will be paid to the incorrect account as well, at least until the legitimate issuer of the invoice becomes aware that their invoices have not been paid and informs the debiting organization.
How to Prevent Invoice Fraud Risk?
Always verify the terms of any new payment instructions vocally using previously stored information, rather than relying entirely on the new instruction. Fraudsters can forge email addresses to look to come from a legitimate source, including someone within your own organization.
If you are concerned about a phone request, contact them back on a known number. Fraudsters will attempt to coerce you into making errors; alleviate this pressure by regaining control of the situation.
Consider eliminating testimonials from your suppliers' websites or social media platforms. As these can be use to identify your suppliers by fraudsters.
Examine each invoice carefully and compare it to prior ones you've received that you know are real – notably the bank account information. The language used, and the firm logo. Whenever making a payment, verify that your invoices include your legal or 'trading as' name in its entirety.
Consider establishing a single point of contact with the businesses you pay on a regular basis.
Utilize the same ideas when responding to requests from within your organization.
GST Penalties for Invoice Scam
False invoices result in significant income loss for the government and result in the abuse of taxpayers' money; hence, the government has enacted legislation to combat the practice. Both the supplier and the recipient of such forged invoices are subject to a penalty of 100% of the input tax credit claimed or the GST avoided. Additionally, brokers and practitioners who facilitate such transactions will be subject to a penalty equal to 100 percent of the GST amount.
Additionally to the penalties, there is the possibility of imprisonment for Invoice Fraud under the terms of the GST Act for a duration of up to five years.
Who Commit Invoice fraud 
Internal workers and contract workers can commit fraud by sending knowingly fabricated, inflated, or duplicate invoices. External fraudsters frequently commit payment fraud in cooperation with contracting workers as a result of corruption.
Who Is the Most Vulnerable to Invoice Scam?
According to research, medium and small organization are more likely to be the target of invoice fraud. However, corporate behemoths are not immune. For instance, last year Amazon recently suffered a $19 million loss as a result of a well-executed invoice fraud campaign. Specifically, the most vulnerable enterprises are legal firms, information technology organizations, and human resource management services. So, protect your big, medium, or small business from cybercrime.