Protect from Online Romance Scams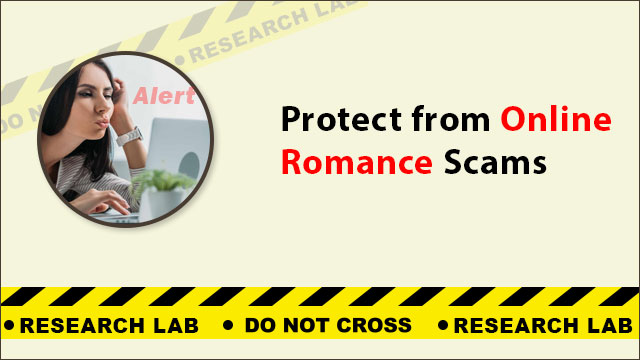 It is well accepted that persons online are not always who they seem to be. However, each year, thousands of people of internet users become victims of online romance scams. These frauds are extremely convincing and are becoming more prevalent on dating websites and other media platforms. Scammers will attempt to steal significant quantities of money and personal information by appealing to victims' emotions and feigning close relationships. Fortunately, there are techniques to recognize and protect from online romance scams.
Cybersecurity awareness is not simply a need for enterprises and organizations with an internet presence. Consumers, particularly lonely hearts in their so-called golden years, are good prey for romance scams and other forms of fraud.
Romance frauds are at an all-time high, according to research. Even younger individuals who post too much information about their personal lives on dating sites and other media platforms may become easy targets for love scams and fraud.
Typical Warning Signs of a Romance Scammer
Scammers in the romance profession are masters at social manipulation and may seem quite convincing. Numerous warning indications of a romance scammer are subtle and sneaky, since the fraudster is attempting to earn your confidence before using you. To protect from online romance scams, keep an eye out for the following four warning signals when meeting someone online:
Romance fraudsters immediately declare love without even meeting you
Often, the first indication of an online romance fraud is when a romance scammer expresses intense feelings in a brief period of time. They may even claim to be in love with you, but this is a ruse to obtain your personal information and the solutions to the security questions you use to lock down your online accounts. Take caution with your personal information, and be suspicious if a new love interest requests personal information shortly after contact.
To entice victims, fraudsters pretend to be in need of money for things like medical expenses, vacations, and so on
Suspect anybody who approaches you for financial aid, regardless of how desperate their circumstances appear to be. If you come across one of these scenarios when communicating with a potential new love interest online, there is a significant likelihood they are scamming you.
Scammers of online romance attempt to entice you away from the dating site
Often, fraudsters encourage victims to leave the dating site and communicate via personal email or instant chat. At first glance, this may not appear to be a red sign. When you're getting to know someone, you'll naturally want to communicate with them outside of the dating site. Always use extreme caution when someone requests your phone number or email address. This further facilitates them access to your personal information.
If you wish to speak with someone outside of the dating site, create an additional email address or use an instant messaging programme that is not associated with your primary email address or phone number.
Romance fraudsters have a habit of cancelling visits due to "emergencies"
If an online love interest makes preparations to visit but then cancels last minute due to a painful incident, family problems, or company loss, you should be extremely cautious. Frequently, its cancellation will be coupled with an application for a short-term loan. Keep an eye out for someone who says anything along the lines of, "I'm desperate to see you, but I'm unable to purchase a plane ticket at the moment due to x. If you purchase a ticket for me, I will reimburse you! I simply desire to be with you."
How to Protect from Online Romance Scams?
When utilising social networking platforms, avoid accepting friend requests from strangers.
Avoid disclosing excessive personal details in a dating profile or to someone with whom you've only communicated online. Scammers can deceive you or perform identity theft by using data such as your last name or place of employment.
Utilize trustworthy dating sites and maintain communication via their message system. Fraudsters will want you to swiftly move to text, social media, or phone, so there is no proof of them requesting money on the dating site.
Proceed cautiously. Inquire about your possible companion and keep an eye out for irregularities that might indicate an imposter.
Avoid sharing intimate photographs to strangers on the internet that might be exploited for online sextortion / extortion later.
Terminate communication immediately if you feel the individual is a scam artist. Notify the dating site or app where you met the fraudster of your encounter.
Never transfer money or gift cards to someone you met online or expose your bank information to them.