Your Zoom Account Has Been Suspended Scam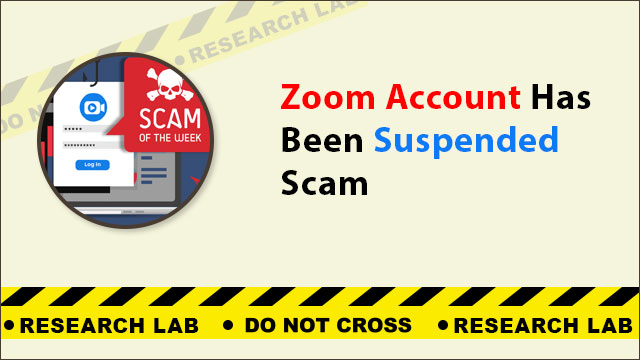 "You Zoom account has been suspended" Have you got this kind of message? If yes, then please be cautious. This is a zoom account has been suspended scam message.
Whether you're commuting to work or working from home, millions of professionals rely on video conferencing tools like Zoom to keep them connected and productive.
Zoom is a cloud-based communication platform that enables users to conduct audio and video conferences, hold online meetings, and collaborate via chat and team collaboration tools on mobile, desktop, and telephony devices. Zoom has experienced a dramatic growth in new monthly active users since the start of 2020, as millions of people have shifted to remote work.
In the event that you got such kind of zoom account message, how quick would you be to remedy the situation? Cybercriminals know you'll be fast to reply, so they plan accordingly. In fact, they hope you won't even give it a second thought.
Your Zoom Account Has Been Suspended – How This Scam Works?
A latest phishing attempt impersonates a Zoom email notice. According to the email, your account has is suspend and you are unable to initiate or join video conversations unless you click the email's "Activate Account" button. After clicking the button, you're take to a plausible Microsoft 365-style login screen. If you provide your information on this page, it will be transmit straight to the fraudsters. Your login credentials might use by criminals to get access to your organization's network and critical data.
In addition, there is another zoom scam that claims your Zoom meeting has been missed. Please be aware of this as well! People are being defraud by fraudsters who are taking advantage of every opportunity available to them.
Keep Yourself Always Safe from Zoom Scam
Never click on an unexpected link within an email.
Bear in mind that email addresses are susceptible to spoofing. Even if the email looks to be from a trusted source, it may be a phishing effort.
When an email prompts you to check in to an account or online service, do so via your browser, not the link in the email. This way, you can be certain you're logging into the legitimate website and not a spoof.
If you're concerned about an issue with your account, contact Zoom directly via the corporate website.
Always verify that the communication originates from one of Zoom's genuine lawful domains, zoom.com or zoom.us.
Always take the time to consider if a request for your personal data is acceptable before responding.
Final Words
Scammers exploit every conceivable option to swindle consumers in today's digital age. Please use caution when online. Discover how to be safe online.