Different Types of Cyber Security – Everything You Need to Know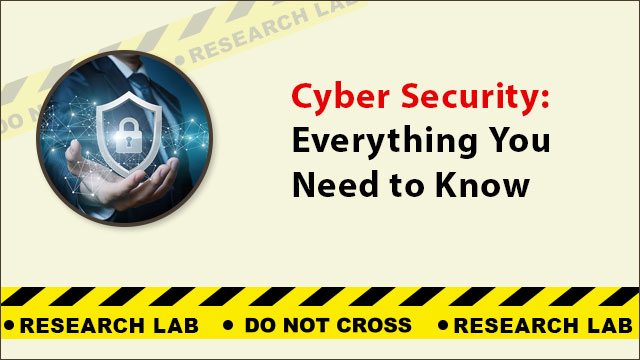 We live in a digital world, so having prior knowledge of different types of Cyber Security becomes necessary, where the internet plays a crucial role in our personal & work lives, and day-to-day money transactions.
But, have you ever wondered, whether our information or financial transactions are being safe?
Well, it depends on how secure our computer network, systems, etc are!
Clearly, to safeguard our internet or computer network, you are going to need a Cyber Security solution.
What is Cyber Security & Why is it Important?
Basically, cyber security protects both personal and business devices or servers that are connected to the internet, from cyber threats. 
The main aim here is to minimize the risk of cyber-attacks and provide protection against the illegal handling of computer systems, networks, and technologies.
Meanwhile, let me share a piece of information with you.
According to news articles, cyber-attacks are increasing rapidly. We can't deny the truth that our valuable data are at great risk and we need to be aware about the different types of cyber security to protect it from cybercriminals.
One of the cyber experts Richard Clark said, "If you spend more on coffee than on IT security, you will surely be hacked."
Thus, It becomes vital to be familiar with the world of cyber security and understand distinct ways to protect your data.
Different Types of Cyber Security to Protect Your Sensitive Data
There are many methods followed by cyber experts to identify the threat and they give you appropriate security solutions for the same.
 So, let me walk you through different kinds of cyber security. 
1. Network Security
Network Security acts as a shield for files and directories in a computer network against any type of cyber threat.

One of the examples of network security is Anti-Virus.
Suppose you downloaded a file, tried running it on your system.
However, you find something suspicious like there is another file under the same name.  
So, could you think of the reason behind it? 
Well, it might be malware.
Here, comes the role of antivirus like Avira, McAfee, etc. It will detect the malware and secure your network by continuously scanning the files. 
Network Security should be given high priority for any organization regardless of its size to prevent cyber threats and protect precious data. 
2. Application Security
Nowadays hackers are focusing more on attacking the application than the network level.

The reason behind it is that applications contain sensitive information such as passwords and online credentials.
So, safeguarding that information and being aware of the different types of Cyber Security becomes crucial.
For example, when you are using GMAIL from a different device it sends you a security alert to verify whether the user is authorized or not.
Similarly, two-step authentication is also used to secure the online transactions made through Apps.
3. Cloud Security
Let me ask you a question, how many of you are storing your data on hard drives?

None I guess!
Since most of us are syncing our files in Google Drive, Microsoft One Drive, or Apple iCloud.
So, it becomes essential for these cloud platforms to be secure all the time.
What could be a better option for securing the cloud?
Well, end-to-end encryption is one of the best ways to secure your delicate data in the cloud.
4. Operational Security
Operational security allows organizations to closely monitor security threats and can easily tackle malware-based attacks.
Following are the Five Steps of Operational Security that Let the Organization Secure it's Valuable Data:
Step 1. Try locating your sensitive data
Step 2. Detect possible Threats 
Step 3. Analyze the possible vulnerability 
Step 4. Understand the level of Threat 
Step 5. Think of a plan to minimize the Threats
Explore Different Types of Cyber Security Tips for Cyber Awareness
I think you have got an idea about types of cyber security.
Now, let me share some convenient cyber security measures with you.
Try to keep your software updated
Sometimes outdated software is very keen to attract Ransomeware to your device.
However, turning on automatic software updates in your device, keeping your browser plugins updated could solve your problems to some extent.
Using Anti-virus software
One of the most popular solutions is to use Anti-virus software/tools to protect your device from malware.
But my suggestion would be to trust a genuine provider.
Many of us probably heard about the crucial demand of using distinct passwords.
Well, it is the truth, you should not trust anyone with your online credentials.
For that, you must emphasize creating a strong password for any kind of financial transaction or social media account.
PII(Personal Identifiable Information) Protection
Nowadays cybercriminals are using PII to identify or locate an individual.
Generally, PII contains your information such as Name, Address, Phone Number, etc.
However, it's crucial to secure them. 
These were some of the different types of Cyber Security Tips to follow. So, keep on checking the privacy settings on your social media accounts otherwise, your valuable information could go into the wrong hands.
When to seek an Expert's help?
Despite being cautious about the safety measures, sometimes cybercriminals outsmart us and leave us on the verge of losing our valuable data to them.
But, how can we secure our precious information from hackers?
Is there still another way to secure our information and save ourselves from the threat of being blackmailed?
The answer is Yes. You can always look up Cyber Experts like Anuraag Singh who holds 21 years of practical experience handling sensitive cases related to different types of Cyber Security, Identity Theft, and Digital Forensics.
He has investigated many sensitive issues by joining hands with Delhi Police and has also won the trust of many reputed organizations like the Department of Income Tax, Bangalore, BSES, New Delhi, etc.
His commitment to solving delicate cases makes him the most reliable Cyber Expert in India.